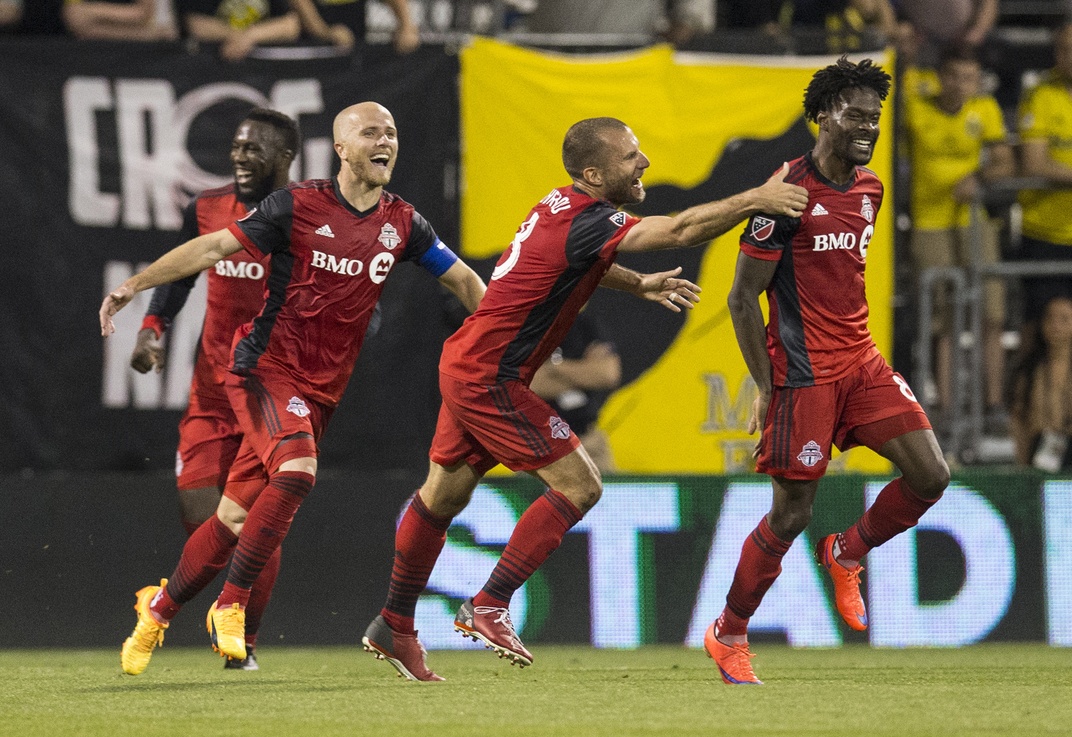 Toronto FC entered Wednesday's match with the Columbus Crew winners of four straight and, for about 80 minutes, it didn't look possible that that streak could get to five. Then, Toisiant Ricketts struck.
The TFC forward fired a pair of goals within the last 10 minutes, leading his side to a 2-1 win over the Crew on Wednesday at MAPFRE Stadium. The extends Toronto FC's lead atop the Eastern Confernce, putting the Canadian side four points ahead of second-place Orlando City, who maintain two games in hand.
Once again, it was TFC's depth that stepped up with Ricketts leading the charge his two goals. Down a goal in the 81st minute, the forward headed in a cross from Raheem Edwards to level the scoreline at one apiece.
Just nine minutes later, Ricketts popped up again, poking home a deflected ball in for the winner. Edwards played a role once again, firing a cross towards Victor Vasquez. The Spaniard got a touch on the ball as it trickled to the back post, giving Ricketts an open net to fire into to win the match.
The Crew opened the scoring in the 28th minute as Federico Higuain finished from the penalty spot. Following a foul on Ola Kamara, Higuain stepped up and chipped home a panenka, leaving Alex Bono helpless on the game's opener.
TFC had a penalty kick of their own in the first half after Jozy Altidore was taken down in the box, but Crew goalkeeper Zack Steffen made up for it by stuffing the U.S. Men's National Team forward on the ensuing spot kick.
A setback at the time, TFC bounced back late, sealing three points ahead of this weekend's match against Minnesota United. The Crew, losers of three out of four, will need to bounce back on the road with a visit to the Montreal Impact.
MAN OF THE MATCH
There's little doubt. Tosaint Ricketts played hero in a major way, winning TFC the match with a pair of late goals.
MOMENT OF THE MATCH
Just moments after tying the score at one, Ricketts' run to the back post was rewarded with a tap-in finish, sealing a last-gasp victory.
MATCH TO FORGET
Jonathan Mensah got caught a little bit too high on Ricketts' first goal while the second saw the ball inch past him. The Crew defender wasn't fully at fault on either finish but, as the leader of the backline, he takes some fault for allowing the lead to slip late.