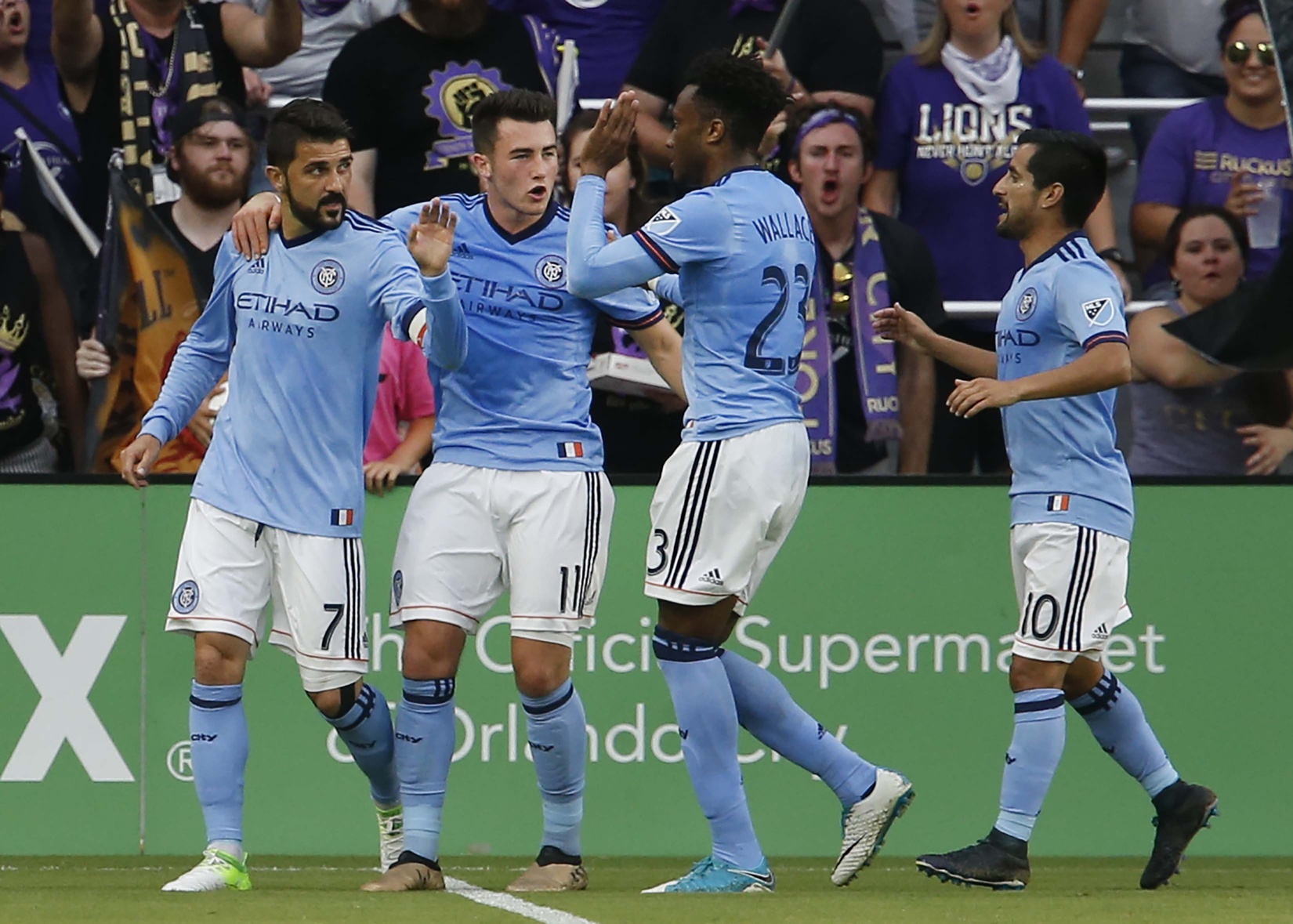 A comprehensive performance by New York City FC ended Orlando City's home unbeaten streak.
NYCFC extended their unbeaten streak to four behind a brace from David Villa, beating Orlando City, 3-0. With the win, NYCFC also jumped Orlando to move into third place in the Eastern Conference.
The visitors got off to a quick start in the 14th minute. Following a Jack Harrison corner kick, Rodney Wallace kicked the ball into Kaka's arm for a handball in the box, drawing a penalty. David Villa stepped up to the spot and drove the penalty kick past Joe Bendik for his seventh goal of the season, putting NYCFC up, 1-0.
Once play resumed, Ethan White seemed to pull his groin but decided to play through it. It looked like White would be fine but he would have to leave the match in the 34th minute, but not after helping his team double their advantage.
After a layoff from Alexander Ring to Jack Harrison, White fired a cross through Orlando's box that found Wallace. Once the ball found Wallace's foot, he too fired a shot past Bendik for his fourth goal of the season. This goal would give NYCFC a 2-0 advantage over Orlando City before the half.
RJ Allen replaced White at right back in a like-for-like substitution.
There was a big chance for Orlando City in the 64th minute as Ben Sweat conceded a penalty by bringing down Scott Sutter in the box. Cyle Larin stepped up to take the first penalty of his professional career and fired it off the bar, missing a chance to get his team back into the game.
Orlando got another chance in the 75th minute. Immediately after he was subbed into the match, Luis Gil challenged the NYCFC defense, firing a shot that forced Sean Johnson into an acrobatic save.
After that, David Villa slammed the door in the 81st with a truly professional goal. On a pass from Maxi Moralez, Villa rounded Bendik to fire the ball into the net for his eighth goal of the year. This gave NYCFC the 3-0 lead effectively ending any chance of a comeback for Orlando City.
Next up for NYCFC will be a trip down south to take on Atlanta United next Sunday. Orlando City will be traveling to Minnesota to take on Minnesota United on Saturday.
Man of the Match
Death, taxes, and a David Villa goal. These things are certain in life and after a brace against Orlando City, Villa is back on track in the golden boot race.
Moment of the Match
Cyle Larin's missed penalty sucked the life out of Orlando City Stadium as their fans knew that there was no chance of pulling out a result. It was tough with this being Larin's first ever penalty attempt but soccer can be a game of inches.
Match to Forget
Kaka didn't offer enough at the tip of the diamond for Jason Kries leading to his eventual substitution in the 60th minute. He was eventually subbed out for Giles Barnes in the 60th minute and the Orlando City attack immediately picked up. Not a great showing for the captain.