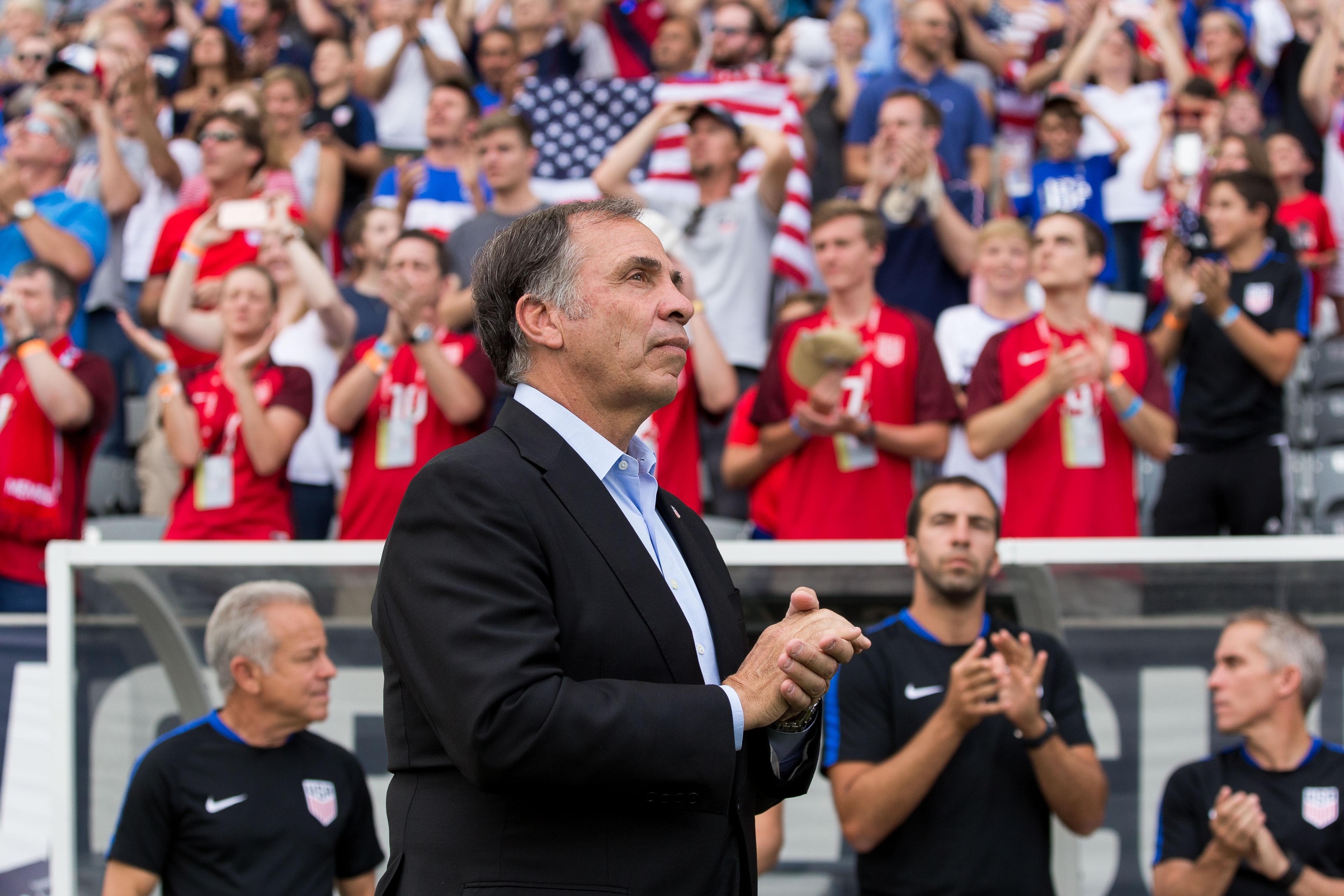 When Bruce Arena began his second tenure in January, he was given one simple task: get the U.S. Men's National Team to Russia and the 2018 World Cup. At the time, it was an uphill battle. Winless through two World Cup qualifying games, the U.S. was at the bottom of the Hexagonal table, low on confidence and even lower on points.
Sunday's tie with Mexico was perhaps the best result so far of the Arena 2.0 Era, and the preparation for that result began all the way back when Arena first began his quest to guide the USMNT back into the World Cup qualifying mix.
Arena shocked many on Sunday afternoon, deploying a lineup featuring a whopping seven new starters. It was a neccesity, but still a surprising one. Heading to the Azteca with what was essentially an entirely new lineup was a surprise, but Arena says it could have been even more drastic. The USMNT boss says he originally considered making 11 changes before narrowing it down to between seven and nine, opting for the former on gameday. Facing major altitude and just two full days of rest, Arena knew playing the same XI would be suicide, especially at the Azteca.
What was less of a surprise, though, was the formation Arena arranged those seven new players in. The U.S. emerged with three centerbacks, playing in a very similar system to the one that Mexico all but destroyed back in November's match in Columbus. It was an expected decision, and it was also one that was a long time coming.
"In January or February, I decided to do that," Arena said of the formation. "I tossed it around with our coaches and they were probably not real supportive of the idea since they don't have enough experience in that formation, I was pretty confident we could implement that. We have very good centerbacks. That's a key to that system. We worked real hard preparing the team to do it. Mexico does an unbelievable job in their spacing. They stretch you out and like to open you up and attack the gaps between your backline if you're playing a back four and we protected those spaces.
"We call the system a 3-4-3 to a 5-2-2-1 or whatever you want to call it. But somehow, we add up to 10. That's what it is."
Arena joked that he wasn't smart enough to begin practicing the formation back in January camp or even during March qualifiers. However, the two-week training camp in the buildup to Trinidad & Tobago and Mexico was loaded with separate sets of drills. There were some done with Trinidad & Tobago in mind as the U.S. worked on playing a more traditional four-at-the-back set. Then, there were some done with an eye towards Mexico and defending a vicious El Tri attack.
Paul Arriola says that Arena pulled each player aside at breakfast a few days before the match. During the meetings he explained exactly what role he saw them playing. He told them what match they should focus on and what their job would be when they were given their chance on the field.
Arena also told them what to expect. Mexico was going to have the ball. They were going to fire in crosses that, in theory, the three centerbacks could swat away. The U.S., meanwhile, would have to take their chances as they came while keeping things tight and disciplined on the defensive end.
"We worked a lot," said captain Michael Bradley. "We spent a lot of time working on two different things. One with the idea of Trinidad and one with the idea of Mexico. Over the course of two weeks, every guy in training, we had a training game or two, every guy had a good amount of time in terms of understanding responsibilities, knowing what was going to need to go into it. Obviously Bruce laid out things early on in terms of his idea of how we wanted to go about the two games. You always know that things can change but ultimately we stuck to exactly what he wanted to do. We take four really really important points.
"We had the lineup and we knew what our jobs were," added defender Geoff Cameron, "And we did that. We implemented it perfectly."
Cameron added that it wasn't just the defense that was called upon. Bradley and his midfield partner, Kellyn Acosta, were forced into covering plenty of ground while protecting the backline. Christian Pulisic and Paul Arriola were asked to track back and press forward in equal measure, testing their defensive abilities throughout. Bobby Wood, devoid of much service, was a workhorse throughout, pressuring Mexico's backline into making mistakes.
Is the system a one-off or something more consistent? It remains to be seen. The U.S. certainly has the roster to deploy it due to the wealth of centerback options and Sunday's performance showed that the rest of the team can fall in as well. Typically attacking players like Pulisic and Arriola can track back and help out in a pinch while someone like Fabian Johnson could also be a good fit for the formation.
Now, though, the U.S. looks ahead. The Gold Cup will bring a new level of experimentation with what is expected to be a largely inexperienced roster. This current USMNT group? They likely won't be back until September's qualifiers.
But, when those qualifiers begin, Arena and the U.S. will enter with confidence in the group and a system that helped them earn a historic point at one of the game's most intimidating venues.
"We did everything right over the course of two weeks in terms of the way we prepared, Bradley said. "The work on the field, the arrangements that were made off the field that were made in terms of adjustments to altitude. We did everything we could."
"We worked as hard as we could to get adjusted and try to level the playing field a little bit when we came here," Arena added. "We know you can never really do that, but we certainly benefited with the things we did over the last two weeks."