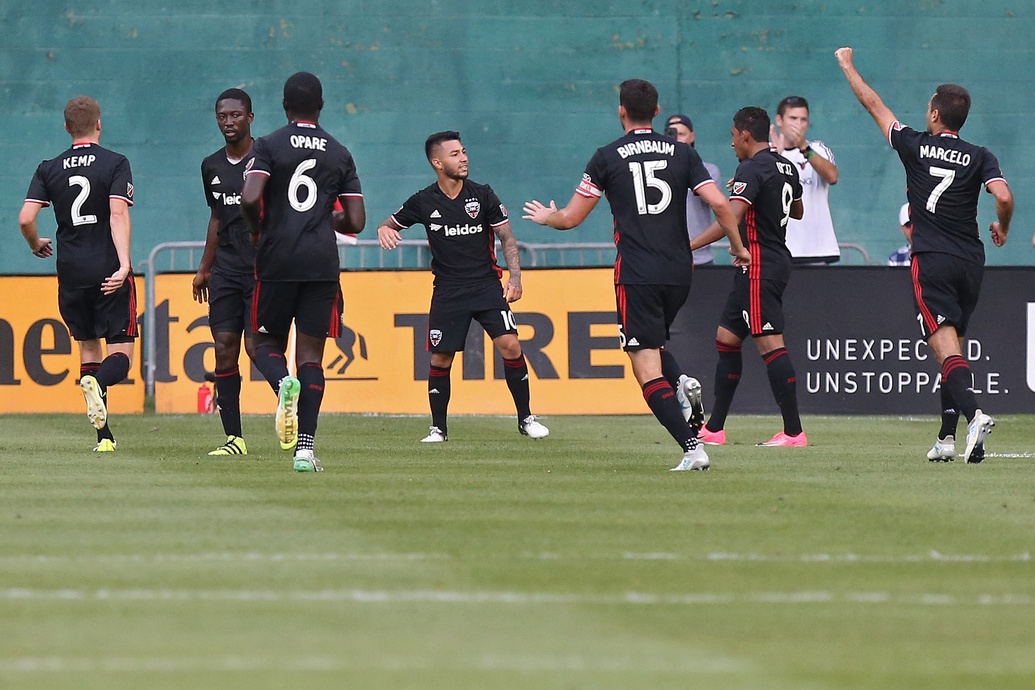 D.C. United snapped a three match winless run on Wednesday evening, defeating Atlanta United, 2-1, at RFK Stadium.
A 60th minute winner from Patrick Nyarko capped a strong comeback for the hosts, who fought back from an early deficit. 17 minutes in, Atlanta United took an early 1-0 lead as Julian Gressel tapped an easy effort home from close range. It was the rookie's third goal of the season and his first since May 20th.
However the visitors lead only last six minutes as Luciano Acosta leveled the score for Ben Olsen's side. Acosta's right-footed effort beat Alec Kann to the bottom left corner.
Tata Martino's side looked the more likely to score the next goal, with Yamil Asad and Greg Garza both seeing efforts saved by Bill Hamid. DCU battled back nicely, however, as Sebastian Le Toux's 45th-minute effort forced a strong save from Kann, who made sure the score remained scoreless going into halftime.
After the break, it was D.C. United who came out the stronger of the two sides. Jose Ortiz's 49th-minute header was an easy save by Kann, who picked up where he ended the first-half.
Nyarko's header two minutes later struck the bar which easily could have swung the match in the hosts favor. The Ghanaian international made up for his near miss though, nine minutes later slotting home Ian Harkes' assist. It was Nyarko's first goal of the season and it couldn't have come at a better time.
Asad came close to leveling the score for Atlanta United, but Hamid made sure that DCU's lead was safe. Despite late appearancesfrom Josef Martinez and Brandon Vazquez, Atlanta could not find the back of the net a second time.
D.C. United (5-3-8) jumped up to ninth place in the Eastern Conference after the victory. Bill Hamid made three saves in the win, while Atlanta United suffered their third defeat in the month of June.
Atlanta United (6-3-7) will return home on Saturday for a date with the Colorado Rapids at Bobby Dodd Stadium. D.C. United begin a four game road trip, starting with a showdown against the Philadelphia Union on Saturday.
MAN OF THE MATCH
Patrick Nyarko earned man of the match honors by scoring the winning goal on Wednesday evening. The 31-year-old midfielder easily could have had a second on his bar-ringing header just moments prior. He also had six shots in the match, the most of any player on the pitch.
MOMENT OF THE MATCH
Nyarko's 51st-minute header struck the bar which truly signaled D.C.'s turnaround in this match. The midfielder later scored what proved to be the winner, nine minutes later. While Atlanta failed to get much going after halftime, D.C. easily could have won by a larger margin.
MATCH TO FORGET
Starting again for Josef Martinez, Hector Villalba failed to make much of an impact for Atlanta United. The striker only created two shots in the match, which neither ended up on target. Despite a goal last weekend in Columbus, Tata Martino will surely look to give Martinez a starting shot on Saturday.