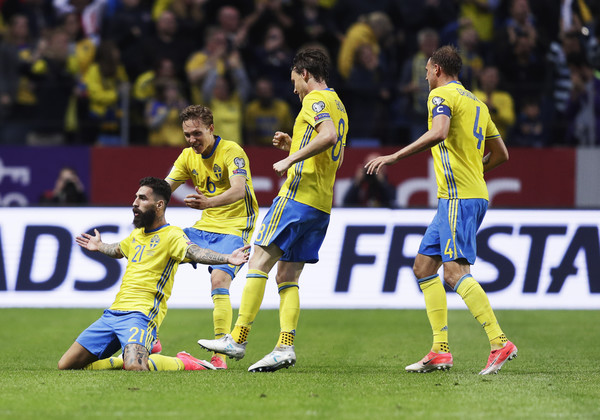 The sixth round of UEFA World Cup Qualifiers kicked off with a bang on Friday as two favorites to win Group A squared off in Stockholm.
Sweden used a late blunder by French keeper Hugo Lloris, to defeat the visitors 2-1 at Friends Arena. A poor clearance by the Tottenham keeper allowed Ola Toivonen to score the game winner from 35+ yards out in stoppage time.
Olivier Giroud had opened the scoring for France after 37 minutes, finishing a left-footed effort to the top-right corner. The lead for Didier Deschamps side only lasted seven minutes, as Jimmy Durmaz pulled Sweden level just before halftime. Despite doubling the Swedes in shots on goal, France ultimately fell for the first time in qualifying. Sweden jumped to top of the group based on goal-difference, while France now sits in second place.
Elsewhere in Europe, the Netherlands rolled past Luxembourg in Group A, while Cristiano Ronaldo led Portugal to a road win in Latvia. Group H leaders Belgium eased past 10-men Estonia, while Bosnia-Herzegovina and Greece shared the points in Sarajevo.
Here is a rundown of all the day's qualifying action:
GROUP A
The Netherlands saw five different goalscorers on Friday, as they rolled past Luxembourg, 5-0, in Rotterdam. Arjen Robben and Wesley Sneijder gave the Dutch a 2-0 lead going into halftime. Georginio Wijnaldum extended the lead to 3-0 after the hour mark, before Quincy Promes made it 4-0 with a close range header. An 84th-minute penalty from Vincent Janssen capped the final scoreline at 5-0 at De Kuip. The Dutch stay in third, three points behind the top two, while Luxembourg remain bottom and winless.
Belarus recorded their first victory in World Cup Qualifying by defeating Bulgaria, 2-1, at Borisov Arena. A 33rd-minute penalty kick goal from Mikhail Sivakov opened the scoring for the hosts before halftime. Pavel Sawicki's long-range strike doubled the hosts lead after 80 minutes, before Bulgaria pulled back a consolation goal. Belarus remain in fifth, while Bulgaria are four points better in fourth.
1. Sweden ( 13 points | 4-1-1 | 12 Goals Scored | 4 Goals Allowed)
2.) France ( 13 points | 4-1-1 | 11 Goals Scored | 5 Goals Allowed)
3.) Netherlands ( 10 points | 3-1-2 | 13 Goals Scored | 6 Goals Allowed)
4.) Bulgaria ( 9 points | 3-0-3 | 9 Goals Scored | 12 Goals Allowed)
5.) Belarus ( 5 points | 1-2-3 | 4 Goals Scored | 11 Goals Allowed)
6.) Luxembourg ( 1 point | 0-1-5 | 6 Goals Scored | 17 Goals Allowed)
GROUP B
Group B leaders Switzerland used goals from Granit Xhaka and Xherdan Shaqiri to defeat the Faroe Islands, 2-0, in Torshavn. Xhaka rifled home from long-range after 36 minutes, before Shaqiri doubled the lead after 59 minutes. The hosts failed to record a shot on target, while Switzerland remained undefeated in qualifying.
Second-place Portugal used a brace from Cristiano Ronaldo to cruise their way to a 3-0 victory at Latvia. Ronaldo's 41st-minute header opened the scoring, after the Real Madrid man finished off Jose Fonte's rebound. Ronaldo doubled Portugal's lead after 63 minutes, once again heading home from close range. Andre Silva extended the lead to 3-0, finishing off Ronaldo's assist. Portugal sit on 15 points, while Latvia sit bottom on three points.
Andorra earned its first victory of qualifying, holding off Hungary, 1-0, at home. A 26th-minute header from Marc Rebes was all Koldo Alvarez's side needed to earn an important three points at home. Andorra's Josep Gomes made seven saves in the clean sheet against a very dominant Hungarian side. Hungary sit eight points away from the playoff places, while Andorra inch into fifth place with four points.
1. Switzerland ( 18 points | 6-0-0| 12 Goals Scored | 3 Goals Allowed)
2.) Portugal ( 15 points | 5-0-1 | 22 Goals Scored | 3 Goals Allowed)
3.) Hungary ( 7 points | 2-1-3| 8 Goals Scored | 7 Goals Allowed)
4.) Faroe Islands ( 5 points | 1-2-3 | 2 Goals Scored | 10 Goals Allowed)
5.) Andorra ( 4 points | 1-1-4 | 2 Goals Scored | 13 Goals Allowed)
6.) Latvia ( 3 points | 1-0-5 | 2 Goals Scored | 12 Goals Allowed)
GROUP H 
Group H leaders Belgium used goals in each half to defeat Estonia, 2-0, in Tallinn. An 86th-minute insurance goal from Nacer Chadli capped a good day for the Belgians, who were rarely troubled. Dries Mertens opened the scoring after 31 minutes, finishing from close range. The hosts were reduced to 10-men before halftime as Artjom Dmitrijev saw a straight red for a foul on Marouane Fellaini. Estonia failed to record a shot on goal, while Belgium had 10. Roberto Martinez's side remains first with 16 points, while Estonia stays in fifth place.
Third place Bosnia-Herzegovina were held to a 0-0 draw in Zenica by second place Greece on Friday. Despite having six shots on goal, compared to the visitors' zero, Bosnia could not find a way past Orestis Karnezis. Edin Dzeko had two shots of his own saved by Karnezis, while four other Bosnian players faced the same ending to their efforts. Greece stay in second on 12 points, also yet to lose a match in qualifying. Bosnia-Herzegovina are in third, on 11 points.
Cyprus used an 87th-minute winner from Pieros Sotiriou to defeat Gibraltar, 2-1, away from home. Sotiriou's header found the bottom right corner after the forward missed earlier chances from inside the box. An own goal by Gibraltar's Roy Chipolina handed Cyprus an early 1-0 lead after 10 minutes. Anthony Hernandez's 30th-minute effort from the center of the box, pulled the hosts level before halftime. Despite falling in the shots on goal category, Cyprus extended themselves from the bottom two. Gibraltar remains in last place, with zero points.
1. Belgium ( 16 points | 5-1-0| 24 Goals Scored | 2 Goals Allowed)
2.) Greece ( 12 points | 3-3-0 | 10 Goals Scored | 3 Goals Allowed)
3.) Bosnia-Herzegovina ( 11 points | 3-2-1| 13 Goals Scored | 5 Goals Allowed)
4.) Cyprus ( 7 points | 2-1-3 | 5 Goals Scored | 9 Goals Allowed)
5.) Estonia( 4 points | 1-1-4 | 5 Goals Scored | 17 Goals Allowed)
6.) Gibraltar( 0 points | 0-0-6 | 3 Goals Scored | 24 Goals Allowed)