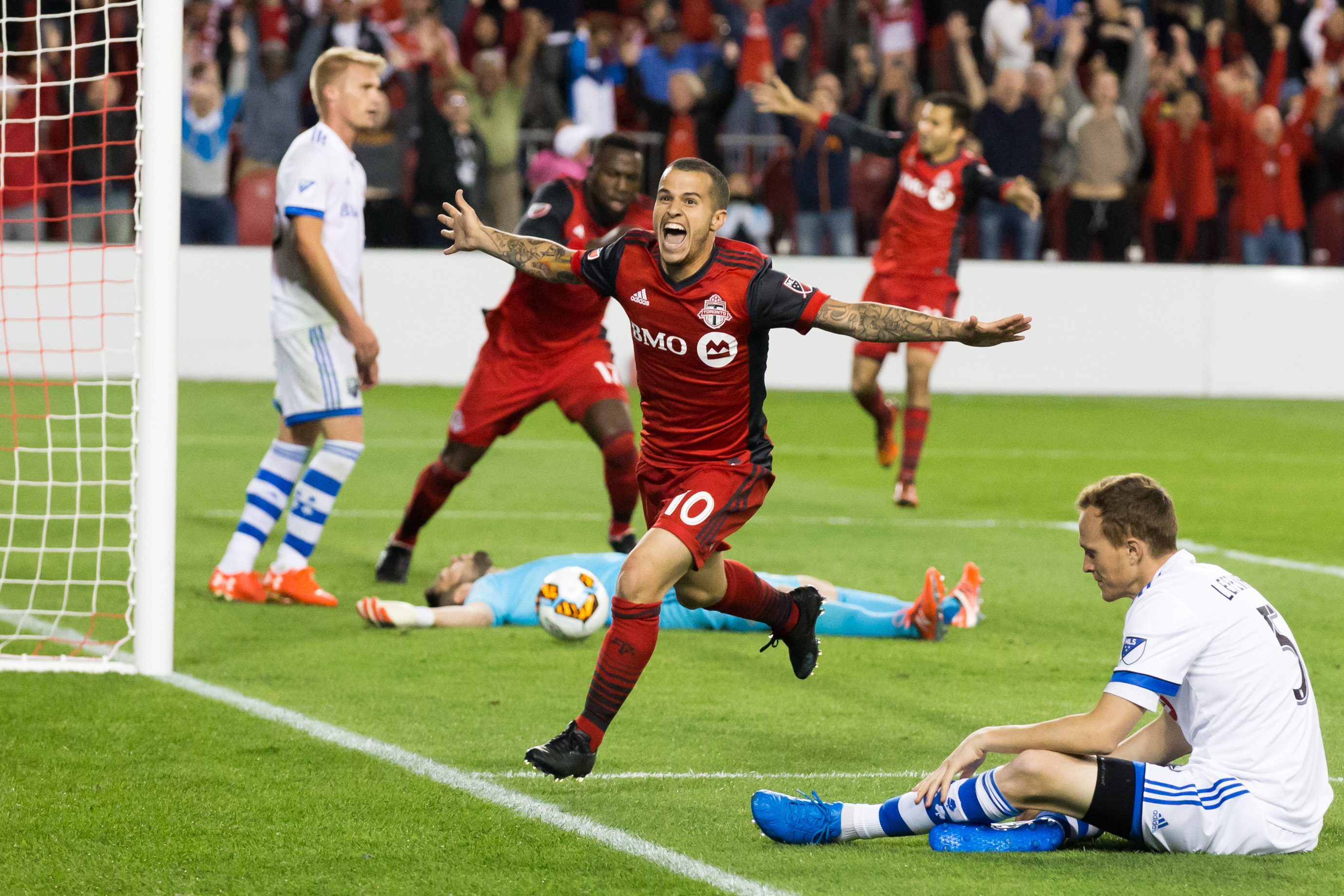 Though the Montreal Impact battled valiantly, the night belonged to Sebastian Giovinco and Toronto FC.
Behind a pair of goals from the ever-impressive Italian, Toronto FC captured leg two of the Canadian Championship final by a 2-1 scoreline, winning a 3-2 victory on aggregate and their sixth title in the competition. Playing at home, Toronto surrendered an early lead to the Impact, but their star forward managed to bring them back before dishing out the fatal blow in stoppage time.
The Impact started strong, with Ballou Jean-Yves Tabla knocking in the first goal of the match to give the Impact a 1-0, 2-1 aggregate, lead in the 35th minute. The goal came as a surprise, as TFC largely dominated the opening parts of the matches, held off only by the strong play of Impact goalkeeper Maxime Crepeau. Though the Impact held their lead into halftime, it rapidly came crashing down in the second half.
Giovinco wasted no time dragging TFC back into things, scoring his first of the match in the 53rd minute to level the score at 1-1, and 2-2 on aggregate. As they continued to boss the match, TFC ultimately outshot the Impact 13-7 and out-possessed them 56%-44%. The Impact picked up several yellows, with Kyle Fisher and Hernan Bernardello being shown cards for rough challenges, but the big blow came in the 89th minute as Patrice Bernier found himself ejected on a straight red for a serious foul on Marky Delgado.
The man difference would prove to be crucial, as TFC continued to press and press, leading to the defining moment. In the 95th minute, at the very death of the match, Giovinco ran onto a Raheem Edwards cutback and slotted the ball past Crepeau to hand Toronto FC the Championship and a berth in the CONCACAF Champions League next year.
The win gives Toronto FC their sixth Canadian Championship title, dwarfing the three held by the Impact and one by the Vancouver Whitecaps.
MAN OF THE MATCH
It couldn't be anyone but Sebastian Giovinco. The diminutive Italian did it again, knocking in a brace with a fantastic last second winner to secure some shiny new silverware for Toronto FC.
MOMENT OF THE MATCH
Much the same, it couldn't be anything but Giovinco's 95th minute winner that stands out as the biggest moment. There are few things more beautiful than handing your team and city a title with what was essentially a buzzer-beater in your own stadium.
MATCH TO FORGET
While there's some blame to go around for the Montreal Impact, the moment that hurt the most has to be the sending off of Patrice Bernier. With only 10 men left on the field, the Impact surrendered the game winner in stoppage time and watched as their 401 derby rivals took home the trophy.