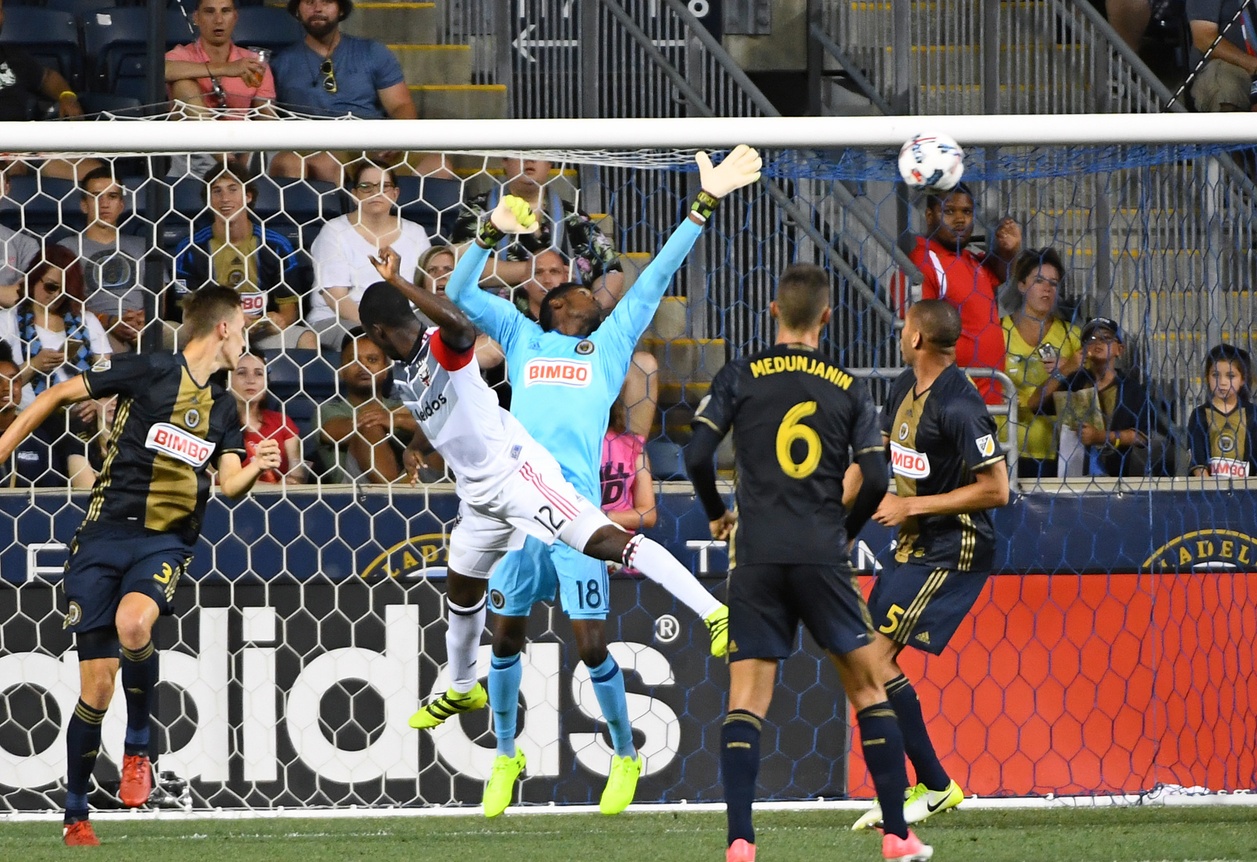 On very few occasions does a standout performance from Philadelphia Union goalkeeper Andre Blake get overshadowed, but that was the case on Saturday night after the situation regarding Luciano Acosta's rescinded red card.
If the ejection wasn't taken back by referee Sorin Stoica, Blake's showing in between the pipes would've have been the only thing people would be talking about from the 1-0 Union victory over D.C. United.
Blake saved Lamar Neagle's penalty in the 70th minute and tipped Neagle's shot off the crossbar in stoppage time to preserve his sixth clean sheet of the season.
"I decided I was gonna go to my right," Blake said. "I saw a few cues from (Neagle) and I made up my mind. I went there and I made the save."
"It was a great cross. I made a quick look and saw (Neagle) was open," Blake said. "I just knew I had to stand my ground and hopefully be able to make a save. I'm very thankful I was able to make that save."
Blake's continued strong play in net is nothing new for his Union teammates, but on a night in which the team needed an extra boost, the Jamaican came up with the big plays.
"He's for me by far the best goalie in the league," Union midfielder Fafa Picault said. "I'm really happy to have him on our side. Every week, week in and week out, he's shown great performances. It's emotional for me during the games to watch that. It gives me a lot of motivation to keep going. Especially on that PK stop, we could've lost the game or tied the game after that."
Haris Medunjanin even went as far to say Blake is on the verge of playing in Europe, something those familiar to MLS have heard for a little while.
"Andre is a great goalkeeper," Medunjanin said. "He saved us a lot of games, and tonight he saved the penalty kick. It was a moment for him to step up and he did it. This is the reason why last year he was the best goalkeeper in the league. He has potential to play in Europe. It's up to him and how he performs. I hope he stays humble and does his work very day and hopefully he can get a transfer or something to Europe."
Blake's performance also inspired the crowd inside Talen Energy Stadium. Although they haven't had a ton to cheer about in recent weeks, the fans were out in full force and they made their presence known as Blake made his big denials.
"You feed off of that," Union manager Jim Curtin said.  "I think it's the loudest the crowd has been all season, to be honest, on that save. That was as loud as this place has got, maybe ever, to be honest. That was a really good ovation. I think they were excellent tonight. They pushed us on."
"In that moment, though, you could see the players kind of rally around it," Curtin said. "I think immediately after that, we had a pretty good response and started to get some confidence back and played some passes. But to make that save in that spot is what big-time players do, and Andre's a big-time player for us."
Blake is one of a few big-time players that will leave the Union in the next week in preparation for the Gold Cup. Blake will be at the competition with Jamaica, but the Union might be able to keep him for Wednesday's Open Cup game against the New York Red Bulls and Sunday's clash at home with the New England Revolution.
Alejandro Bedoya is off to the U.S. Men's National Team camp in Nashville and he might be joined by C.J. Sapong as well.
That leaves the Union with a few holes to fill. Bedoya's replacement will be Derrick Jones and Jay Simpson will take over for Sapong, but that means the depth during the three-game stretch that concludes with a trip to Sporting Kansas City on July 6 will be thinner than usual.
The Union have replacements in hand, but what they didn't have before Saturday was momentum to boost them through the run of games. But after Blake's stellar night in goal, the Union are flying high with three important games ahead in the next two weeks.