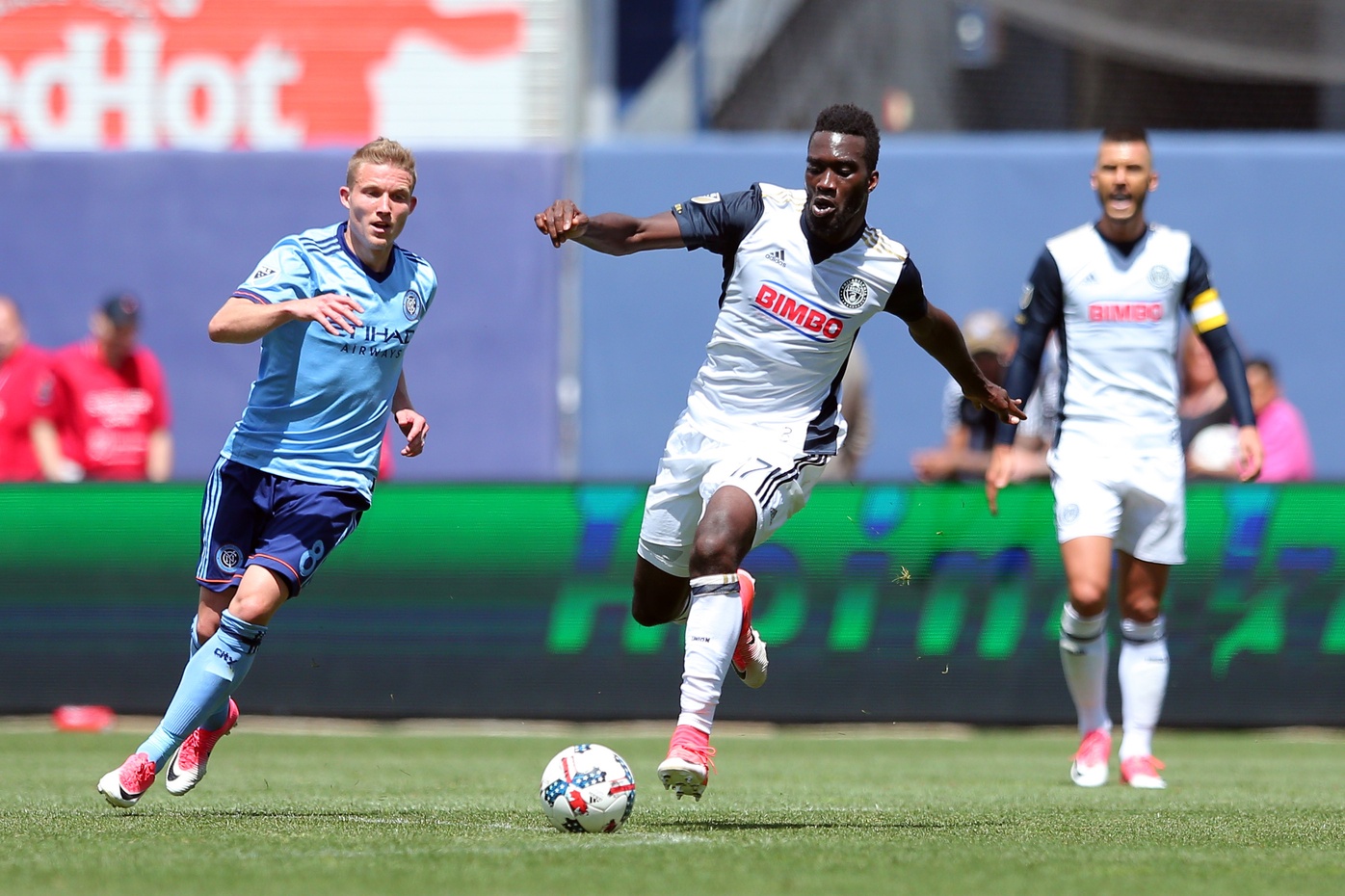 After being in top form for a recent run, the Philadelphia Union are beginning to come back to earth.
Consecutive losses away to Real Salt Lake and NYCFC have seen the Union fall to ninth place in the Eastern Conference after they were within touching distance of climbing above the red line. The loss to NYCFC, in particular, was frustrating because of the way that it happened. The Union held a 1-0 lead until the 80th minute and ended up losing 2-1 before the international break.
Injuries to Oguchi Onyewu and Warren Crevalle forced Jim Curtin's hand limiting his creativity in substitutions.
"We're thin in that spot right now [CDM] due to injury. You have Mo (Edu) injured, you have (Brian) Carroll injured, you have Alejandro (Bedoya) and (Derrick Jones) away and obviously, that's part of it." Jim Curtin said, "We have a deep roster and the reason that we have a deep roster is to use it."
The injuries forced Curtin to bring in Richie Marquez for Onyewu and Joshua Yaro for Crevalle pushing Jack Elliott to the midfield for the first time in his MLS career. It was after these moves that the floodgates opened for NYCFC.
"We have a lot of good center backs," Curtin said, "It's hard when you lose one early, It's not a position that I like to sub at all but Richie is more than capable of stepping in. Obviously, on the goals, (Maxime) Chanot gets a half step on him, gets in front of him and we don't have anyone on the post to deal with him because they put a couple guys out for short corners. Disappointing again because it starts the momentum. It looked like a day when Andre (Blake) wasn't gonna get beat and then it happened and things kind of snowballed from there.
"Josh just came back and he was thrown into a game like this where you're on the road and you're winning 1-0 and they're gonna throw everything at you. It was a tough time-frame to come into the game and they used that to their advantage," Blake said, "They were going down that side a lot and also Jack getting pushed into the midfield, that was his first time playing that spot in an MLS game. Just a few things that didn't go our way and it happens sometimes."
Even with the tough loss, the team is keeping resolve entering the international break. Especially with them beginning to get closer to full health now that Yaro is back and Roland Alberg is regaining fitness.
"It was good," Yaro said when asked how it felt to be back. "It's been a long road for me coming back from injury and it's a good feeling when you get to step on the field again."
Yaro being back in the fold will put the competition for center back spots at an all time high with Marquez, Elliott, Onyewu, and Yaro all being capable of starting depending on the game but overall the competition should breed good performances.
What's most important now is to put this loss in the rearview as the Union return home for their next three games. In the confines of Talen Energy Stadium, the Union are 3-2-2 compared to 1-4-2 on the road.
"It's back to what we did the last time that we were losing games," Blake said, "Even when we lose a game we never doubt ourselves, we never doubt the guy next to us and just know that we've gotta keep working on it and the results will come."
"Just gotta find (our form) again," goalscorer Fafa Picault. "That goal was the opportunity but we could have played some earlier passes could have been sharper all around but it happens. We just need to get back to what we were doing earlier."
Next up for the Union is a home clash with the Harrisburg City Islanders in U.S. Open Cup play on June 14. That should be a good tuneup as they look to end this cold streak on June 18 at home against the New York Red Bulls.