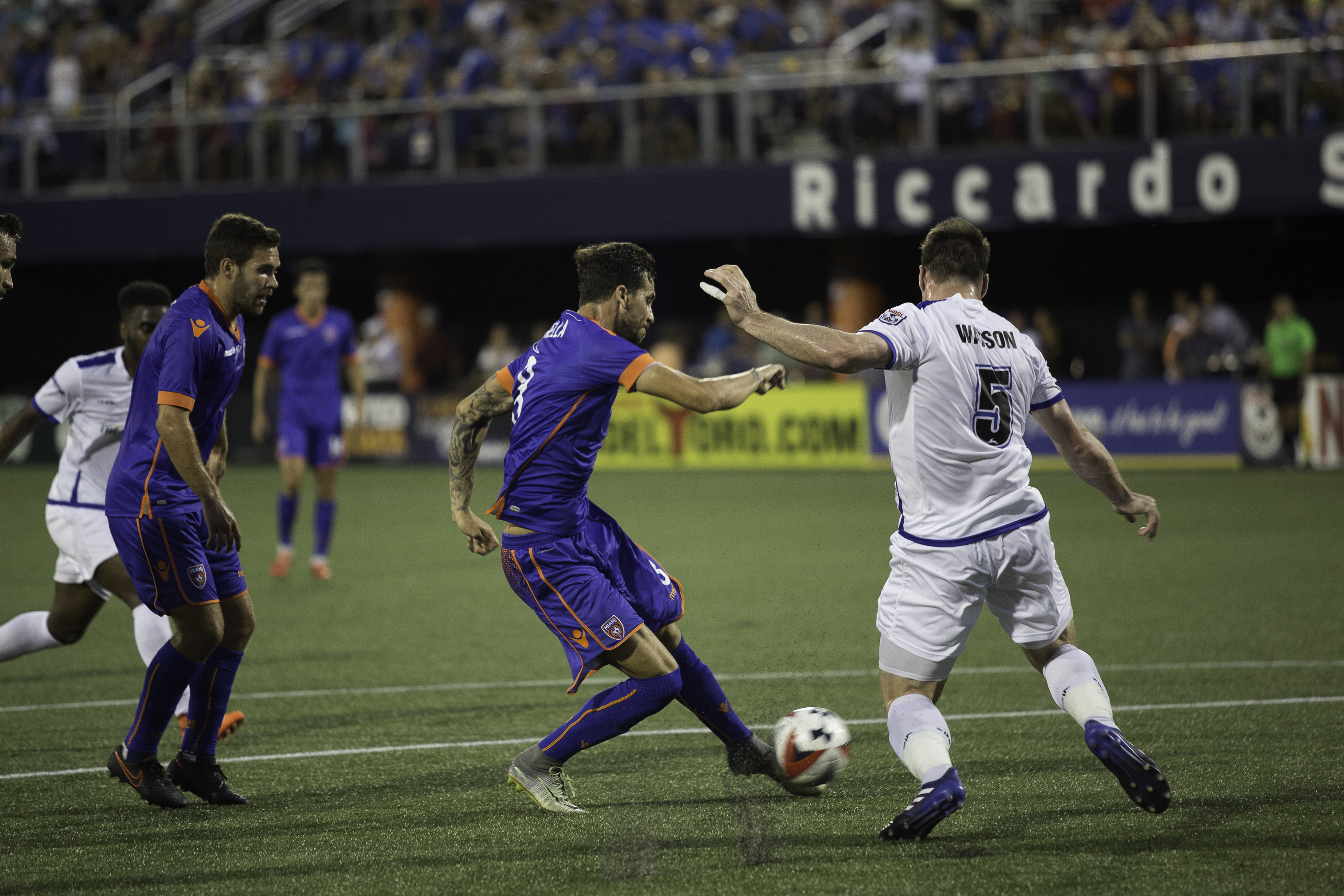 The past week was busy for the NASL, as the New York Cosmos squared off against FC Edmonton in midweek play and a Jacksonville Armada regular feature prominently in international action.
On Wednesday, FC Edmonton captured a crucial 4-2 win away from home against the New York Cosmos. The game was action-packed, with the Eddies responding to first-half stoppage time goal from Irvin Herrera with four unanswered goals in the second half. The New York Cosmos scored a consolation goal in the 94+ minute from Ayoze, but the goal was not enough to secure the Cosmos a win.
On Thursday, Kevan George started in the midfield for Trinidad and Tobago, as they faced off against the U.S. Men's National Team in Colorado. While the U.S. secured a 2-0 victory, with both goals coming from American phenom Christian Pulisic, George featured for T&T throughout a hard-fout match.
In the league, Miami has continued to extend its lead at the top of the table, sitting five points in front of the Armada and the Cosmos. Only Indy Eleven, who sits in last place in the league, is still seeking their first win of the season.
Here is a closer look at the upcoming matches:
NORTH CAROLINA FC AT NEW YORK COSMOS (SATURDAY, 4:00PM, ESPN3)
North Carolina FC faced off against the New York Cosmos last weekend, falling 1-0 to a 52nd  minute goal from Cosmos' Juan Guerra. This weekend, North Carolina will be seeking revenge away from home.
North Carolina sit in fourth in the league table, tied for most goals scored in the league. Their most productive player, Lance Laing, has been quiet for the past few games, and North Carolina will be hoping he steps up this weekend. Coming off a loss to the Cosmos last weekend, the intentions of North Carolina will be very clear Saturday night.
The Cosmos are coming off of a midweek rout against FC Edmonton, and will be hoping to bounce back on Saturday. Last weekend, the Cosmos beat North Carolina, 1-0, putting on an impressive defensive display. The Cosmos will need it on Saturday against North Carolina.
 SAN FRANCISCO DELTAS AT PUERTO RICO FC (SATURDAY, 7:30PM, BEIN SPORTS)
On Saturday night, the San Francisco Deltas will travel to Puerto Rico to face Puerto Rico FC. This is the first meeting between these two teams this season, and both sides will be looking to make a statement.
Puerto Rico FC is coming off of their best performance of the season, capturing a 3-0 win at home over FC Edmonton. The win was significant, as it was their first of the season, but the shutout victory was also notable as Puerto Rico's season has been marred my defensive lapses. Puerto Rico will be hoping to keep up their good play at home again against the Deltas.
The San Francisco Deltas are coming off of a dramatic 2-2 comeback draw against Indy Eleven, with both goals coming in the last eight minutes of the match. Sitting fifth in the table, only behind North Carolina FC on goal differential, the Deltas will be looking to secure a victory away from home in their inaugural season.
 JACKSONVILLE ARMADA AT INDY ELEVEN (SATURDAY, 7:30PM, ESPN3)
Bottom of the table Indy Eleven will host the Jacksonville Armada on Saturday night as they continue their search for their first win of the season. Holding the second-worst goal differential in the league, Indy will be hoping to turn things around.
Indy Eleven has had a rough season so far, scoring eleven goals through ten games, all without a win. On the verge of their first win of the season last weekend, Indy let in two late goals to tie with the San Francisco Deltas, leaving them two points short and still winless. This weekend, at home, Indy will be hoping to take all three points and salvage their season.
The Jacksonville Armada sit second in the table, boasting an eight goals conceded tally which is tied for second-best in the league. Having lost to league leaders Miami FC last weekend, Jacksonville will be looking to rebound with a win away from home. While they have only scored eleven goals this season, their defense has awarded them four wins this season.
 MIAMI FC AT FC EDMONTON (SATURDAY, 9:00PM, ESPN3)
Miami is still rolling as they look for their sixth win in seven games away from home against FC Edmonton. The Eddies are coming off of a convincing 4-2 victory over the New York Cosmos on Wednesday, and will hope to carry some momentum into the match.
Miami FC is the best team in NASL and arguably the best team in division two, and they have not set a wrong step this season, having only lost one game this season. Forward Vincenzo Rennella has also come into his own, now tied for first in assists and second in goals in the league. Miami is expecting to come away with at least a point this Saturday, if not all three.
FC Edmonton is beginning to climb the table after a lackluster start to the season, winning two of their last three matches. Midfielder Dustin Correa has been a sparkplug for the side, currently tied for league leader in assists and having scored and assisted in their first win, and assisted again in their second. The team looked confident away from home on Wednesday, and they'll be looking forward to bringing that positive energy home on Saturday.