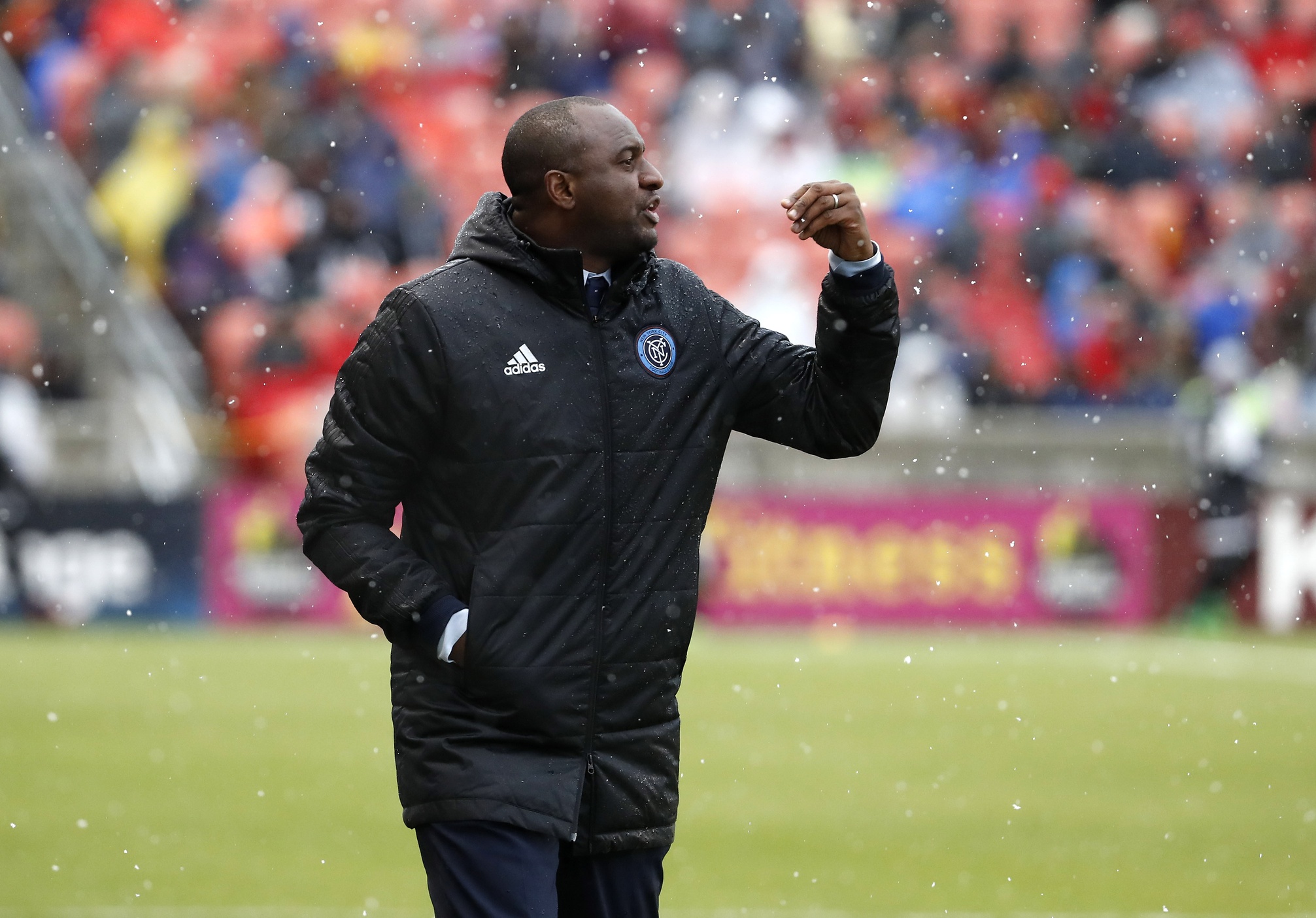 At first glance you could mistake them for Jesse March's secret service at New York Red Bull home matches.  Vince and Vance Moss are twin brothers. They are medical surgeons in their mid-40's – war heroes who have served multiple tours of duty in both Afghanistan and Iraq. With their shaved heads, dark glasses and neatly coiffed suits they are anything but inconspicuous – especially when planted in the first row at Red Bull Arena behind the visitor's bench. They shout at their opponents, incessantly rooting on the home team or berating the road side. Their voices carry easily to the technical area and while some opponents chuckle at the chatter, others react less favorably – like Didier Drogba with the Montreal Impact and New York City FC coach, Patrick Vieira.
"No bad language was used – that is not in me and my brother's nature," said Vince Moss after a highly publicized post-match confrontation with Drogba last September. "We don't use bad language or use any disrespect."
Vieira does not subscribe to that assessment. In addition to their rabid support of the Red Bulls, the Moss brothers are also season ticket holders with the Philadelphia Union.  Last weekend at Yankee Stadium, they purchased sideline seats that provide a unique experience and the ability to unleash derisive comments toward the enemy from a minimal distance. The pair was ecstatic as the Union took a 1-0 lead in the 69th minute on a precise Fafa Picault finish. There was a hush in the Bronx while the brothers held their Union scarves high while facing Vieira and the NYCFC bench.
"When the opposition team scores and you're receiving abuse and a lack of respect, you react – and I reacted," said Vieira. "I can say I reacted in the wrong way but I think it is difficult to control yourself at this period of time. It's not a big incident – of course, I needed to react much better than I did."
There were varying accounts of the confrontation from pitch-side observers including claims that the brothers were vulgar and unruly to supporters who suggested that Vieira strayed from his technical area – a violation that might require further examination by the league.
NYCFC rebounded for a 2-1 win and Vieira was transparent in comments this week that the Moss brothers have a motive.
"Of course they crossed the line," said Vieira. "They are who they are. They are coming to the game with a plan and this is what people expect them to do. They are there to do a job."
Vieira and the brothers will re-unite on at least three more occasions this season starting next Wednesday when the Red Bulls host NYCFC in the fourth round of the U.S. Open Cup.
"I hope they are going to be there," said Vieira. "I would like to see them next to me."
Regarding the squad he will choose for the Cup match, Vieira suggested that supporters will realize an intention to win and advance.
"Something I learned last year is to take this one game at a time," said Vieira. "The Cup is a competition that we want to compete well in and we are going to put the strongest team on the field to try to win that game."
Herrera leads Venezuela to finals
Yangel Herrera converted the winning penalty kick and Venezuela advanced to the finals of the U-20 World Cup following a shootout victory over Uruguay.  The NYCFC midfielder and his Venezuela mates meet England in the finals on Sunday.
"I'm really pleased for him – he's been one of the best players in the tournament but that doesn't surprise me at all," said Vieira. "I just want the tournament to finish as soon as possible so he can come back and help us. It's not going to good for us that he has to stay but I want him to come back and be satisfied with the tournament he had so that he can help us."
McNamara, Johnson called in for Gold Cup
Last winter, Tommy McNamara pondered his U.S. Men's National Team fate – he had yet to be called into a camp.
"I think I'm an acquired taste," he said.
Head coach Bruce Arena announced his preliminary 40-man roster last week and McNamara was among the 15 midfielders chosen.
"It's really exciting," said the midfielder. "It's nice to know that people within the national team set up have been following my career and have seen something in me."
The cult followers of McNamara have also placed concerns that his signature long locks had been chopped off.
"I just wanted to cut it off – just wanted a change," said McNamara. "The good thing is that hair grows back."
Teammate Sean Johnson was also named to the preliminary roster – one of six goalkeepers taken by Arena. Johnson will try to build on his five international caps and his first selection since the January 2016 camp under Jurgen Klinsmann.