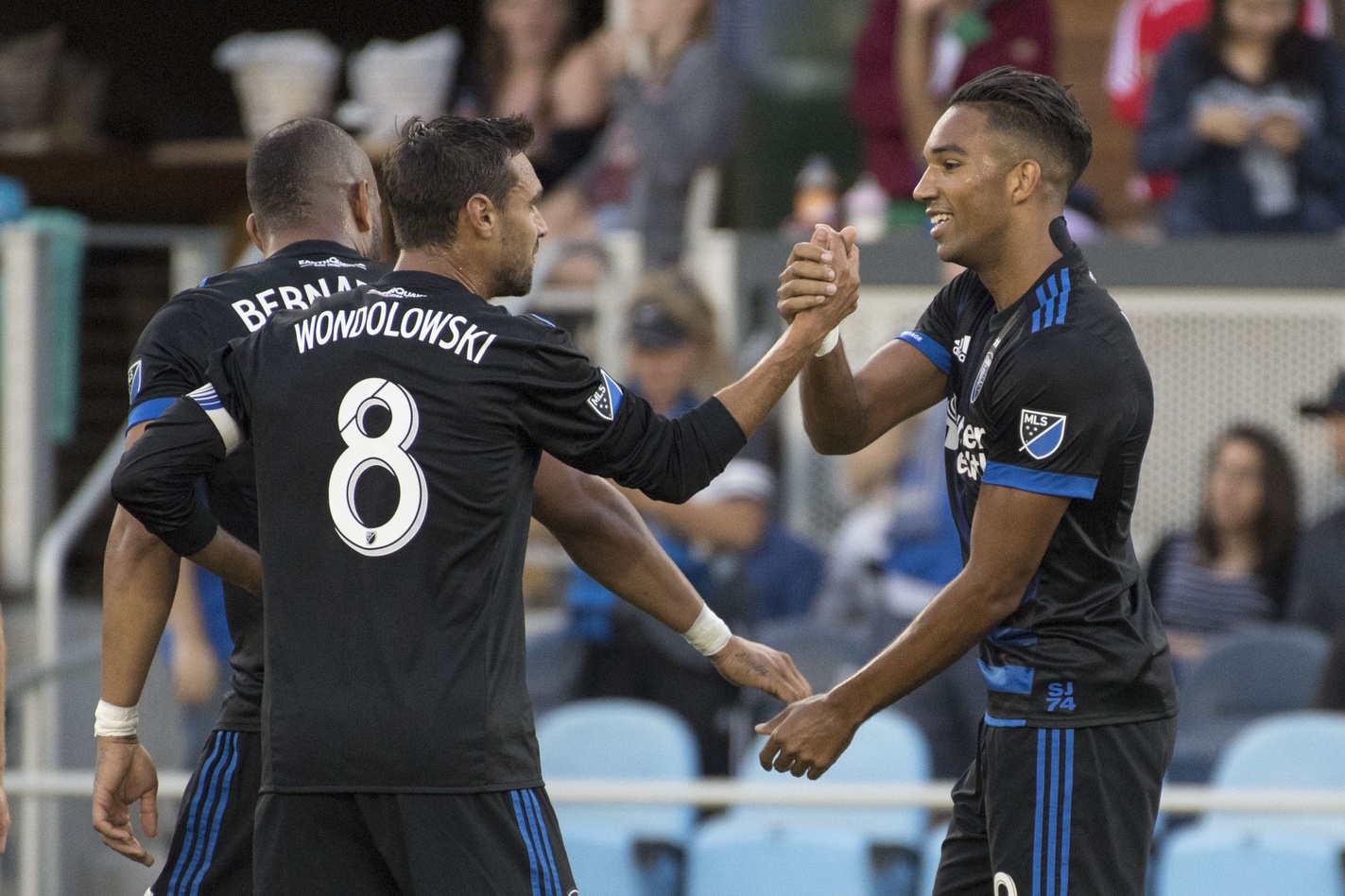 The San Jose Earthquakes' winter signings came to the rescue on Saturday night, earning the home side a 2-1 victory over Real Salt Lake at Avaya Stadium.
Danny Hoesen and Marco Urena scored a goal each to power the Quakes to their fourth home victory of the campaign.
The first major chance of the night came from Urena, who broke through into the final third in the 13th minute. His shot beat Nick Rimando, but it ricocheted off the left post and away from the net.
Hoesen started the night with an impressive individual effort that ended up in the first goal of the night. Hoesen pulled down the ball on the right side of the box, used a touch to get around a defender and fired past Nick Rimando leaving the Real Salt Lake goalkeeper flat footed.
RSL had a decent chance to equalize in the 52nd minute through a Joao Plata free kick, but he clanged his effort off the right post.
Time after time, the Quakes were knocking at RSL's door, but it was either a superb Rimando save or missed opportunity denying entry. Eventually, the Urena's persistence cracked the code and gave the Quakes a comfortable lead.
The Costa Rican's impeccable run on the right flank was topped off with a well placed strike, crushing the bottom left corner of Rimando's goal.
However, everything wasn't peachy for the Quakes as they went down to 10 men in the 71st minute, when Nick Lima's sliding challenge earned him a second yellow in quick succession.
Mike Petke's men displayed minor attacking threats throughout the night, but in stoppage time an unexpected figure spoiled David Bingham's shutout. Jose Hernandez, one of RSL's six homegrowns who played a part in the match, was able to sneak one past the Quakes goalkeeper moments before the final whistle.
The Quakes have only have a few days of rest before hosting the Seattle Sounders in a U.S. Open Cup bout, while RSL heads back home to host Orlando City on Friday in league action.
MAN OF THE MATCH
There is no doubt that Marco Urena's work rate was a notch above the rest of the 21 players on the field, and in return, the game gifted the Costa Rican forward the game-winning goal.
MOMENT OF THE MATCH
Danny Hoesen's goal got the ball rolling for the Quakes and set the tone for the Western Conference contest.
MATCH TO FORGET
Nick Lima finally experienced a forgetful and humbling night after a solid start to his rookie season. The Quakes rookie lacked composure  and discipline when defending, leading to a red card in the 71st minute.