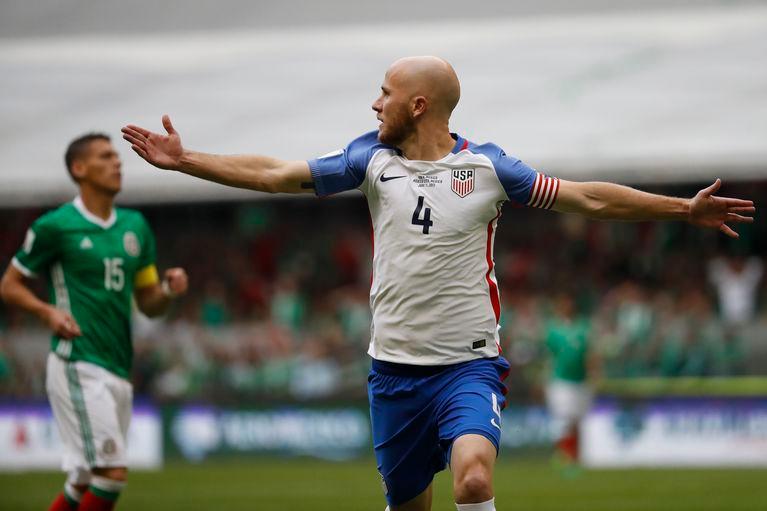 There have been some memorable moments scattered throughout the U.S. Men's National Team's history with Mexico. On Sunday, Michael Bradley created another with what might just be the best goal the rivalry has ever seen.
Just several minutes into Sunday's match, Michael Bradley stepped into the midfield to pick off a pass from Javier 'Chicharito' Hernandez. What followed was simply a moment of absolute brilliance. With Guillermo Ochoa off his line, Bradley chipped a shot from well outside of the box. The shot sailed through the Azteca air, over the outstretched goalkeeper and into the back of the net, giving the U.S. a 1-0 lead.
Level-headed as ever, Bradley's description of his finish does it little justice.
"We watched a lot of video with some of their movements," Bradley said. "We knew that at certain moments, Chicharito was looking to come to the ball. It meant that one of those inside midfielders is looking to run through as he's coming to the ball so it meant that some of those moments the other center backs had to be pulled in to deal with that. I felt like I was able to read what he wanted to do and step in. That led to a good goal for us.
"Surprised? No," Bradley added. "We've played against him a number of times. You know that obviously (Ochoa) is a very good goalkeeper. He's good with his feet. He gives them a lot in terms of their ability to play outside of his area. As I was able to intercept the pass from Chicharito, I took the first touch and saw that he was a good ways out and here you know that if you catch a ball right with the thin air the ball's going to really fly. I wanted to make sure I caught it right, and I did."
Understatement.
Here's a closer look at some more USMNT news and notes:
ARENA EXPLAINS DECISION TO START GUZAN
When Bruce Arena's lineup was unveiled, there were several surprises scattered throughout the starting XI. However, none was quite as unexpected as the decision to start Brad Guzan over Tim Howard.
Following the match, Arena reiterated that Howard is the starter and will be the starter going forward. However, given the circumstances, it made sense to give Guzan the nod on the day.
"The decision to start Brad was simply Tim, at his age, needs more time to recover," Arena said. "In the offseason, he had very difficult surgery. it took four months to recover, which affects his kicking and we wanted to be safe about that. Tonight, we knew our goalkeeper would have to kick the ball a lot. Brad is very strong with that part of his game and we just wanted to be smart about Tim.
"Tim has been our No.1 goalkeeper. We felt Brad as well as other players were positioned to have an opportunity tonight and they all came through and did a good job."
Guzan was all but untested on the day as he made zero saves while allowing just one goal as Mexico fired nine shots off target.
IN-GAME SWITCHES
Just 31 minutes into the match, Mexico manager Juan Carlos Osorio knew a change had to be made. He took off Oswaldo Alanis in favor of Jesus Gallardo, giving El Tri a more attacking option at left back. It worked, as Mexico pushed and challenged DeAndre Yedlin repeatedly down that side as they targeted the young Newcastle fullback.
Arena, in turn, was forced to make an adjustment of his own. Yedlin and Paul Arriola were told to cut off the supply line down that side as the two stepped up do deny passes down that side of the field. Rather than sitting back and defending in numbers, the U.S. pushed up more aggressively on that side, denying the ball where ever possible.
It worked, as Yedlin's game improved as it went on while Arriola put in a spirited 64 minute shifts before being substitute for Darlington Nagbe.
"At halftime, we talked about a tactical switch," Arriola said. "Their left back was coming up a lot, so how can we avoid him receiving the ball, or do we want to hold in and allow him to receive the ball? We kinda talked over that. And everything was pretty clear. Myself, I was never confused.
"[The organization] comes from the back. I listen to Deandre. During the game, everything was clear."
ARENA LOOKING AT PRESENT, NOT PAST
Ever since he took over, Arena has been compared with hie predecessor, Jurgen Klinsmann. Those comparions continued on Sunday, but Arena isn't looking to get caught up in them in any way.
Omar Gonzalez offered the most targeted praise of Arena, crediting the former LA Galaxy boss for his preparation. On the other side, Gonzalez said the USMNT suffered from a lack of preparation under Klinsmann, whose own attempt at a three-at-the-back system went terribly awry against Mexico in November.
Gonzalez was the only one to directly compare the two bosses, but far from the only to credit Arena's diligent approach for getting the U.S. ready. Arena, however, is just focusing on what he can do rather than how the team has changed under his guidance.
"I think that's a hard question to answer because I haven't spent a whole lot of time examining what happened in the past," Arena said. "In a lot of ways, that's not my business. I tried to provide the environment that I thought was right for a national team program when I started back in January. That's all I can say. I'm just doing things the way I do things.
"I can't comment on things that went on in the past. I can say the players have responded very well and we're really becoming a team, so I'm really proud of the team."