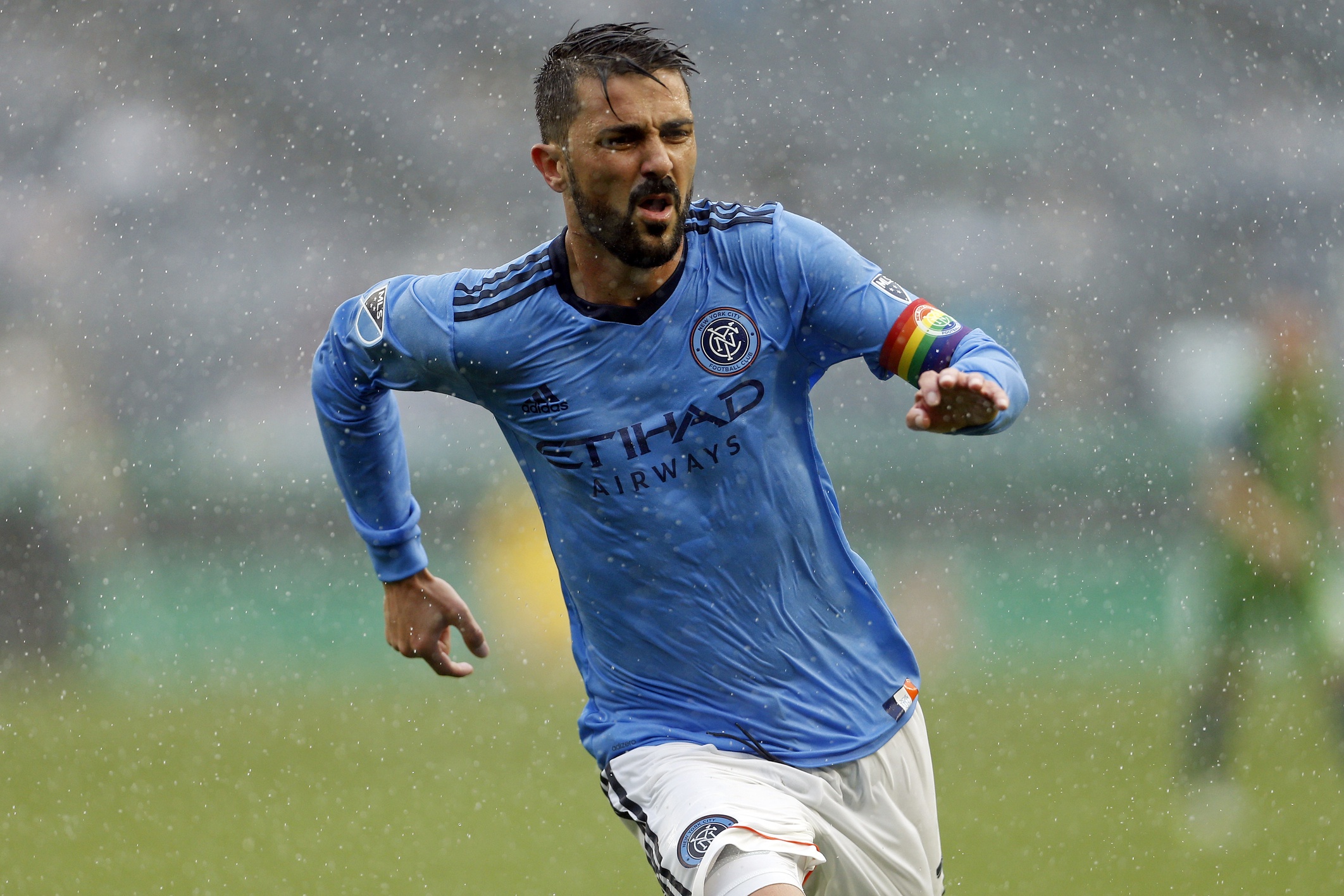 It may have taken New York City FC captain David Villa a bit longer than he would've liked to net his 50th goal in Major League Soccer. However, the 35-year-old striker likes the save his best for when it's needed most and some were not as surprised about it than most.
"To be honest, I'm not surprised," NYCFC head coach Patrick Vieira said, "because you have to look at David's career and what he has achieved. It is not easy to be the top goalscorer in Spain's history. It's not easy to win the Champions League and the World Cup. That talent is always going to be there."
Villa's 50th goal came on a penalty kick in the 52nd minute at NYCFC rallied back from a goal down in their 2-1 win over the defending MLS Cup champion Seattle Sounders on Saturday in the Bronx. His 50th goal in his 79th appearance makes Villa the fifth fastest player in MLS history to reach the milestone and his two goals are his first two ever scored against the Sounders.
His brace on the day ends an overall four-match scoreless streak for the Spanish striker. His last goal prior to Saturday came at Orlando City in the 82nd minute in NYCFC's 3-0 win back on May 21.
"It's really important for me because I think it's my best goal," Villa said. "I think that the goals give a lot of points and good moments for NYCFC, so it's the most important for me.
"I'm so happy to score the first goal and so many goals for NYCFC, because it's good for them."
The brace gives Villa 10 goals on the season, tying him with the Houston Dynamo's Erick "Cubo" Torres for second and puts him two shy of the current league leader, the Chicago Fire's Nemanja Nikolic.
Villa scored his 51st career MLS goal in the 77th minute, corralling in a cross from Jack Harrison and firing his shot just inside the far post past Sounders' keeper Stefan Frei, putting NYCFC up, 2-1.
Much like his first career MLS goal that came in the first-ever home match at Yankee Stadium in 2015, Villa's 50th also, fittingly, came at home, in inclement weather, in front of the Yankee Stadium faithful. The biggest difference in scoring No.50 was this goal came in a steady rainfall in the Bronx and not the blistering cold.
Although everyone, including Villa, was slipping and sliding throughout the day, when it mattered most, he stayed upright to score the goal. If it counts for anything, he slid and laid on his back during the celebration.
"You need to do well whether it's the condition of the weather or the pitch or whatever the condition is of the soccer, and we did well. So we are really happy," he said.
Fifty goals for anyone in any one particular league is a big deal. However, he and Vieira still recognize that Villa's goals are more than just about himself.
"It's great. I mean, soccer is not an individual sport," Villa said. "When you do something, it's not for you, it's for the team. I think a lot of these goals give good memories for the history of NYCFC, give a lot of points and give good moments for the team."
"He got rewarded tonight," Vieira said, "but what I really like about him is when he's making it really difficult for the other team because he's setting an example for the rest of the players."