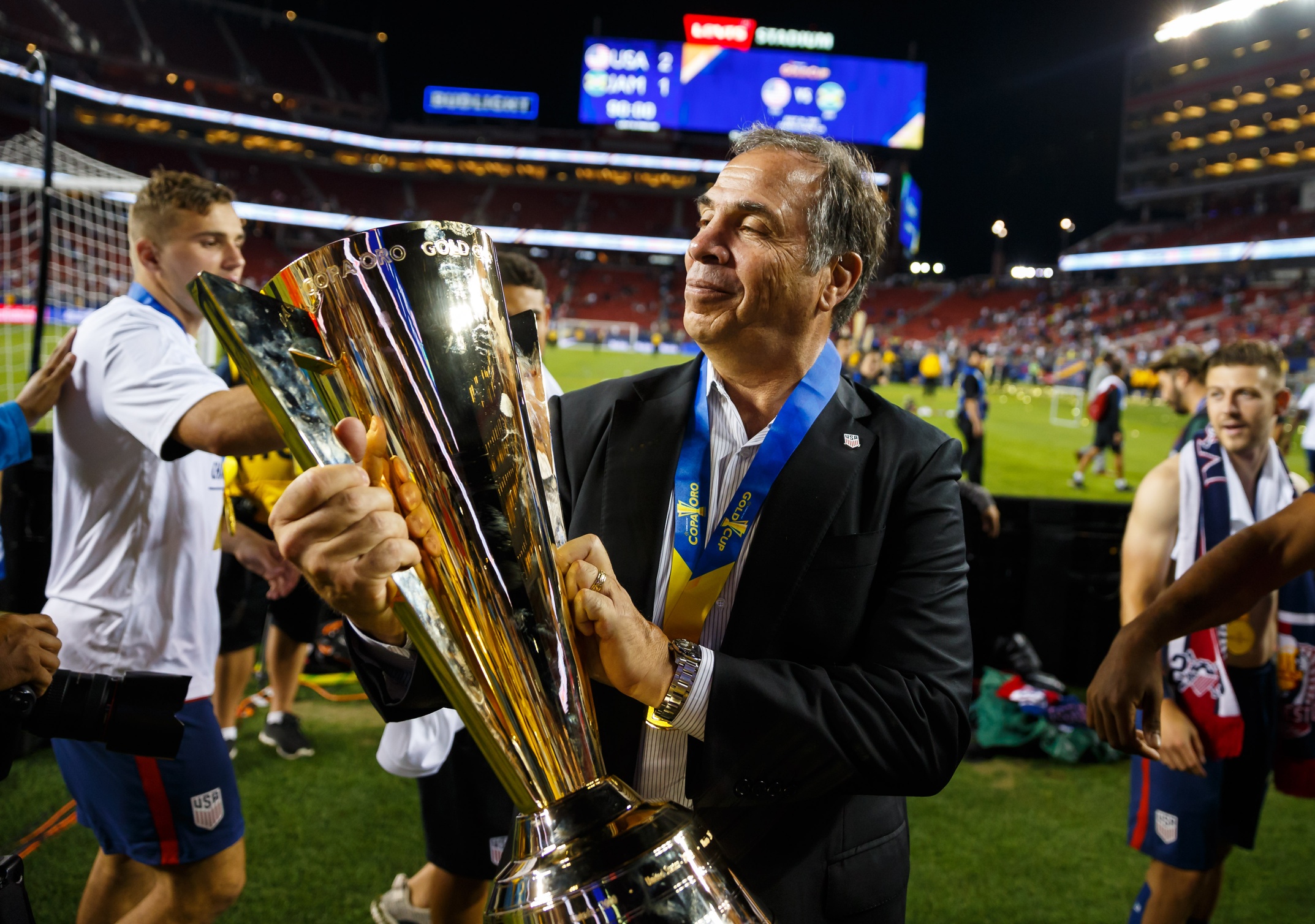 Bruce Arena is no stranger to lifting trophies. He's lifted five MLS Cups, three Supporters' Shields, a U.S. Open Cup and a CONCACAF Champions Cup. Even before Wednesday night's finale, he'd lifted a pair of Gold Cup trophies during his first stint as U.S. Men's National Team manager.
Even so, Wednesday's victory was as sweet as any of them.
Arena and the USMNT toppled Jamaica, 2-1, in Wednesday's Gold Cup final as Arena won the CONCACAF tournament for the third time. This one was certainly a winding road, one that featured 27 different starters and a number of bumps along the way. The U.S. didn't have to face Mexico and they didn't need to bring their A-team, but the victory tasted just as sweet all the same because of the road Arena and co. have taken throughout his second USMNT stint.
"They're all good, they're equally as good," Arena said after the win. "You never want to take anything away from one team to the other. If you'd asked me in November if this is where we'd be with the program I'd probably say I don't think so. It wasn't critical for us, however as we got into the tournament, it was. As we entered the quarterfinals it was clearly the objective and we accomplished that.
"For me personally, it certainly feels good, but I think for the players that are working real hard to represent the United States and get our national team program better it's a lot of credit to them. Our players have done simply an outstanding job from the first day I've taken this position."
Since Arena took over, the USMNT has uncorked a 13-game unbeaten run and looked completely rejuvenated along the way. There were the bounce-back results in World Cup qualifying and the point in the Azteca, which served as major challenges for a USMNT that appeared to be in a tailspin just several months prior.
Over the past 35 days, though, Arena faced a different task. He looked unify a new-look group of inexperienced players heading into a down-year Gold Cup. He brought in new faces, outcasts and several veterans to complete the task. 35 days, seven games, zero losses. Arena says it "certainly wasn't perfect", but it sure was effective.
Arena credits the veterans for helping them get there. He praised Clint Dempsey for doing whatever it took and playing whatever role necessary to help guide the USMNT. He lauded Michael Bradley's role as captain and Tim Howard's leadership from the back. He credited defensive standout Omar Gonzalez, who won yet another trophy under Arena after claiming cases full while with the LA Galaxy.
It wasn't just the veterans,though. Jordan Morris was the one who fired the vital goal while providing a performance Arena saw as "encouraging". Darlington Nagbe and Paul Arriola carved out more regular roles throughout as two of several players that took their chance and seized it.
"I told the players if anyone sprays champagne on me they will not be considered for the next World Cup," Arena joked. "The only reason I've been a part of winning three Gold Cups is because I've probably been in a lot of them. I don't know the exact number, but you don't get the opportunity that I had and then 10 years later get another opportunity. That's the reason.
"I don't want to take too much credit for it. I've probably had more opportunities than most coaches. The unbeaten streak, I don't worry about that a whole lot. My focus is on, 'Are we getting better?' We're getting better, but we need to get much better than we already are. It's credit to these players. They've done an outstanding job."
There isn't that much time to enjoy the summer's success, though. The fall schedule is looming, and with it comes the return of World Cup qualifiers.
Costa Rica, a team the USMNT defeated in the semifinals, comes to the U.S. for the return of World Cup qualifying on Sept. 1 and a visit to Honduras looms soon after. That gives Arena less than a month to prepare for the next challenge, one which could prove vital towards advancing to Russia 2018.
The Gold Cup gave Arena some answers and opened up some new questions along the way but, in the end, it was a tournament that may have paved the way for something bigger in the year to come.
"We've made progress, but we have a long way to go," he said. "Certainly, we need to once again integrate our other players, which is difficult. Doing this well past mid-stream I found to be a difficult challenge, but not a challenge I didn't want to take on. But it's difficult. I've been away from, it'll be probably three or four months, not having our team together. Many of them missed this opportunity, so that's challenging. I've got to find the right blend.
"We're a long way from qualifying for a World Cup, and that's the objective for sure, so we've got to evaluate this performance in July, and in the next couple of weeks I have to select a roster for World Cup qualifying, and we have to win some games in September and October."