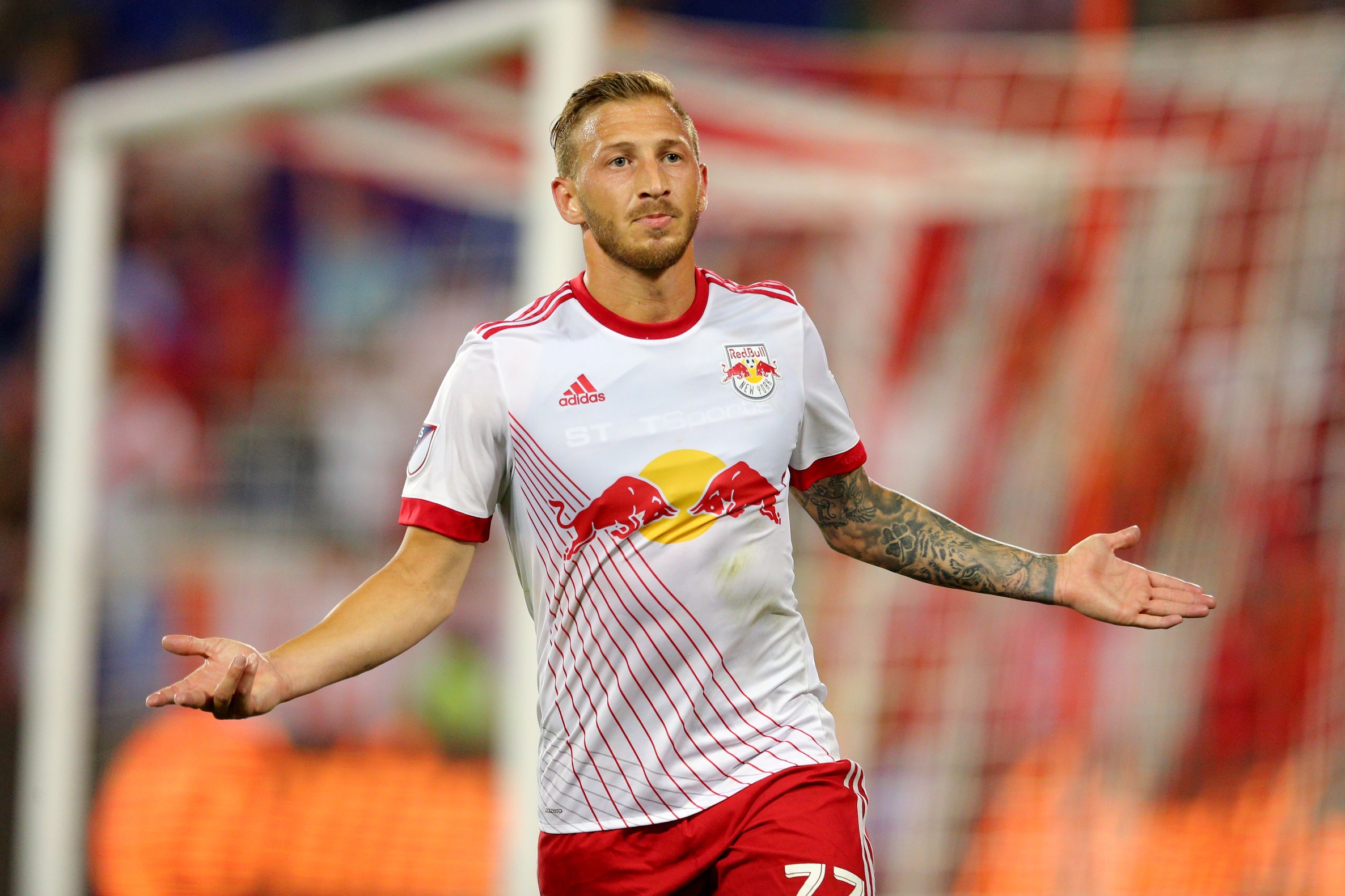 The New York Red Bulls have been in remarkable form for the last month, not having dropped a point since the end of June. The run of four matches has not just seen the team change formation — and improve — collectively, but has also seen Daniel Royer shine on an individual basis.
The midfielder scored a pair of goals in the team's 4-0 home victory over the Montreal Impact on Saturday, making his goal tally 10 this season, six of which have been scored in the last month. Despite the success, Royer is not bragging about his scoring form. 
"Actually, I don't want to talk too much about that," the Austrian said following the match. Instead, he wanted to talk about the "team effort," which has seen the team score more than three goals in four matches and keep two clean sheets in the last two games. Royer eventually named dropped Red Bulls captain Sacha Kljestan, who he said was "creating spaces," connecting well not just with Royer, but the entire attack.
The Man of the Match also complemented teammates Tyler Adams and Alex Muyl for their play in the wingback positions.
"If they connect with us," Royer said, "It helps us a lot and we're going to find great spots."
Red Bulls head coach Jesse Marsch also commented on the positive changes within the squad, and Royer's individual progress in that context.
"When I say that more guys are able to face the goal, I think Danny's been a big one," Marsch said. The coach added that Royer is now "able to move more and dribble at guys more," which has increased his "confidence and clarity" near goal.
"It's almost like if a shot of his doesn't go in, it's surprising right now," Marsch said.
The rest of his team, though, was happy to celebrate Royer, with Bradley Wright-Phillips sharing that he was "happy for him." The forward believes that "you need people that are going to score goals out of nothing, and [Royer] can do that."
He also admitted that the Austrian's recent goalscoring run "takes a bit of pressure" off him. "People are looking to me to just score the goals," but Wright-Phillips insisted that a team needs different goalscorers to succeed in the long term, with Royer's hot streak being something the Englishman said he wanted for the team all season. Luis Robles also emphasized Royer's individual impact.
"Though we always talk about the collective, it still needs individuals to come out and win their one-on-one battles," Robles said.
Robles also commended another one of Royer's talents, one he'll have plenty of time to practice if he continues to find the back of the net. 
"I'm glad he completed his flip," Robles said. "We were all nervous for him last time (because he almost cramped up). I guess he had so much energy because he wasn't running around on defense, he could do the flip." 
If the backflip was not enough evidence that Royer's enjoying his recent form, take it from the man himself. The midfielder said that lately, "it's just fun to play" a few times on Saturday night, but he's appreciating soccer much as he always does. As Royer puts it: "Seriously, it's always fun."