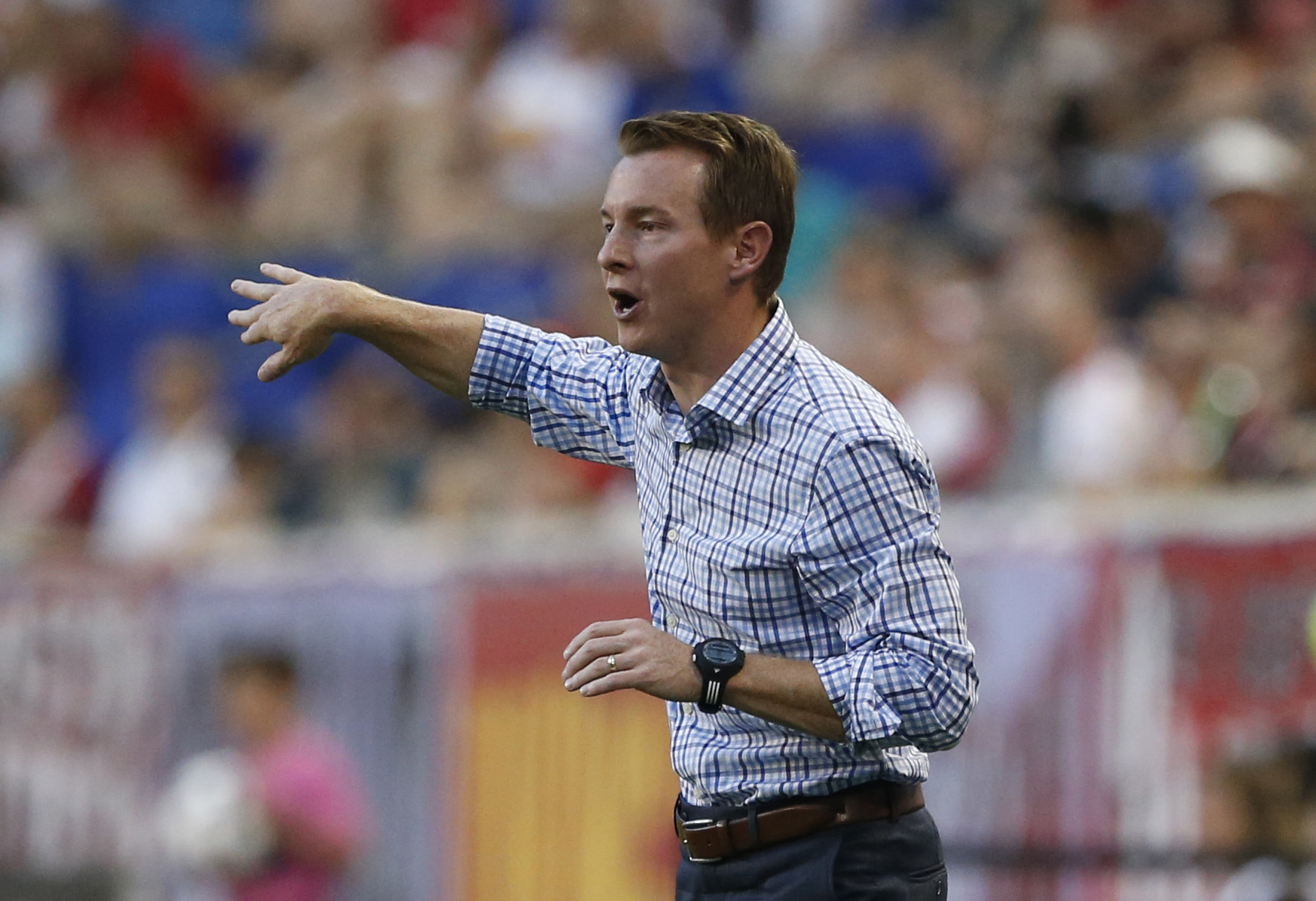 HARRISON – Despite plenty of negatives for the San Jose Earthquakes on Wednesday night, the team had a few positives to take away from Red Bull Arena.
"We ran out of gas and deservedly got punished for it," Earthquakes captain Chris Wondolowski said after his side went from 1-0 down to 5-1 down in the span of twenty minutes in their match against the New York Red Bulls on Wednesday.
Despite being on the wrong side of a drubbing, though, there was a silver lining for Wondolowski and the Earthquakes. New Designated Player Vako not only made his MLS debut, but also scored his first MLS goal.
The Georgian entered the match at halftime, which was not "necessarily the game plan," per Wondolowski, but a knock to Danny Hoesen forced Earthquakes head coach Chris Leitch's hand.
"It's really tough for him to come on in this kind of game," Leitch said about the circumstances, also noting that they were not only away from home, but also down a goal at the time of Vako's arrival. Add to that the intense humidity in Harrison that night, which Vako himself stated he was not used to, and an undesirable situation was created.
But Vako was able to handle it, providing the only bright spot in what was a difficult match, particularly in the second half. With just two minutes to go, a dominant Red Bulls allowed the Designated Player to make his way to the goal line, and once Jahmir Hyka found him, the finish was easy, making the early impact expected of him.
Wondolowski called his new teammate "a breath of fresh air." Leitch said Vako "showed some good quality." As for the player himself, he's a bit more reserved than his captain and coach.
"[I'm] happy that I made my debut," the midfielder said, though he noted that the match was little to go on, considering he's "tired." Vako has only been in the country for eight or nine days, the player said, adding that he needs "some time to get ready physically and a bit more stronger".
Despite only having 45 minutes to go on, Wondolowski believes that his teammate is "adjusting well" to the league. For Vako, the change from the Netherlands to the United States is not dramatic, at least on the field.
Vako spent five years in the Eredivisie, playing 104 times for Vitesse, and sees similarities between the top flights of the Netherlands and the United States.
"To compare to Holland is like every team try to play the ball from behind, to build up," Vako said, eventually saying it is "more or less [the] same."
As for life in the States in general, the Earthquakes' newest signing — and his captain — is happy with the move thus far. Wondolowski called him "good in the locker room," and Vako himself remarked that there are "nice people" surrounding him.
As he simply puts it, "Everything is fine for me."