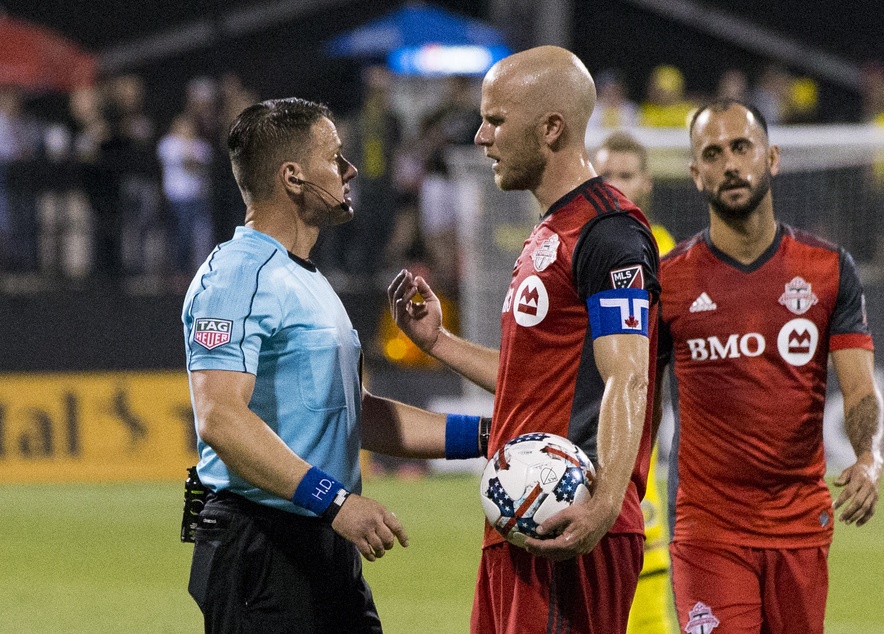 A Video Assistant Referee system is coming to MLS, but don't count Michael Bradley among those excited to see the implementation.
The Toronto FC midfielder revealed that he isn't a fan of the league's implementation of VAR, which is set to begin next weekend. The system will see a fifth official added to a video booth at each MLS games to identify missed calls on goals, penalty decisions, red cards and mistaken identity. VAR referees can alert referees when a play is in need of review, which will then see the game's head official review the play on a pitch-side screen.
Bradley, though, revealed he's a fan of the subjective nature of the game's officiating, making him opposed to the incoming system.
"I don't like it," Bradley told the Toronto Sun. "I'm a traditionalist when it comes to this stuff. I think the human error when it comes to refereeing is part of it."
"I've been on the wrong end of bad calls and I've been on the right end of them," Bradley added. "I'll continue to be on the wrong end of calls. But, for me, this is sport. Again, our game is so grey. In terms of the flow and the way the game is played, (VAR) is not something I'm a fan of at the moment."
Bradley and Toronto FC face off with D.C. United next weekend following the midfielder's participation in the MLS All-Star Game.