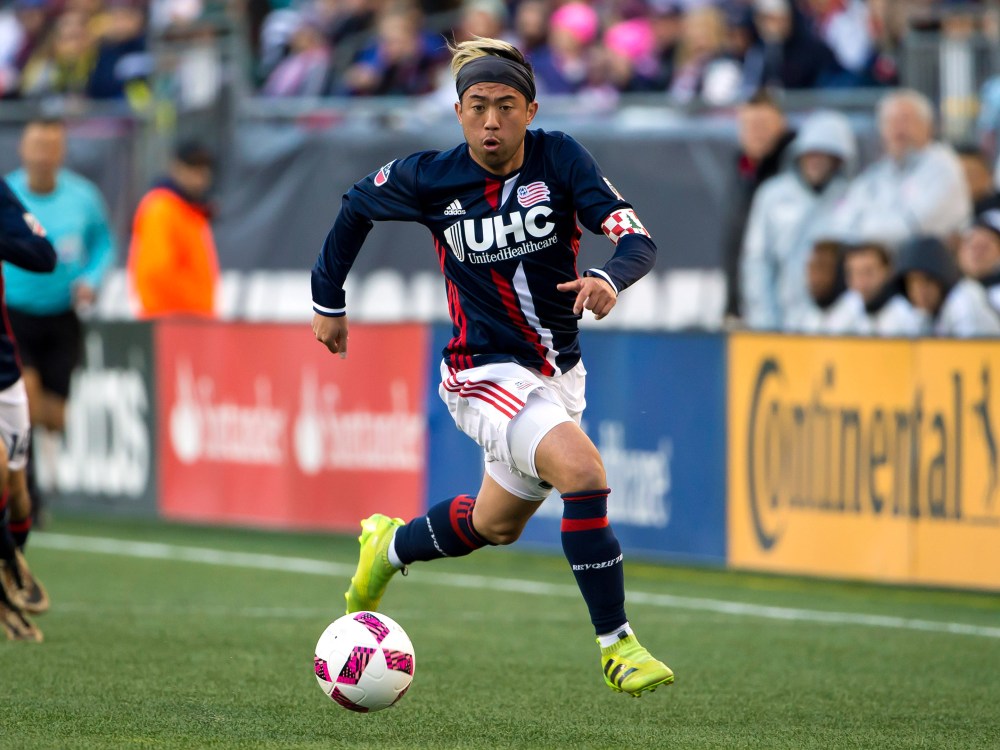 FOXBOROUGH – The New England Revolution zipped around the field in the first half of Wednesday night's game against the New York Red Bulls like they knew they couldn't afford to lose a fourth straight league match heading into the two-week break for the CONCACAF Gold Cup.
After leading at the intermission, the hosts faded in the second half, culminating in the Red Bulls' Gonzalo Veron scoring a 90th-minute that Revolution captain Lee Nguyen described as "a dagger to the heart" for a team that has relied heavily on picking up points at home.
"It's going to be stuck in our heads a little bit longer than we want," Nguyen said. "Hopefully, after this break we're going to be more hungry to get back after it, because we've got to get this taste out of our mouth. It's not a good place or where we want to be right now."
After sitting at .500 a month ago, the Revs' four-game losing streak has dropped them to 5-9-5.
"It's a lot of self-reflection and looking in the mirror," Revs coach Jay Heaps said of trying to refocus. "There's zero margin for error, so we've got to be locked in."
The Revolution are no stranger to this situation, going winless in August of last season and just 2-8-2 over a 12-game span from late June through August to drop to 6-12-9 overall at the time.
Heaps' group finished strong, winning five of their final seven matches, but missed out on the final Eastern Conference playoff spot to the Philadelphia Union based on goal differential.
"It's midway through the season, we've been in positions like this before, so we have to continue to stay positive," winger Teal Bunbury said. "We can't give up now."
The Revolution have been shorthanded with midfielder Kelyn Rowe and leading scorer Juan Agudelo both away with the U.S. Men's National Team, while Je-Vaughn Watson is on Jamaica's Gold Cup squad. Midfielder Xavier Kouassi also missed Wednesday's game with a left quad strain.
"No excuses, we knew they'd be gone," Heaps said. "We had enough of the game where we probably — we have to do better, not we should have, could have, would have, we have to do better. If we want to perform and try to be competitive in this league, we need to do better in those big moments."
The Revs don't boast as much depth as most MLS teams, though, using just 24 of their 30 roster spots. That can lead to situations like Wednesday, as Heaps only made one substitution, bringing on 2016 third round pick Femi Hollinger-Janzen, who has only scored twice in 29 MLS appearances.
Reinforcements could be on the way as general manager Mike Burns told MLSsoccer.com on Wednesday that he has offers out to several players heading into the MLS secondary transfer window, which opens up on July 10.
"We're looking to add some guys who can come in and make a difference now," Burns said.
The Revolution also made a trade with the San Jose Earthquakes on Monday to move up to the second spot in the MLS Allocation Rankings.
Whoever joins the roster, the Revs might already have dug themselves in too deep of a hole to climb out of. In 2016, the Union snuck into the playoffs with 42 points, but the playoff cutoff line in prior years has usually been somewhere around 49 points.
That means New England would need at least 22 points out of its final 15 games, which is further complicated by the Revs' non-competitive 0-7-3 record on the road this season.
"We know we haven't been getting results away," Nguyen said. "We've got zero wins away, so that's where we've got to make up the points more than ever. We've got (15) games left. That's enough games to make it up."
Nguyen pointed out that the Revolution also hit a summer rough patch during 2014, losing six straight games before rallying to make the MLS Cup final. However, that resurgence also coincided with the acquisition of then-in-his-prime USMNT midfielder Jermaine Jones.
The Revs have plenty of talent, as evidenced by Agudelo and Rowe's national team call-ups, but they'll need to go on a big run down the stretch to make up for another disappointing summer.
"It comes down to just wanting it, wanting to win, whatever it takes to win," Bunbury said. "It doesn't need to be the most beautiful soccer, but you've just got to find wins."