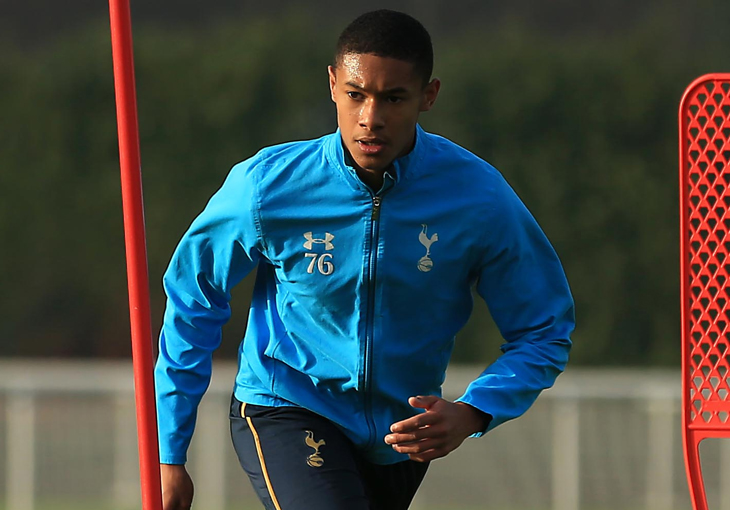 HARRISON, N.J. — At this point, Brandon Austin is just enjoying the ride. How couldn't he? At just 18 years old, he's training alongside French star Hugo Lloris and Dutch national team goalkeeper Michael Vorm as he takes part in his first senior preseason with Tottenham Hotspur.
It's a ride that's brought him to many different places at such a young age, and it's a ride that could someday, just maybe, bring him to the U.S. Men's National Team.
The 18-year-old goalkeeper made his U.S. Under-18 Men's National Team debut back in April, joining the U.S. Soccer program for the first time en route to a second-place finish at the Slovakia Cup. Now, he's training alongside the Tottenham first team for the first time throughout the team's tour of the U.S. The trip has given him a chance to join the club's biggest stars for a lengthy preseason trip of a country he feels very much connected to.
Great cross, great header, stunning save… 👏👏 #SpursInUSA pic.twitter.com/VrAWJ3FknD

— Tottenham Hotspur (@SpursOfficial) July 20, 2017
Austin is simply trying to take it in stride. He's not worrying about a potential shot at the first team or his wealth of options when it comes to his international future. Rather, he's just looking to learn as much as he can from an experience that's hard to come by for most 18-year-old goalkeepers.
"It's been really good," Austin said following Tottenham's 3-2 loss to Roma. "Firstly, obviously, being out here with the first team and learning what I can from all of the lads here. Its been a really good experience so far.
"If you just look at Hugo and Michel in the first team and how quick they are and how they move around the goal, it's about trying to pick up their techniques and trying to be dynamic. I just take what I can for that and try and implement it into my own game."
Like his club teammate Cameron Carter-Vickers, Austin's road to U.S. Soccer was far from clear cut. His father, Neville, grew up in the U.S. Virgin Islands and, after attending high school in Alabama, moved on to play basketball for the University of Georgia. He then went on to play professionally for the London Towers. Austin grew up in Hemel Hempstead in England and trained with Chelsea before joining Tottenham's setup.
He's certainly always kept that American connection, though. Like his father, he's an avid basketball fan and he was part of his school basketball team. It's not just basketball, though, as Austin says he followed all American sports, including American football, throughout his whole life. He also speaks fondly of visits to the U.S. as a child. He's come to the country several times as he's visited family on Virginia, Miami and the U.S. Virgin Islands.
Throughout the 2016-17 campaign, Austin led Tottenham's U-18 goalkeepers with 13 U-18 Premier League appearances while starting four games en route to the FA Youth Cup semifinals. In that semifinal, Tottenham was thrashed, 9-2, on aggregate by Chelsea, and it would have been much worse if not for several stunning Austin saves.
His efforts earned him a look with the Tottenham senior team this preseason alongside fellow young goalkeeper Alfie Whiteman, and while he hasn't had a chance to play, he's looked to players like Lloris to provide guidance.
"We have two talented young goalkeepers," Lloris said. "I think they get along a lot in the training sessions with the first team and our goalkeeping coach Toni Jimenez. They have a great mentality and they demand a lot to progress to develop themselves and, for sure, they will improve."
Any improvement will once again catch the eye of U.S. Soccer. Austin says he enjoyed the experience of playing with the U-18s. While at this past spring's Slovakia Cup, the U.S. won their group with a win and two draws before falling, 3-1, to Russia in the tournament finale.
Still, at least at this point, his international future is anyone's guess. It's hard to look too far ahead for an 18-year-old goalkeeper when it comes to settling on a senior team. At this point, Austin is eligible to represent the U.S., England or the U.S. Virgin Islands, and he isn't thinking about anything definite when it comes to the senior team when it still seems so, so far away.
https://twitter.com/baustin__/status/858779878962806784?ref_src=twsrc%5Etfw&ref_url=http%3A%2F%2Fwww.bigsoccer.com%2Fthreads%2Fbrandon-austin-at-spurs.2027217%2Fpage-2
Until that time comes, Austin is simply finding his feet. Another big season within Tottenham's youth system beckons as he looks to climb his way through the ranks of one of the world's top clubs. Like this ongoing preseason, his experience with the U.S. U-18s was a special one, and he's hoping to earn a few more special moments as his professional career evolves.
"I enjoyed (the U.S. U-18s)," Austin said. "We got to the final and, unfortunately, we lost to Russia. It was very good to be involved in the setup and get to know everybody.
"Obviously I got that call up and there were, I think, a couple of problems that had to be sorted out," he added. "We just have to see what happens with that going forward in the future. Just see what happens really."