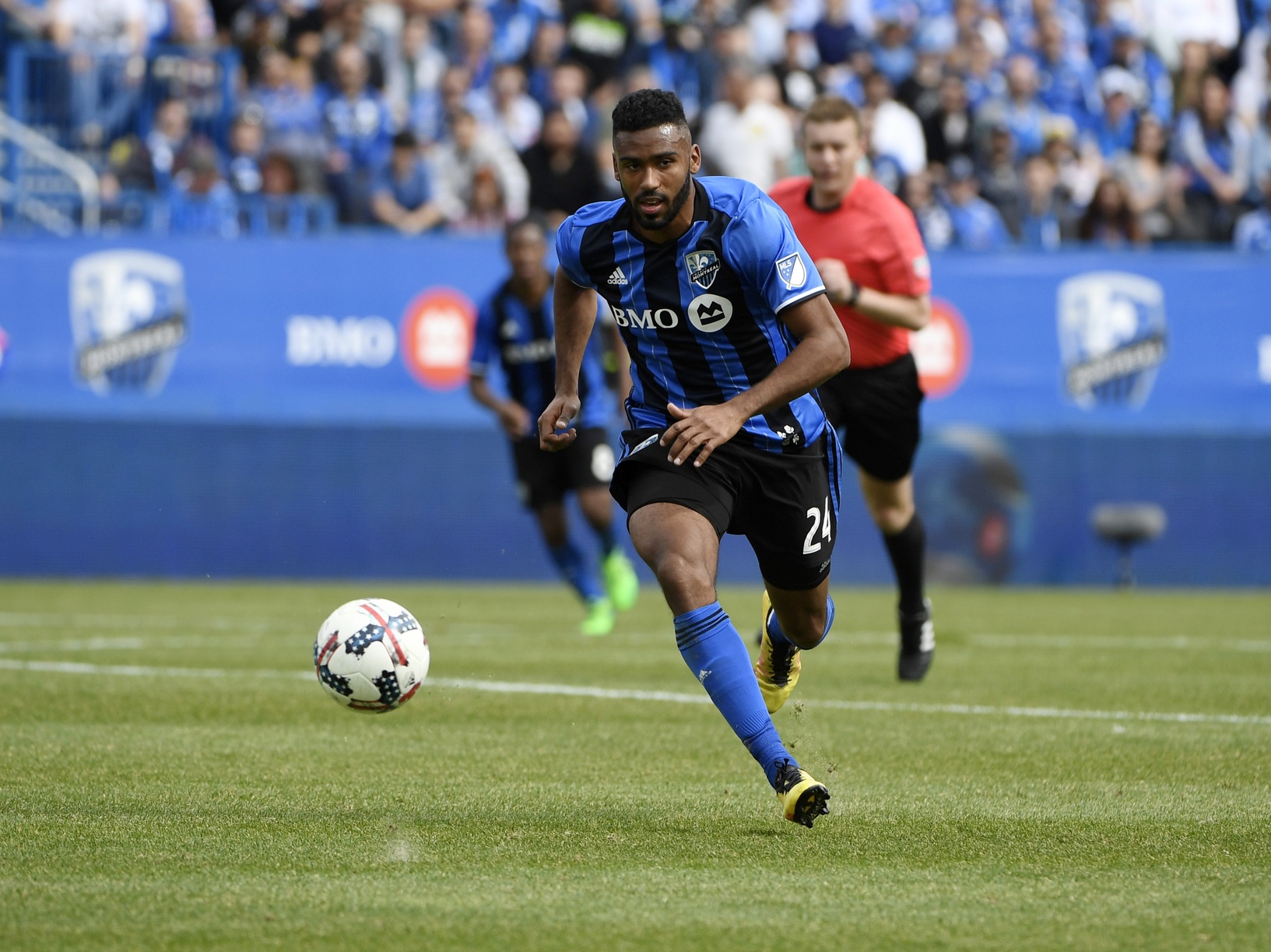 Rain or shine, the Montreal Impact relied on their usual late goal-scorer to get what they need.
Anthony Jackson-Hamel was subbed in at the 79th minute and five minutes later scored the game-winning goal, leading the Impact to a 2-1 win over Orlando City on Saturday night in Montreal.
Twelve minutes into the game, Cyle Larin took advantage of a bad back pass from Marco Donadel. The Canadian beat Laurent Ciman and then Evan Bush, who left his net to cover him. Larin shot into an empty net to give Orlando City an early lead.
Ciman tried to make up for his mistake by denying Larin of a second goal at the 35-minute mark. Larin received a through ball from his new teammate Dom Dwyer but the Belgian defender slid in front of Larin inside the box to prevent the striker from getting a second goal.
Early in the second half, the Impact found a second breath. After intercepting the ball at the upper left-hand corner of the 18-yard box, Ignacio Piatti tried to cut inside and was tripped by Jose Aja as a penalty was called. Joe Bendik chose the right side by diving to the lower right-hand corner and touched the ball but it deflected in the upper netting, giving Piatti the equalizer.
Heavy rain joined the capacity-filled Stade Saputo party in the latter part of the second half. The best players on each team disregarded the rain with Larin having a close opportunity for a second goal and Piatti hitting the crossbar.
At the 84th minute, Blerim Dzemaili sent a through ball for Jackson-Hamel who was covered by Aja. The Quebec City native shot towards the far post beating Aja and Bendik to win the game for the Impact.
Man of the Match
Anthony Jackson-Hamel remains a force to be reckoned with in the last 10 minutes of play. The young striker showed it once more by netting the game-winning goal.
Moment of the Match
In the 84th minute, Blerim Dzemaili sent a through ball for Anthony Jackson-Hamel, who beat Jose Aja and Joe Bendik with a shot towards the far post to win the game for the Impact.
Match to Forget
Jose Aja was responsible for both of the Impact's goals. He committed the foul that gave Ignacio Piatti's penalty and was beat by Anthony Jackson-Hamel for the winning goal.