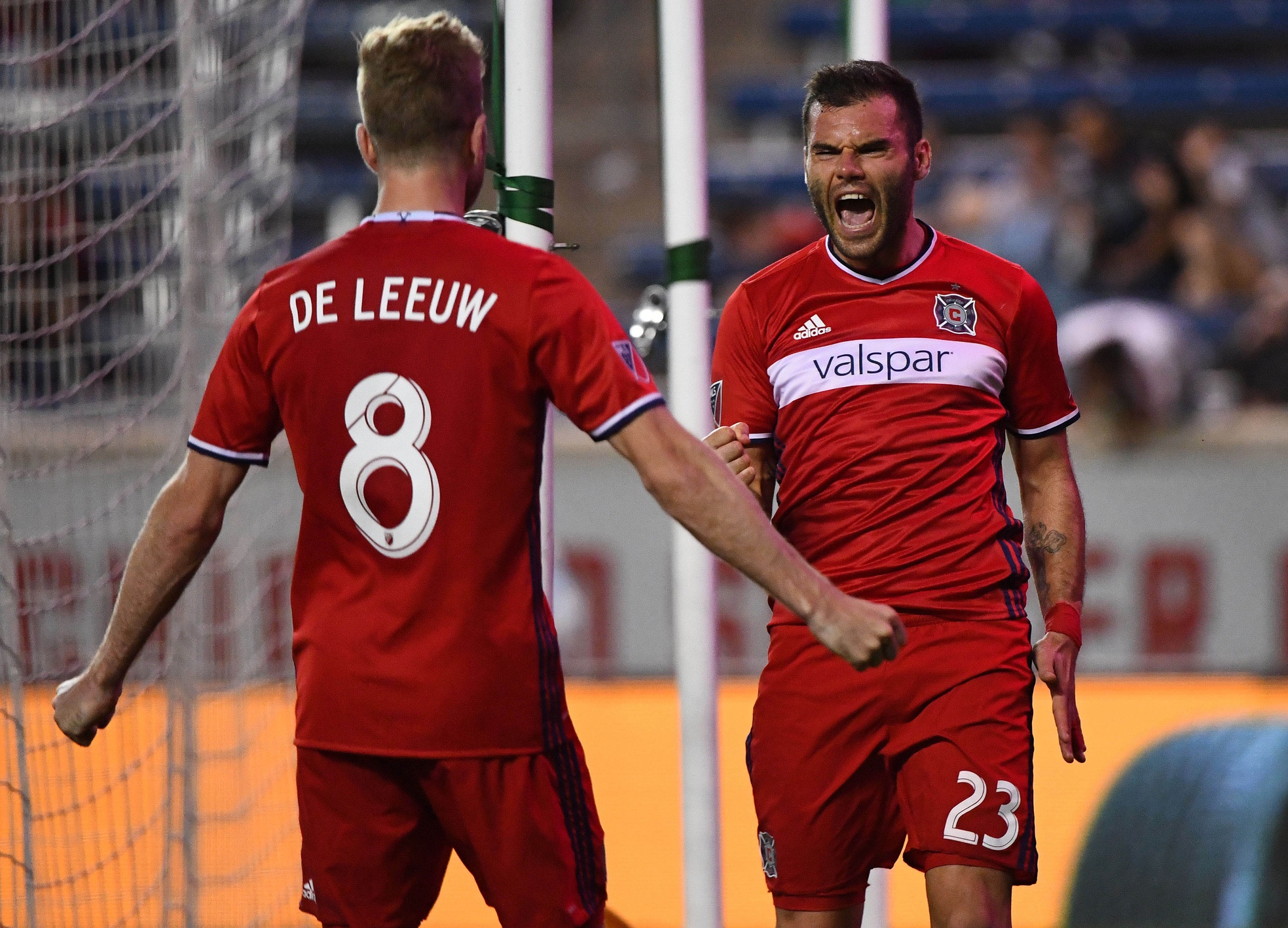 It's not even September yet and we're tossing around the phrases "playoff contender", "six-pointer", "must-win" and "watch the standings" like a baby rejecting vegetables for the first time.
Those phrases will be repeated ad nauseam from now until the conclusion of the regular season, especially in Week 24 as the tables could turn in an instant, especially the crowded Western Conference.
Week 24 features a massive clash near the red line in the Eastern Conference, a pair of showdowns between contenders, one in each conference, and a few other meaningful matches that could send tremors throughout the league.
Here's our complete look at every game being played this weekend.
New York Red Bulls at Portland Timbers (Friday, 10 p.m. ET, Fox Sports 1)
After surviving through 120 minutes of Open Cup play on Tuesday, the New York Red Bulls face another survival mission on short rest and more travel in Portland. The match that was originally scheduled for Sunday, but was moved to Friday for national television purposes isn't expected to be a fantastic one given the Red Bulls' situation.
With that being said, there is no excuse for the Portland Timbers to come out of Providence Park with anything less than a victory. Sure, the Red Bulls still pose a threat in the final third, but with fresher legs in their own attack, the Timbers should be able to wear down the visitors by the middle of the second half.
Real Salt Lake at Montreal Impact (Saturday, 7:30 p.m. ET, MLS Live)
You hear that sound coming from Utah and Quebec? It's Real Salt Lake and Montreal knocking on the doors of the red line in both conferences harder than a child waking up his parents after his first monster-laden nightmare.
Real Salt Lake haven't lost since the Mike Petke referee rant and they're unbeaten in a total of six matches. The Impact have won three games in a row all of a sudden and the combination of Blerim Dzemaili and Ignacio Piatti is coming along quite well as is new signing Samuel Piette in defensive midfield.
Columbus Crew at Orlando City (Saturday, 7:30 p.m. ET, MLS Live)
Mark Saturday's contest at Orlando City Stadium as the six-pointer of the week. Columbus is currently fifth in the Eastern Conference with 35 points and a win would bring them closer to the fourth-place Red Bulls than the red line.
On the other side of the coin, Orlando City is eighth with 30 points and is in a four-way fight with the Crew, Atlanta United and the Impact for two playoff spots at the moment. The Lions are in need of three points in the fight since Montreal and Atlanta still have games in hand.
Toronto FC at Chicago Fire (Saturday, 8 p.m. ET, TSN1, MLS Live)
Over on the opposite side of the Eastern Conference playoff race, Toronto FC and the Chicago Fire are square in the middle of a three-way for the two playoff byes. Toronto won the first meeting between the two sides on April 21 behind Sebastian Giovinco's two goals. If the Reds are to take a result out of Toyota Park, they would be just the second team to do so this season.
Chicago's 10-0-1 record at home is the best in the league, and it has relied on its home form while going through some struggles on the road. It's no surprise that the Fire's four losses in five games all came on the road with the lone victory in that span coming at home against New England.
FC Dallas at Sporting Kansas City (Saturday, 8 p.m. ET, MLS Live)
FC Dallas and Sporting Kansas City are right smack in the middle of the Western Conference race for the No. 1 seed, but at the same time, it's a hunt to stay above the red line as six points separate first from seventh. FC Dallas couldn't bust out of their slump at home last week at Colorado and ending that run in Kansas City will be a difficult task.
Sporting Kansas City is one of three teams in the Western Conference with 37 points and 1.54 points per game. The margins are slim, and although Peter Vermes' side hasn't lost many games recently, it also hasn't gone on a massive winning streak. With a 3-1-6 record in their last 10 games, Sporting Kansas City need to improve as the stretch run hits.
D.C. United at Colorado Rapids (Saturday, 8 p.m. ET, MLS Live)
Normally this would be the place where we'd say to run away from this game faster than a kid with a steaming fast dodgeball coming toward his head, but there's a chance Saturday's clash at Dick's Sporting Goods Park will carry intrigue.
D.C. United is fresh off a summer spending spree and the new faces are working into a rhythm while gaining fitness. Although the Black and Red are last in the Eastern Conference, there's plenty to play for heading into next season. The Rapids, on the other hand, are under new management after Pablo Mastroeni was let go on Tuesday. Usually a team responds in a positive manner to a coach's firing, and for the Rapids' sake, hopefully it provides a spark in what has been a rough season.
Houston Dynamo at Vancouver Whitecaps (Saturday, 10 p.m. ET, TSN 1, MLS Live)
For those of you keeping score at home, this is potential shakeup game No. 2 in the West on Saturday. The Houston Dynamo have the worst record of the top nine teams in the West at 1-7-4, but they have gotten four points out of their last two road matches.
The Vancouver Whitecaps are in an ideal situation with five home matches in their next six. Now is the time for the Whitecaps to make their surge from seventh place. They've averaged two goals per game in their last eight, and the group led by Fredy Montero should be able to extend that inside the comforts of BC Place.
Philadelphia Union at San Jose Earthquakes (Saturday, 10:30 p.m. ET, MLS Live)
The most maddeningly inconsistent team in MLS takes its circus out west to take on the one of the two teams in MLS in a playoff position with a losing record. Only New England, Colorado and Minnesota have worse road records than the Philadelphia Union, but if they somehow want to entertain themselves with a playoff conversation, they have to find a way to win their second road game of the year.
The San Jose Earthquakes are 7-1-4 at home, but like other contenders in MLS, they are horrible on the road at 2-9-1, which means every game remaining at Avaya Stadium carries extra value. With four of the top seven teams in the West playing each other this weekend, Saturday is a perfect opportunity for the Quakes to pounce.
New England Revolution at New York City FC (Sunday, 6 p.m. ET, MLS Live)
The early evening Sunday crowd at Yankee Stadium gets to see a winless road team take on the second-place team in the Eastern Conference, On the surface, the Revolution don't stand a chance against New York City FC, but they did draw Patrick Vieira's men back in May for one of their three road points of the season.
NYCFC have won three of their last five games and seven of their last 10. Vieira and company won't leave the New York area until September 16, with three home matches and a trip to Red Bull Arena next Friday. Sitting second in the East with 43 points, NYCFC is one of many MLS teams with a chance to take advantage of favorable schedule over the next month.
Minnesota United at Seattle Sounders (Sunday, 10 p.m. ET, Fox Sports 1)
Week 24's late night Sunday special could just be a showcase of the Seattle Sounders attack. Minnesota United are 0-7-2 on the road and they have one win in their last six games. It's a going to be a tough task for the Loons, who could see their league worst -20 goal differential balloon.
The Seattle Sounders have already hit their stride and there's no slowing them down at the moment. If everything goes to plan, Brian Schmetzer's men will extend their unbeaten run to nine games, and possibly go to the top of the Western Conference if their rival from Cascadia take care of business against Houston.