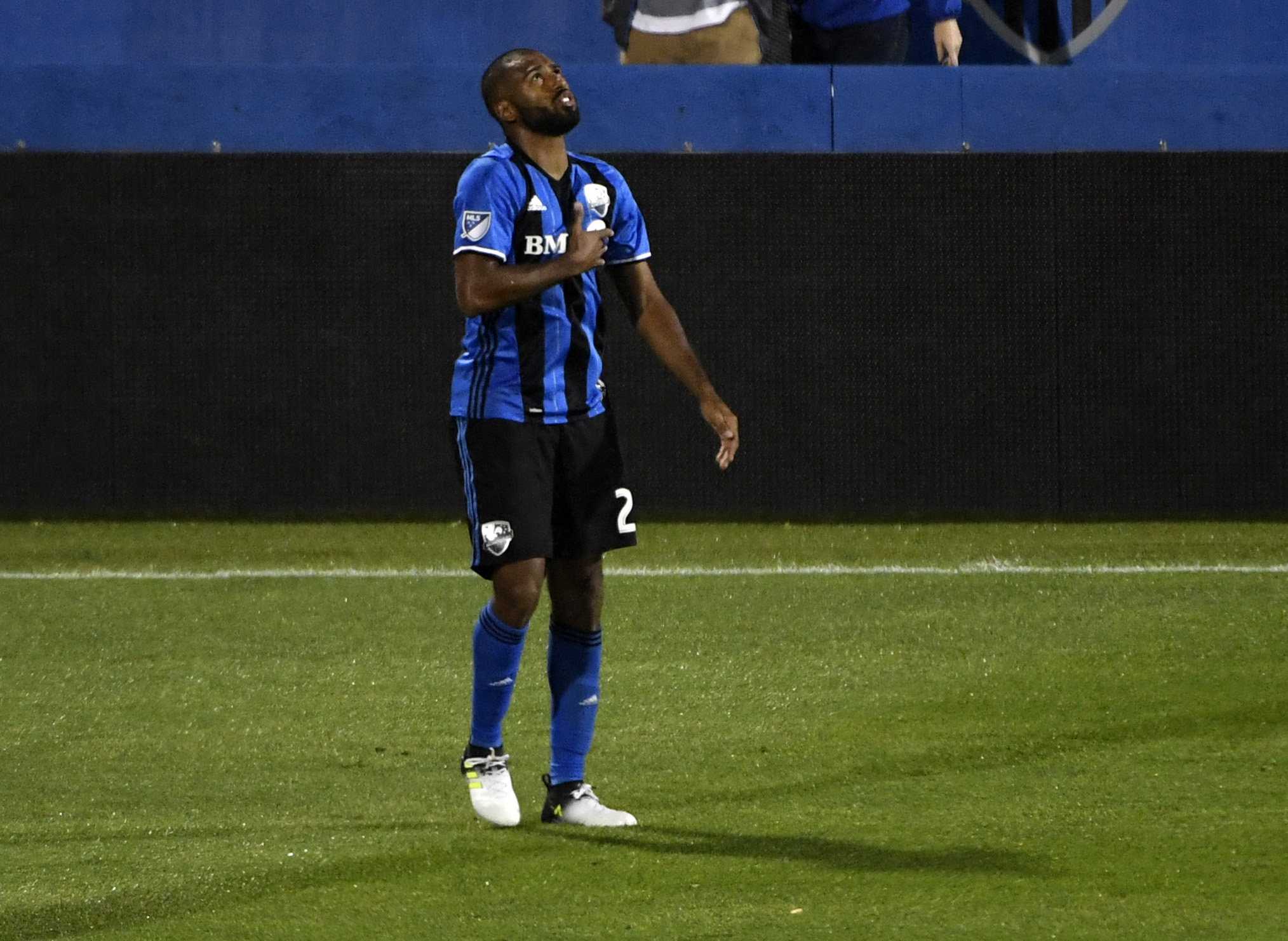 In Montreal, you could argue that the last 10 to 15 minutes of a game should be called 'Jackson Time'.
Once again, the Impact's young striker scored a crucial goal in the latter stages of a game. It was Antony Jackson-Hamel's second game-winning goal with the Impact in Saturday's 2-1 win over Orlando City—he also added one with the Canadian National Team in a friendly at the very same Stade Saputo.
Despite it being the first time the Impact have won a match while trailing at halftime, head coach Mauro Biello has relied on and gotten success from his team's bench presence. Jackson-Hamel is proof positive of this bench success. Of his six goals this season, five came after being substituted into a game.
"I don't know if we can say it's a surprise," said teammate Patrice Bernier. "Every time [Jackson-Hamel] subs on [he scores]. His goal per minute stats are excellent."
Even Jackson-Hamel isn't surprised at his late-game heroics.
"I've got nothing to say, I'm not surprised. I'll say the same thing I said at the start of the season: When I come on, it's to score. So that's what I did and that's it, nothing more to say," said Jackson-Hamel.
The 24 year-old realizes his run of form is strong compared to the Impact's current first choice striker, Matteo Mancosu. Jackson-Hamel currently counts six goals to his tally in only 468 minutes whereas the Italian veteran has got three goals to show for his 1,201 minutes. The Quebec City native has clear intentions regarding his place in the depth chart and makes them no secret.
"No, no, no," said Jackson-Hamel about embracing a super sub role through the rest of the season. "What I want is to start, to be the first choice striker, I don't hide that."
"After that, it's about gaining the coach's trust, to continue to score when I get subbed on and it will come."
However, Biello has seen the impact Jackson-Hamel has had off the bench. The coach explained his rationale in a conversation about the issue earlier in the week.
"I told him that when I started the coach always used me from the bench. He would tell me: 'When you get in you're always able to create things and that's important for me,'" said Biello. "I made him understand that when you come off the bench, you become important because it's something that can make a difference in a game. At the moment, I think that most of his goals comes from the bench and he does very well."
Even if Biello doesn't give Jackson-Hamel the start over a player like Mancosu, he realizes that his young striker has been one of the most important players this season.
"I know about starting and the glory of it but he's been super important for us this year. He scored how many big goals for us coming of the bench?" Biello asked himself. "It's almost like sometimes having an ace in the hole and in the end when you have a player like that who feeds off tired defenders at the end of games, […] he's able to read and now he's confident, he's hungry so it becomes hectic for me."
Another position where Biello often uses his bench is the out wide on the wings, with players like Dominic Oduro, Ballou Tabla and Michael Salazar competing for a starting role.
For Oduro, who after being subbed on in the past three games made a comeback to the Impact's starting XI, respecting the coach's reasoning is what is most important. Taking the spot back from Michael Salazar, who he was subbed off for Saturday night, is a normal thing to deal with and in-team competition is welcome for him.
"Salazar is my roommate, we talk all the time, I encourage him all the time. It's my job to push these guys forward and also to compete with them at the same time," said Oduro. "Regardless of whether I come from the bench or start, I want to start trust me, you got to respect the coach's decision."
"I think I've played in this league long enough to respect decisions like that. All I have to do is hold myself accountable when I come onto the field and I think today was one of the days that I did hold myself accountable. Regardless, we got guys like Jackson come off the bench and score a goal which is something we really need."