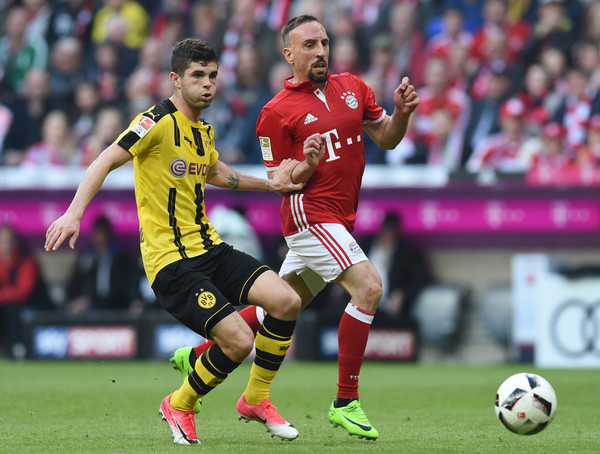 Another weekend, another busy slate of soccer on television.
MLS rolls on after the All Star game with the debut of the Video Assistant Referee system. The first competitive matches to use instant replay go down on Saturday night on MLS Live, but ESPN and FS1 have a trio of matches on TV this Sunday so you can check out how this system works.
The first of Europe's big leagues gets their season started this weekend when France's Ligue 1 kicks off with defending champions AS Monaco hosting Toulouse on Friday evening. There are a total of five French matches on TV this weekend, including Neymar's potential Paris-Saint Germain's opener on Saturday morning. Meanwhile, the  SuperCup kicks off the German season as Borussia Dortmund faces Bayern Munich.
Elsewhere, the NASL's fall season rolls on, the USL has another full slate, and the Women's European Championships conclude with Sunday's final between the Netherlands and Denmark. The English League Championship also makes its debut on ESPN's streaming service with four games streamed on their opening weekend.
Here's the full rundown of soccer on TV for the weekend:
FRIDAY
Ligue 1
2:45 p.m. – beIN Sports – AS Monaco vs. Toulouse
Liga MX
8:00 p.m. – Univision Deportes – Morelia vs. Santos
10:00 p.m. – Univision Deportes – Club Tijuana vs. Monterrey
English League Championship
2:45 p.m. – ESPN3 – Sunderland vs. Derby County
SATURDAY
MLS
7:00 p.m. – MLS Live – D.C. United vs. Toronto FC
7:00 p.m. – MLS Live – Philadelphia Union vs. FC Dallas
7:30 p.m. – MLS Live – Montreal Impact vs. Orlando City SC
8:00 p.m. – MLS Live – Minnesota United vs. Seattle Sounders
8:30 p.m. – MLS Live – Chicago Fire vs. New England Revolution
10:00 p.m. – MLS Live – Colorado Rapids vs. Vancouver Whitecaps
10:00 p.m. – MLS Live – Real Salt Lake vs. Houston Dynamo
10:30 p.m. – MLS Live – San Jose Earthquakes vs. Columbus Crew
Ligue 1
11:00 a.m. – beIN Sports – Paris Saint-Germain vs. Amiens SC
2:00 p.m. – beIN Sports – Olympique Lyonnais vs. Strasbourg
DFL Supercup
2:30 p.m. – FOX – Borussia Dortmund vs. Bayern Munich
Liga MX
8:00 p.m. – ESPN Deportes – Tigres UANL vs. Querétaro
8:06 p.m. – Univision Deportes – Leon vs. Cruz Azul
10:00 p.m. – Univision – Club America vs. Pumas UNAM
10:06 p.m. – Univision Deportes – Chivas de Guadalajara vs. Necaxa
English League Championship
10:00 a.m. – ESPN3 – Fulham vs. Norwich City
12:30 p.m. – ESPN3 – Aston Villa vs. Hull City
Club Friendly
10:00 a.m. – ESPN3 – Crystal Palace vs. Schalke 04
10:45 a.m. – ESPN3 – RB Leipzig vs. Stoke City
12:00 p.m. – ESPN3- Werder Bremen vs. Valencia
12:30 p.m. – ESPN – Tottenham Hotspur vs. Juventus
NASL
7:30 p.m. – ESPN3 – Miami FC vs. North Carolina FC
7:30 p.m. – beIN Sports – Indy Eleven vs. FC Edmonton
8:00 p.m. – Twitter – San Francisco Deltas vs. New York Cosmos
USL
4:00 p.m. – YouTube – New York Red Bulls II vs. Rochester Rhinos
4:30 p.m. – YouTube – Toronto FC II vs. Charleston Battery
7:00 p.m. – YouTube – FC Cincinnati vs. Orlando City SC
7:00 p.m. – YouTube – Charlotte Independence vs. Louisville City FC
7:00 p.m. – YouTube – Ottawa Fury vs. Bethlehem Steel
7:00 p.m. – YouTube – Pittsburgh Riverhounds vs. Richmond Kickers
7:30 p.m. – YouTube – Tampa Bay Rowdies vs. Harrisburg City Islanders
8:00 p.m. – YouTube – Colorado Springs Switchbacks vs. Portland Timbers 2
8:30 p.m. – YouTube – Oklahoma City Energy vs. Real Monarchs SLC
8:30 p.m. – YouTube – San Antonio FC vs. Orange County SC
8:30 p.m. – YouTube – Saint Louis FC vs. Swope Park Rangers
8:30 p.m. – YouTube – Tulsa Roughnecks vs. Reno 1868 FC
10:30 p.m. – YouTube – LA Galaxy II vs. Phoenix Rising
11:00 p.m. – YouTube – Sacramento Republic vs. Vancouver Whitecaps
SUNDAY
MLS
2:00 p.m. – ESPN – Portland Timbers vs. LA Galaxy
6:00 p.m. – FS1 – New York City FC vs. New York Re Bulls
8:00 p.m. – FS1 – Sporting Kansas City vs. Atlanta United
FA Community Shield
9:00 a.m. – FS1 – Arsenal vs. Chelsea
Ligue 1
9:00 a.m. – beIN Sports – Lille vs. Nantes
3:00 p.m. – beIN Sports – Olympique Marseille vs. Dijon
Liga MX
1:00 p.m. – Univision – Toluca vs. Atlas
7:30 p.m. – Univision Deportes – Veracruz vs. Puebla
English League Championship
11:30 a.m. – ESPN3 – Bolton Wanderers vs. Leeds United
Club Friendly
10:00 a.m. – ESPN Deportes – Everton vs. Sevilla
11:00 a.m. – ESPN3 – Brighton vs. Atletico Madrid
11:00 a.m. – beIN Sports – Rot-Weiß Erfurt vs. Borussia Dortmund
Women's European Championships- Final
11:00 a.m. – ESPN2 – Netherlands vs. Denmark
USL
9:30 p.m. – YouTube – Seattle Sounders 2 vs. Rio Grande Valley FC Toros