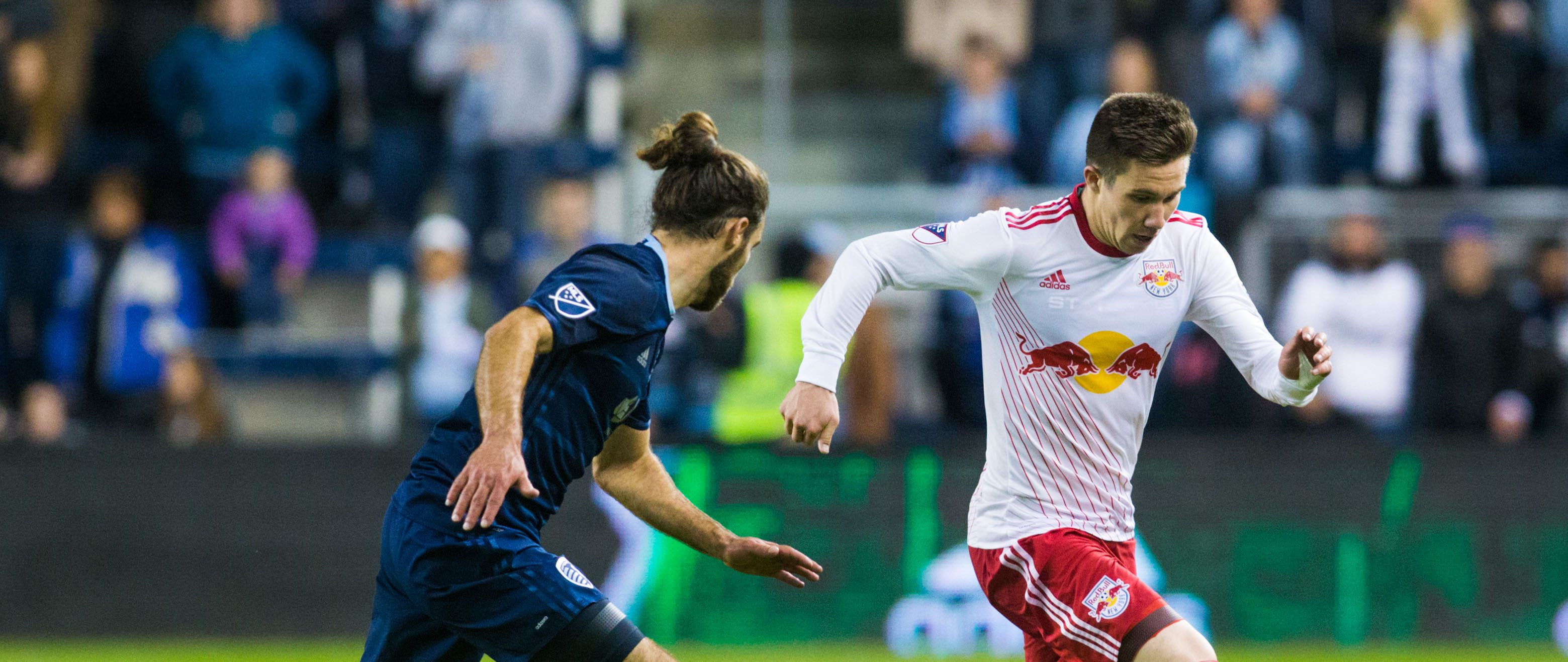 Sporting KC and the New York Red Bulls have experienced very different levels of success throughout their history. Especially in recent seasons, Sporting KC has proven a knockout round threat, winning two MLS Cups and three U.S. Open Cup crowns. The Red Bulls, meanwhile, are well known for their relative lack of success, although a pair of recent Supporters' Shield has helped fill the trophy case a bit.
On Wednesday, the two MLS contenders collide in the U.S. Open Cup final, offering a team still yearning for legitimate success a crack at taking on one of the league's perennial trophy contenders.
"I think it's also well understood that the New York Red Bulls, going back to the MetroStars days, have never won a trophy," said Red Bulls boss Jesse Marsch. "There's been some Supporters' Shields, but there's never been a trophy. This is a big opportunity for the club, and for this team, and I think it's something we've taken seriously and something that has helped us grow into this team, and into our season in a really big way."
"Experience is great only if you know how to use it," added Sporting KC head coach Peter Vermes ahead of a match that could see his side earn a third U.S. Open Cup crown in six years. "If you don't know how to use it, it doesn't mean anything. And so the fact we've played in a couple of these, as long as we know how to use the experience and we gain from it? Great, but if we don't it really doesn't matter."
Sporting KC enters Wednesday's home final in the midst of what many believed would be a rebuilding year. It was a season headlined by the departure of Dom Dwyer, a player very much associated with the club's success throughout the last few seasons.
However, riding a defense headlined by goalkeeper Tim Melia, Sporting KC has not just stayed afloat, but thrived. Melia leads MLS in virtually every notable goalkeeping category while the backline has surrendered just 22 goals in 28 matches. Even with stalwarts like Matt Besler and Graham Zusi in and out of the lineup due to USMNT duty, the defense has held firm.
The questions remain in the attack, though. With Dywer gone, the goalscoring load has fallen on players like Gerso Fernandes, Diego Rubio and midfield playmaker Benny Feilhaber. Given the Red Bulls' tendency to play a five-at-the-back set, those playmakers will be even more valuable for a Sporting KC team that knows one goal might be enough.
"It always comes down to players," Vermes said. "I think over the year, one of the strong points in this team has been the consistency in the core group and when you're able to add some pieces or players that assimilate pretty quickly to what you try and do, it's a pretty big help, but it always comes down to the players. If they have the right mentality and the right attitude, you can accomplish a lot, and more importantly, you can build and evolve to what your vision is much quicker than a group of guys that are half-bought in if you will.
"I think we have a group of guys that are bought in and believe in what we're doing. At the same time, they have great individual qualities and they believe in each other."
Since Marsch took over, belief has been a key component of the Red Bulls as well. There have been the traditional ups and downs, sure, but the ship has largely been steady building up to Wednesday's final.
The Red Bulls will be without some key players. Daniel Royer remains out of action while Aurelien Collin is also set to miss out. Still, there's a certain hunger from Marsch and the group of players that are available to make something happen and bring home the club's first trophy.
"When I first came to Red Bull, I was aware of the fact that the managers and many within the organization had not taken this competition that seriously," Marsch said. "When you've won this tournament, as a player or a coach, you understand the value it has and appreciate what it means. When I came here, this was going to be something that we emphasized. We played a lot of good lineups in my  three years here and now we've managed to survive four tough games and get into a final."
Both coaches say they expect an atmosphere worthy of the occasion. They also both know what a win would mean for each club.
For Sporting KC, Wednesday offers a chance to prove that they still are among the league's elite, even in a rebuilding year. For the Red Bulls, it's a chance to justify their position among that upper echelon while finally getting over the hump in a knockout competition.
"I do know this, every game is different," Vermes said. "And yet we've prepared for everything. We know we're going up against a very, very good team and we're going to have to be prepared for anything."
"It's an opportunity for us," Marsch added, "a big opportunity for us, to be in this moment and hopefully take advantage of it."