The U.S. Men's National Team is once again in a precarious position. Friday's loss added just a bit of doubt to the World Cup qualifying push with just three games remaining in the Hexagonal.
Now, the USMNT must bounce back in the first of those three games: a visit to Honduras. The USMNT took care of Los Caratchos, 6-0, back in March, but a trip down to Central America will pose a whole new set of challenges and difficulties.
One of those difficulties will be the absence of Jozy Altidore. The forward is suspended, forcing Bruce Arena into at least one change. One would expect several more after Friday's performance.
With that in mind, here's a closer look at one lineup Arena could opt to go with: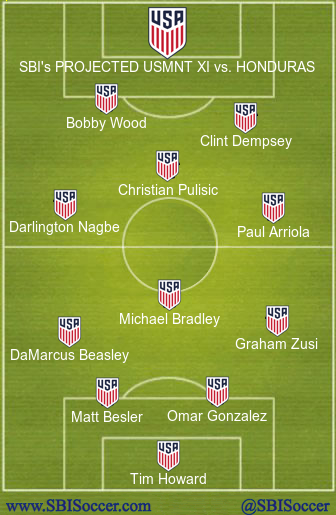 Some thoughts:
Let's start at the top, because it's the only position requiring a guaranteed change. Jozy Altidore's suspension muddles the picture up top while taking away a key piece of the U.S. attack. Altidore's hold-up play will be missed in a big way.
With that in mind, Clint Dempsey has to play on Tuesday. The match against Honduras is a massive one, and that type of match needs Dempsey. A lot of times, the term "clutch" is thrown around a bit too much, especially since you can't really quantify it. However, whichever way you look at it, Dempsey is the player most prepared to play in this type of game. His hat-trick against Honduras in March helps his case.
Alongside him, one would expect a better game from Bobby Wood, but the question is how to complete the attack. Does Arena put Christian Pulisic out wide like he did on Friday, or does he tuck him in centrally like he did back in March? Given Pulisic's performance back in the prior match, putting him in as a No. 10 makes sense to help drive the U.S. attack.
In midfield, Michael Bradley is locked in while Darlington Nagbe is a likely piece. With Pulisic inside, one more midfield piece is needed. Fabian Johnson's health and Friday performance make him unlikely. Paul Arriola fits the bill, though, especially after a string of solid USMNT performances.
In defense, it's pretty much a guarantee we won't see a Tim Ream-Geoff Cameron partnership again after Friday's mess. Arena could swap out one or both in response. Cameron's fitness is still not  all the way there so early in the Premier League season, so you could see a familiar duo of Omar Gonzalez and Matt Besler back in.
Finally, there's goalkeeper. Following a rough performance against Costa Rica, Tim Howard's spot is back up for debate a bit. It may be tempting to put Brad Guzan back in but Howard has more than earned a chance to bounce back from a poor performance.
Is this team attacking? Yes. Are there concerns in the midfield? Definitely. But, in a must-win match, Arena can look at a blueprint from March's lopsided win. If the USMNT can come close to following that blueprint,  should be good to go on Tuesday.