Earlier this week rumors began circulating that Tata Martino, the coach of Atlanta United, was in talks with the Argentine Football Association regarding their vacant managerial position.
Shortly thereafter, rumors began circulating connecting the former Argentina and Barcelona coach to the vacant positions with the Colombia and Mexican national teams.
With all of the speculation, Martino went on Colombian radio and denied having contact with any organization about potential coaching opportunities.
"I have not been contacted by anyone at the Colombian FA," Martino said. "I have to have a discussion with the brass here with Atlanta United… I have a date of October 1 to define the future of the team and mine as well.
Despite denying any contact, it's what he said next that has Atlanta United fans worried.
"Colombia is one of the most attractive jobs in the world and one of the biggest national team around. It would be very attractive.
"What I said about Colombia, it also applies to Argentina."
So the natural question to follow is, would Tata Martino really leave Atlanta United after just two years with the club and leading them to a race for the Supporters' Shield and MLS Cup?
When examining Martino's managerial history, it certainly seems possible. Martino has never stayed as manager of a club for more than two years. His longest tenure as manager of any team was his four-year stint as head coach of Paraguay from 2007 to 2011.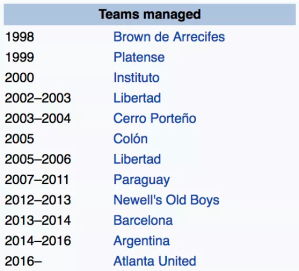 Martino, who is under contract with Atlanta through the end of the year, indicated that he has until October 1 to decide his future with the club. At that point, ATLUTD will still have three MLS games left before the playoffs.
While Martino has yet to win a trophy with Atlanta United, there's not much left for him to do with the club to improve his already fantastic reputation as a manager. Even the lure of challenging for MLS Cup or Concacaf Champion's League likely would not be enough to keep the 55-year-old from returning to international football.
Who could replace Tata at Atlanta?
If Martino does move on from Atlanta after this season, suddenly what is arguably the most attractive coaching position in MLS becomes available. Who might take the reigns of the team?
MLS' schedule will make it difficult for Atlanta to poach anyone currently leading a European club. Even with money that ATLUTD would be able to throw at candidates, it seems unlikely a coach would leave a European club midseason to come to MLS.
Who does that leave? Here are a few options Atlanta could look at.
José Pékerman
The former Colombia boss has to be atop Atlanta's wish list if Martino does in fact leave. Atlanta's quick success was due to the quality of players they acquired, including Miguel Almiron and Josef Martinez. Almiron has gone on record saying the reason he chose Atlanta was because of the reputation of Martino.
Pékerman would bring a similar pedigree and would instantly be one of the best—if not the best—coaches in the league. Yes, he's nearly 70 and probably doesn't have many years of coaching left in him, but getting a good two or three years under him would likely continue the South American recruiting pipeline Atlanta began with Martino.
Caleb Porter
Porter is one of the most successful MLS coaches that is currently available, and he knows the league well. Atlanta would have to at least give him a call, right?
The former Timbers boss won 2015 MLS Cup with Portland before leaving the club after 2017. Porter was reportedly offered the Orlando City but turned it down. He spoke to The Athletic about what he'd look for in his next coaching opportunity:
"This next job, the right one, it may not be what people think is the right one, but for me it's about going to a club and doing something that's never been done and building a winning club or bringing it back to being a winning club," Porter said. "There is zero motivation for me to take over a club that isn't going to do it the right way, that is not going to want a long-term vision.… There is going to be a right club, I'm not sure which one it is, but I'll know when it's the right club."
What's something that's never been done by an MLS club? Winning the Concacaf Champions League. Who has an opportunity to do that in 2019 and looks to be set up for a deep run in the tournament? Atlanta United.
David Moyes
Okay, this one may be a bit out there, but the former Manchester United boss is currently without a job and has been seen in the United States recently.
He's one of the names that's been linked to the vacant USMNT job, but if Moyes wants to rebuild his coaching reputation and get back to a European club, his best path may go through Atlanta rather than the international level.
The Independent wrote that Moyes is "keen" on the Atlanta job should Martino depart. While Moyes does not have the reputation that Martino or Pékerman do, he's obviously very familiar and connected in English football circles, something that might be attractive to young, talented players who hope to make the leap to the English Premier League one day.
Carlos Bocanegra
Why not consider the general manager who helped put together the current roster? No, Bocanegra does not have any managerial experience, but he knows Atlanta United having been with the team since the beginning.
The former U.S. international played in Europe for years before returning to the United States to finish out his career in MLS. He was appointed GM of Atlanta in 2015, and if the 39-year-old had any interest in a managerial career, taking over the team he helped build would certainly be a good start.
Of course, a team like Atlanta United doesn't have to look to a first-time coach, but if they think Bocanegra can continue what Martino built, they may give him a look.
Who do you think would be a good fit to replace Tata Martino should he leave?
Share your thoughts below.