The U.S. men's national team is back in action this weekend with the first of two September friendlies on home soil.
Gregg Berhalter is back on the sidelines as he begins his second stint as USMNT head coach with a home showdown against Uzbekistan. Several of the prominent USMNT faces are in the current squad including Christian Pulisic, Sergino Dest, and Weston McKennie.
Three players will be seeking their senior debuts including Inter Miami midfielder and dual-national Ben Cremaschi, who has enjoyed a positive 2023 season. Left backs Kevin Paredes and Kristoffer Lund are also in the squad.
Tanner Tessmann replaced Johnny Cardoso in the midfield corps following Cardoso's recent ankle injury. The Venezia midfielder will be seeking his second and third respective caps during the September window.
With Berhalter getting to see many of these players for the first time, there could be some new tactics employed at CITYPARK.
Here is the starting lineup we could see the USMNT deploy against Uzbekistan on Saturday, as well as the lineup we would deploy if we were making the final lineup decisions:
---
GOALKEEPER
---
Who will start: Matt Turner
Who should start: Matt Turner
Matt Turner has earned early season opportunities with Nottingham Forest and should slide right into the mix on international duty.
Turner comes into USMNT camp off the back of his first-career English Premier League clean sheet in a 1-0 victory over Chelsea. The 28-year-old has become Steve Cooper's No. 1 option at Nottingham Forest and surely remains Berhalter's No. 1 option with the USMNT.
---
DEFENDERS
---
Who will start: Sergino Dest, Chris Richards, Tim Ream, Antonee Robinson
Who should start: Joe Scally, Chris Richards, Mark McKenzie, Kevin Paredes
Berhalter has a strong mix of youth and experience in his defensive corps with both Paredes and Lund seeking their senior debuts. However, the USMNT still wants to go out with several first-choice starters and will want to win the match.
Sergino Dest remains the USMNT's No. 1 option at right back and a loan move to PSV has certainly helped his confidence. Dest featured twice in UEFA Champions League Qualifying for the Eredivisie giants and will have a crack at group stage play in the coming weeks.
Joe Scally will fight for minutes this camp and although a start against Uzbekistan would provide good exposure, Dest seems a lock to start.
Veteran defender Tim Ream is back in camp after recovering from a broken arm he suffered in April. Ream, 35, continues to play at a consistent and high level for Fulham in the English Premier League and will be eager to start in his hometown of St. Louis.
His veteran presence will be key in the backline alongside several younger defensive options.
Chris Richards, Mark McKenzie, and Miles Robinson will all fight to start at CITYPARK, but I'd expect Richards to get the nod. Richards hasn't featured regularly for Crystal Palace in the early stages of the season, but did impress in Nations League play in June.
A pair of September starts could provide a confidence boost for Richards before he heads back to London. McKenzie and Robinson are also options to start as both remain key players for their clubs.
Antonee Robinson, Kevin Paredes, and Kristoffer Lund will all be in the mix for minutes at left back, but it's Robinson's job to lose. The Fulham defender has remained a lock for Marco Silva once again this season and expect that to continue for the USMNT this year.
Paredes and Lund are options off the bench as they remain fresh into their new club schedules.
---
MIDFIELDERS
---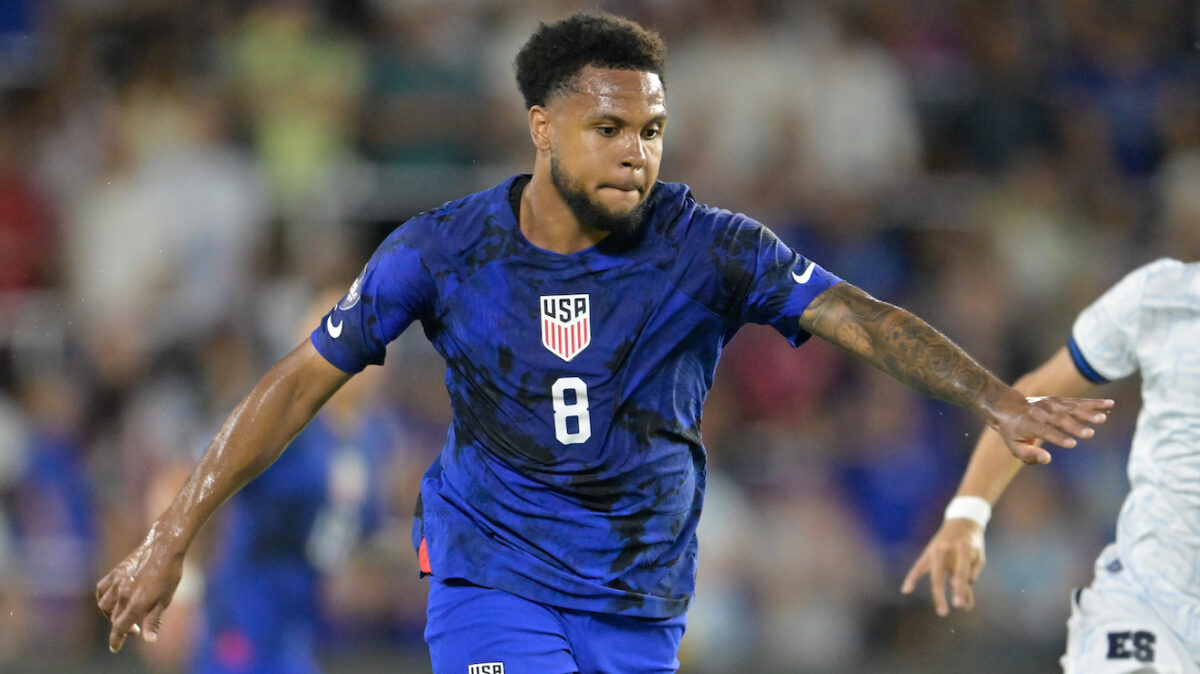 Who will start: Weston McKennie, Yunus Musah, Malik Tillman
Who should start: Weston McKennie, Yunus Musah, Ben Cremaschi
With Tyler Adams sidelined, Weston McKennie could very well fill his place in the USMNT midfield.
McKennie has featured already for Juventus in Serie A play, but now could move back to his traditional central role. The 24-year-old remains a key player in the USMNT squad and will bring a strong work rate to the mix.
Yunus Musah and Malik Tillman are two players that could use minutes during this camp. Both Musah and Tillman have made European moves this season, with Musah joining AC Milan and Tillman heading to PSV on loan. I'd expect both to start as Berhalter aims to get their spirits up in a winnable international friendly.
Ben Cremaschi is seeking his USMNT debut in his first senior call up to camp. The 18-year-old has enjoyed a strong season with Inter Miami, recently lifting the Leagues Cup alongside Argentinian star Lionel Messi.
Cremaschi's playmaking abilities would be a great addition to the USMNT pool for years to come, if he decides to choose them over Argentina.
Tanner Tessmann's impressive start to the Serie B season warranted a call up and he could be in the mix to start. Luca De La Torre has remained an important depth player for Celta Vigo and could also fight for minutes in an attacking position.
---
FORWARDS
---
Who will start: Tim Weah, Folarin Balogun, Christian Pulisic
Who should start: Tim Weah, Folarin Balogun, Christian Pulisic
Gregg Berhalter will want to see his top attacking options firsthand and I'd expect that to happen from the opening whistle.
Tim Weah, Folarin Balogun, and Christian Pulisic all impressed during the Concacaf Nations League in June and are back to wreak havoc again. Weah has made a positive impression at Juventus during the early stages of the season while Pulisic has scored twice for AC Milan following his transfer from Chelsea.
Balogun, who secured a permanent move to AS Monaco, will be eager to continue his national team development.
Ricardo Pepi has struggled for minutes with PSV and will be hoping to earn some with the USMNT this month. Pepi and Balogun will likely jostle for the No. 1 striker job over the next few international windows.
Brenden Aaronson and Cade Cowell bring versatility to the squad and could also be called on in either friendly. Aaronson might also see time in midfield while Cowell could feature on either side of the attacking front.
I'd expect Aaronson, Cowell, and Pepi to earn time off the bench against Uzbekistan.
---
What do you think of our projected lineups? Which would you start? Who are you most excited to see play?
Share your thoughts below.