You have probably heard by now the countless stories linking Portuguese star Luis Figo to a move to Major League Soccer. According to reports out of Portugal, Figo has signed a two-year deal with Anschutz Entertainment Group and will join one of AEG's teams next season.
Well, you know he's not going to Houston, which means that Figo is likely headed to Los Angeles. You might wonder how the Galaxy could afford to sign Figo. It isn't that difficult to figure out really. Look no further than the Galaxy's own AEG stablemate, the Houston Dynamo.
It begins in Houston, where the Dynamo staff has done such an amazing job building a loaded title-winning roster that using its designated player slot is almost an impossible option. Finding a way to pay all of the talented players on Houston's roster is tough enough, doing so after taking a $400,000 chunk out to pay a designated player would require some outright salary cap magic.
So if you're AEG, and you have a team that essentially can't use its designated player and you own a team that needs an extra one, you make a deal. No, Houston isn't going to just roll over and let AEG take it. Houston and LA will have to work out a deal that help both sides and such a deal does exist.
One thing LA does boast this year is a wealth of draft picks, including the No. 4 pick and five picks in the first 29, in what most experts consider a strong draft. The Galaxy also has an allocation for missing the playoffs. LA could package the No. 4 pick, a second round pick and allocation money to the Dynamo for Houston's designated player slot (for two years).
Is the deal worth it for Houston? Of course it is. The Dynamo won a title without using a DP slot and can surely do so again, particularly if it can draft well and make good use of the allocation it receives. If the options are to have a DP slot you don't use or having high draft picks and cash I think you would take the cash.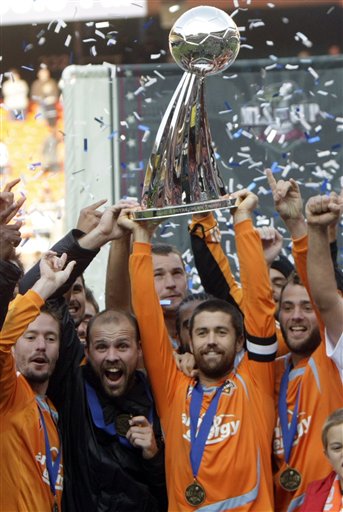 Consider this scenario. Houston deals the DP for the above package, then turns around and deals the picks to San Jose for the No. 1 overall pick, which the Dynamo could use on anyone from stud UConn defender Julius James to standout Virginia Tech forward Patrick Nyarko. Suddenly, the Dynamo acquire a quality player who won't cost anything against the cap for a year or two. Not a bad way to keep the dynasty going.
As for the Galaxy, the real question is whether the LA can really build a winning team when so much of its salary is tied up into three players (Donovan, Beckham and Figo). Assuming Donovan counts $350K against the cap (I wasn't able to find out exactly how much grandfathered DPs count toward the cap), and Figo is signed via a DP slot, you have three players taking up $1.1 million of a $2.3 million cap, four taking up $1.3 if you include Joe Cannon. You could include Clint Mathis at whatever six-figure salary he winds up at but I'm not convinced Mathis will return to MLS in 2008.
That leaves a cool million for the other 24 players on the roster. about an average of little more than $40,000. This is where the Galaxy are banking on Ruud Gullit to be able to work his coaching magic and turn the young players into servicable parts to place around the attacking trio of Donovan, Beckham and Figo.
Lastly, we go through all of this before we even ask whether Figo actually has something left in the tank. He was playing well for Inter, the best team in Europe, before suffering a broken leg that required surgery in November. He has lost a step or two and couldn't defend a fire hydrant at this point, but he can still pass and cross with the best of them. That wasn't enough to convince former Red Bulls coach Bruce Arena, who sources say passed on Figo last year out of concerns about what he had left.
The Galaxy see a star with charisma who speaks fluent English and can still play good attacking soccer. He is also someone who can actually afford to go to the trendy hot spots David Beckham likes to frequent, which is also a plus. They see a player who could thrive on defenses that are focused on stopping Beckham and DOnovan, a player who could do well in a league where wing play is weak.
Will the plan succeed? While I think having Donovan, Beckham and Figo play together will be great to watch, I'm just not sure if you're ever winning an MLS title with gold in the front and tin foil in the back. AEG and the Galaxy need only look at Houston to find a team that proved that great defense and a strong roster are more important than a few superstars when it comes to winning an MLS Cup title.