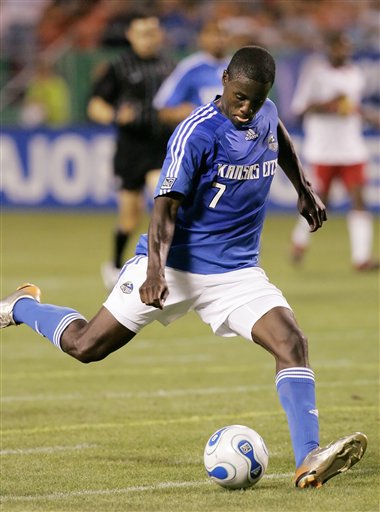 Eddie Johnson is ready to go.
The Kansas City Wizards forward is set to pack his bling and make the move to Europe now that the European transfer window is open. The question is where will he go? Clubs all over England have been linked to the U.S. national team striker. Newcastle showed some interest while Manchester City, Fulham and Middlesbrough are among other teams linked to a bid for Johnson.
Will the Wizards let Johnson go? In a word, yes. KC isn't going to stand in Johnson's way and will gladly rake in what should be a very healthy transfer fee. Just how much of a transfer fee Johnson will draw remains to be seen, but you can bet it will be one of the larger ones ever paid for an MLS player (thanks in part to the weakened dollar).
One player who won't be going is Michael Parkhurst. As SBI reported in November, rumors of Parkhurst's imminent departure were premature to say the least. The MLS defender of the year had been linked to Fulham, which did make an inquiry about Parkhurst, but the young central defender is set to play out the final year of his contract and will be in prime bargaining position heading into 2008.
The Revs did suffer one transfer loss as midfielder Andy Dorman bolted to Scottish club St. Mirren on a free transfer. Dorman's departure was inevitable considering he was out of contract, sports a UK passport and was coming off a horrendous second half of the season with New England. Whether Dorman's European dreams distracted him, or he just regressed as a player, Dorman will have to regain the form he enjoyed last spring of he wants to last beyond a year in Europe.
That's all for now on the MLS transfer front. I'll check back in as soon as more news develops.
What do you think of Johnson's potential move? What club would best suit Johnson? Are you shocked to see Parkhurst stay? Share your thoughts on any of these topics below.