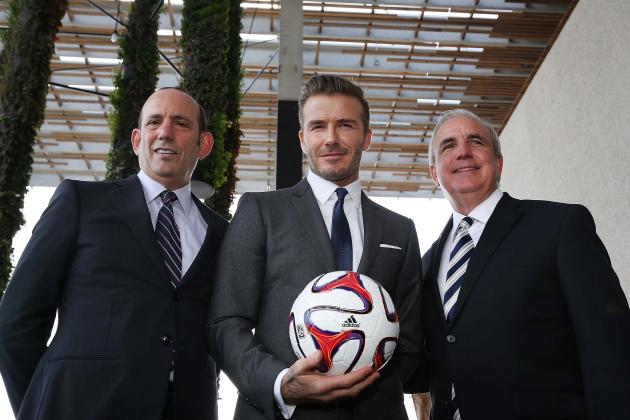 By FRANCO PANIZO
MIAMI — David Beckham may have been the man in the spotlight at Wednesday morning's MLS expansion announcement, but it was Bolivian-born billionaire Marcelo Claure who provided some answers and insight into what will eventually be Major League Soccer's 22nd team.
Beckham's new business partner sat somewhat obscurely in the front row at the Perez Art Museum as Beckham took to the stage to discuss his decision to exercise his ownership option. And while Beckham, MLS commissioner Don Garber, and Miami-Dade County commissioner Carlos Gimenez all took turns talking about how exciting it was to bring MLS back to Miami during Wednesday's glorified pep rally, it was Claure who shared some key details and goals of the project he is ready to fund a good portion of.
Among the more enlightening revelations was Claure's target for when he wants to launch the new MLS team.
"Three years, three years, 2017. That's the idea if it all works out like we hope," said Claure. "I think three years is the objective because we're creating a soccer team from scratch. We have to pick coaches, we have to involve the community, we have to pick a name, pick a jersey, we have to convince big-name players to come play for us.
"Three years is the minimum amount of time to be able to start a soccer team."
Wednesday's announcement officially marks Major League Soccer's return to the Miami market for the first time since the Miami Fusion were removed by MLS in 2002 due to financial reasons. The Fusion were a Fort Lauderdale-based team that never did capture the imagination of sports fans in Miami, something the Beckham-led project will be hoping to do by putting a team in downtown Miami.
"Everything is different," Garber said of MLS' return this market. "The league is different, the country is different, the sport is different, Miami is different. That location (at Lockhart Stadium in Fort Lauderdale) was wrong, but that wasn't the only issue there.
"(Fusion owner) Ken Horowitz did as good a job as he possible could, but the sport was not yet mature, the league was really fledgling and trying to figure out what we wanted to be, the country had not yet sort of woken up to how beautiful this game could be. It's just a different time."
Claure also touched on why PortMiami was his, Beckham and fellow investor Simon Fuller's preferred destination, another topic Beckham was not asked about during the opening announcement.
Claure gave several reasons for why the ownership group liked the site, including the fact that it could be easily accessed on foot much like the Seattle Sounders' fans do during their March to the Match to CenturyLink Field, something that might be required given the lack of land that there is to build parking on in PortMiami.
"It's close to the arena, there's parking, it's a site that has a view of the ocean that few teams in the world have," said Claure before continuing. "It goes with the (soccer) tradition of being able to walk to the stadium. It's close to downtown.
"There are a lot of good things, but we are respectful of the fact that it won't be easy for us to get the city to approve it, so we're looking at approximately 30 other locations as well."
While Beckham, Claure and Fuller have looked at other areas in and around South Florida, the plan is for the stadium to be constructed in downtown Miami. MLS teams have had success under the model of downtown stadiums and it is one that the Miami ownership group intends to follow in order to have a shot in a sports market that is known for its fickle and demanding fanbase.
"It's going to happen downtown," said Claure. "It might not be at the location we're looking at now but the soccer has to be played where the fans like to unite before the game, where they can go to a bar before the game. It's very different from other American sports and that's why we're going to try and replicate what other countries have done, what other cities in the U.S. have done, what Seattle has with their March to the Match.
"The other day I sat down with David and we looked at the map of the bridge that connects PortMiami to the city. Imagine thousands of people walking over that bridge to get over to the stadium before a game."
Claure acknowledged that for the Miami team to capture locals' attention, it will have to have recognizable big-name players and be a success both on and off the field. It will also need to be more than just a sporting event, which is why Beckham referred to the Miami Heat on multiple occasions during his announcement.
Beckham has previously met with Heat owner Mickey Arison, who in recent years has seen his NBA team draw well not only because they have a star-studded roster that has won championships, but also because the atmosphere at their games is filled with other sources of entertainment. In essence, MLS in Miami needs to be more than just about the match for it to really resonate with the soccer fans in the area.
That's where the Miami expansion group will be hoping to count on the expertise of one of its key investors.
"Don't forget that our partner is Simon, and Simon is one of the biggest producers, having founded American Idol, having shown how to connect people," said Claure. "I think we're lucky to have a superstar soccer player. … We're lucky to have Simon, one of the biggest producers in the world, and I'll contribute my little piece as a businessman to make sure we run this as a business and I'm sure we have a good chance."
As for the team's name, both Claure and Beckham stayed relatively mum on the topic, saying that Wednesday's announcement was the first step in what will be a long marathon. Beckham stated, however, that the ownership group has already given it some thought as to what the colors will be.
"It will have lots to do with Miami, they will be very vibrant colors, which I'm sure people are quite aware of what colors people in Miami love," said Beckham. "We haven't exactly decided what colors they'll be yet, but we have a good idea."
Choosing a team name is just one of many important decisions Beckham and Claure will have to make in the coming years. Decisions they need to get right to have a strong chance of making pro soccer succeed in Miami, a market where it has failed before. There is an undercurrent of skepticism surrounding the MLS Miami expansion bid because of that history, but the new Miami expansion group is confident of being able to make it work this time around.
"Miami is a place where kids play soccer, so I think when you put all the things together, like anything else in life you're going to look at the pros and the cons," said Claure. "I think in this case the pros highly outweigh the cons."
One of those pros, according to Claure, is that the soccer fans in Miami are more cultured in terms of their knowledge of the game.
"The difference between Miami and other places, in other places you've got to go teach the people the sport," said Claure. "In Miami, you have the people who know the sport but you've just got to bring them a good show, you've got to bring them a good team. People have shown that if you bring a good team, if you bring a winning team, people will show up."