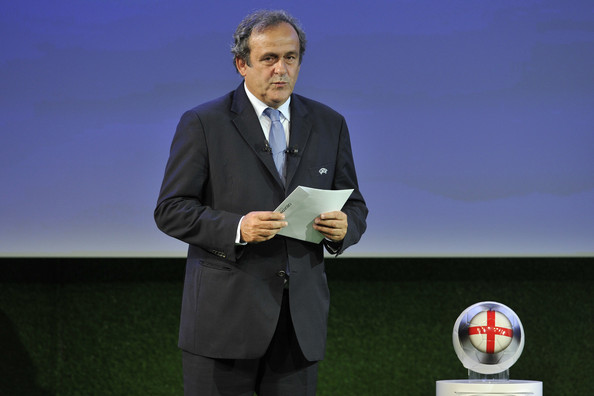 By DAN KARELL
UEFA's Financial Fair Play initiative has made plenty of opponents, but UEFA president Michel Platini is still championing the cause.
In a speech made in Rome on Tuesday to sports ministers in European Union nations, Platini touched on a number of topics including ending third-party ownership, the enhanced cooperation between UEFA and the EU, and statistics of Financial Fair Play since it went into effect at the start of the 2011-2012 season.
"We have started to put football on the right track," Platini said. "Each of us must measure how far we have come. Aggregate losses among European clubs, which had reached €1.7bn in 2011, fell to €800m in 2013, a drop of more than 50% in less than two years. Thanks to financial fair play, we are therefore heading in the right direction."
Platini also appealed to the audience to support UEFA, confirming that some legal challenges against Financial Fair Play could be coming in the near future.
"Previously unthinkable reforms have been adopted and implemented and they have proved successful," Platini said. "The basis for [financial fair play] comes down to two sayings: 'you should live within your means' and 'there's a line that must not be crossed'."
Ahead of this season, both Paris Saint-Germain and Manchester City were given strong sanctions for spending beyond FFP regulations, including squad deductions in the UEFA Champions League and a conditional €60 million fine.
Here are some more stories to kick off your Tuesday:
SPECULATION ON QATAR WORLD CUP CONTINUES
With no definitive decision taken over the official dates for the 2022 World Cup in Qatar, speculation and rumors on moving the tournament to the winter months continue to fly across the world.
On Monday afternoon, the BBC reported that former Chilean FA president Harold Mayne-Nicholls had put forth the idea to play World Cup games in Qatar in the middle of the night in the summer, therefore avoiding some of the dangerous day-time heat. 
Mayne-Nicholls proposed to have games start at 7 p.m., 10 p.m., and 1 a.m.
"You could move it towards May, until the middle of June", Mayne-Nicholls said. "The weather would still be very warm at night, but the sun is not there and that could help. I know it's not easy. We'd sleep during the day and work during the night.
"It's only an idea. You'd have to investigate a little bit more. I have never played in Qatar in May. Let's organize a youth tournament, invite countries from all the confederations, and let's use this time to see if it works. Then we can investigate and have conclusions, but we cannot keep talking about Qatar from Zurich, we have to check it. And if this is not a solution then we have to find another one."
Meanwhile, FIFA president Sepp Blatter again re-iterated his stance to move the World Cup in Qatar to the winter, and claimed that it would have to move to the end of 2022 in order to not interfere with the 2022 Winter Olympics in February.
"We cannot play the World Cup in summer," Blatter told French radio station France Info. "The date which is the most convenient is the end of the year."
QUICK KICKS
Sergio Ramos has been ruled out of Real Madrid's trip to Liverpool with a calf injury, with Real Madrid hoping he's fit for El Clasico. (REPORT)
Malmo FF manager Age Hareide believes that Atletico Madrid boss Diego Simeone is the best coach in the world. (REPORT)
UEFA have fined Galatasaray €50,000 and ordered the Turkish club to repay Arsenal for damages suffered at the Emirates Stadium during their UEFA Champions League match on Oct. 1. (REPORT)
Borussia Dortmund defender Mats Hummels claims the team has figured out their problems and will be ready to return to winning ways against Galatasaray. (REPORT)
Inter Milan's debt has increased to €103 million, according to club owner Erick Thohir. (REPORT)
————–
What do you think of these reports? Do you agree with Platini's comments on FFP? What do you think of Mayne-Nicholls proposal?
Share your thoughts below.