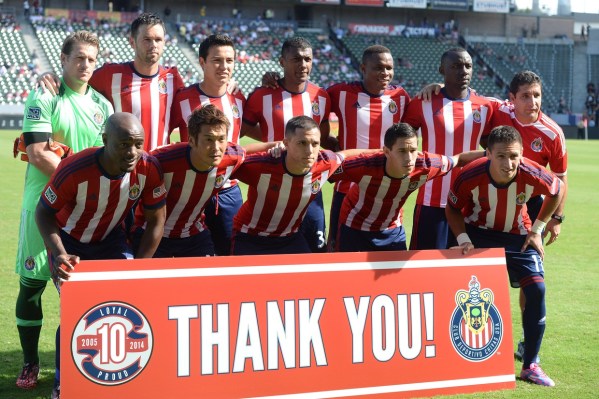 By DAN KARELL
Chivas USA is officially out of business.
On Monday, MLS announced that Chivas USA has ceased operations effective immediately, coming one day after the club finished the 2014 MLS season with a 1-0 victory over the San Jose Earthquakes. The MLS Board of Governors came to the decision unanimously after meeting earlier this month.
A new ownership group will be revealed on Thursday and the club will sit out until 2017, when they'll re-enter the league at the same time as the Atlanta expansion franchise. The league's decision to end Chivas USA is part of their "new strategy" for Los Angeles.
"As part of our new strategy for Southern California — a major hotbed of soccer participation and fan support — we believe that engaging with a new ownership group which has the resources and local community ties, and a plan for a dedicated soccer-specific stadium, provides us with the best chance for success," MLS commissioner Don Garber said in a statement.
With Chivas USA going on hiatus, the league will conduct a dispersal draft to distribute the roster around the rest of the league.
It was only 10 years ago that Chivas USA entered MLS in the 2005 season as a team that hoped to draw on the large Mexican-American population in Los Angeles. Unfortunately for the club and its loyal fans, the initial goals for the club didn't come to fruition, both on and off the field.
Chivas USA only finished four seasons above .500, and lost in the Western Conference semifinals all four years, from 2006-2009. The lone positive year came in 2007 when they finished in first place in the Western Conference while playing under head coach Preki.
The club's troubles deepened recently as former owner Jorge Vergara and wife Angelica Vergara struggled to lead either Chivas Guadalajara and Chivas USA in the right direction, with both clubs plummeting to the bottom of their respective leagues in short succession.
Last February, MLS announced that it had purchased Chivas USA from the Vergaras with the hopes of finding a new ownership group. According to recent reports, the league is expected to turn a $30 million profit, with the new ownership group expected to pay around $100 million to purchase the club before joining the league in 2017.
—
What do you think of this news? Glad to see the end of the Chivas USA experiment? Feel bad for the club's fans? Think the Los Angeles market can support two teams?
Share your thoughts below.