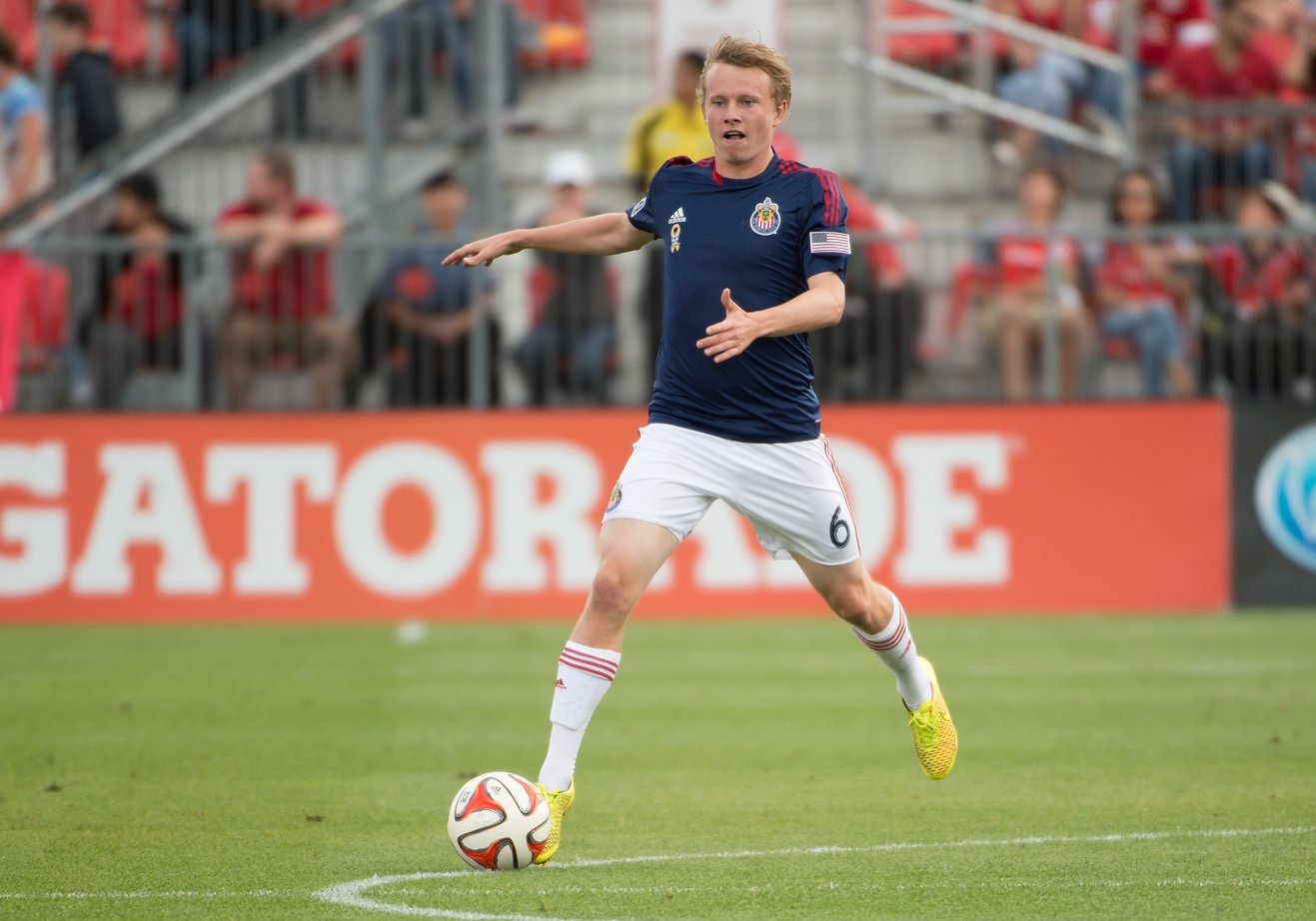 Photo by Nick Turchiaro/USA TODAY Sports
By DAN KARELL
Not for the first time in his career, Matthew Dunn was in limbo.
With Chivas USA ceasing operations and the team set to either be released from their contracts or dispersed around Major League Soccer through various acquisition methods, Dunn wasn't sure what was next for him.
On Nov. 19, Dunn found out he'd be moving across the country, as New York City FC selected the 20-year-old midfielder with the second overall selection in the MLS Dispersal Draft. Dunn became the team's seventh signing as head coach Jason Kreis and sporting director Claudio Reyna continue to scour the globe looking to fill their 28-man roster.
"At first I was just very excited because I didn't know if I'd be going in the draft and then it kind of came to me that I did, and this was going to be my new home. I was thrilled," Dunn told SBI. "I've spoken with (Kreis and Reyna). They've very busy right now so it was brief but they were really nice, welcomed me to the club, and were glad to have me."
NYC FC's newest player may not have garnered the accolades of Designated Player signings David Villa and Frank Lampard, but his career path has taken him from his hometown of Dallas, Texas to cities all across Europe.
As a teenager, Dunn spent time in the youth academies of Grasshopper Club in Zurich, Switzerland, FC Cologne in Cologne, Germany, and OFK Beograd in Belgrade, Serbia, as well as a short stint with the FC Dallas academy and the U.S. Soccer residency. He featured for the U.S. Under-17 National Team at the 2011 U-17 World Cup in Mexico, starting all four games for the USA before exiting in the Round of 16.
While he didn't make a single appearance during his stints in Europe, Dunn doesn't regret the long path he's taken to New York.
"My track to this point has been a long one but it's been a unique one," Dunn explained. "I think I've had experiences that no other kid my age in the world has had and I'm very thankful for that. It's made me a better person and a better player, it helped me build character and I'm very thankful for the opportunities I've had growing up as a child.
"One of the most difficult things is earning your spot in the starting XI because every player is of high quality and they want to play, it's what they want to do for a living," Dunn said about playing in Europe. "I think that's helped prepare me mentally most of all because I've had to go in every day and deal with all the stress and pressure and I've grown out of that, and it's been a good upbringing."
After spending the fall of 2013 with the University of Maine in Fort Kent and excelling with seven goals and ten assists, Dunn received a phone call from his former coach with the U-17s, Wilmer Cabrera, asking Dunn to join Chivas USA. Dunn was acquired in a waiver draft and went on to make four starts in seven appearances, recording one assist.
"I felt like I had no problem," Dunn said of adjusting to MLS. "I felt like the more I played the better I became and the more comfortable I got out there too."
The time at Chivas USA wasn't easy but it was an experience that helped give him more perspective on playing in a professional environment.
"It was tough," said Dunn, "but I think the team did a good job sticking together and the veterans helped push everyone through it. It wasn't easy with the idea that the club could cease operations and that we might all be out of a job next year but I think that really attests to the character of the players continuing to play and perform."
For those who haven't seen him play, Dunn explained that he tries to model himself after midfield distributers Paul Scholes and Xavi Hernandez. "I'm a real technical player that covers a lot of ground," Dunn said. "I work for the team first, I have a good engine and good vision, and hopefully I can get some assists this year for the club."
When asked about playing with Villa and Lampard next season, Dunn called it "surreal" and "truly a dream," considering that he had grown up watching them each weekend on TV.
After jumping from club to club for the last eight years, Dunn is hoping to make New York City a more permanent home. Looking forward to NYC FC's inaugural season, Dunn plans to be a major part of the club, despite his lack of experience.
"First of all, (I want to) establish myself in the team and then hopefully lead the team and help the team make the playoffs, and then see where we can go from there," he said.