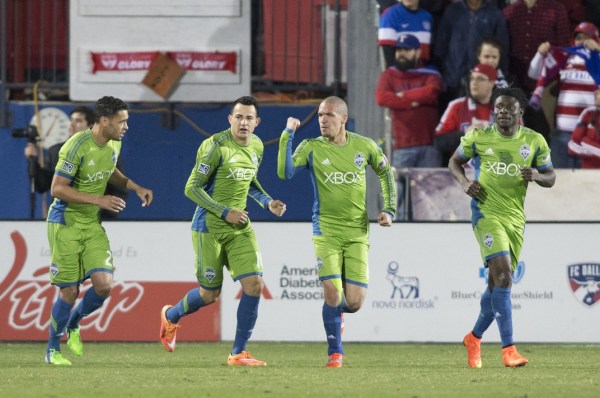 Photo by USA TODAY Sports
FC Dallas went into Sunday's Western Conference semifinal against the Seattle Sounders having to worry about containing Obafemi Martins and Clint Dempsey.
Little could FCD know that Osvaldo Alonso would be the player who would punish the home team with a vital away goal.
Alonso headed home a Marco Pappa free kick in the 54th minute to help negate a Michel penalty kick, and force FC Dallas to settle for a 1-1 draw on Sunday night.  The result sends the Sounders back home knowing a victory pushes them through to the Western Conference final.
Martins nearly opened the scoring in the 18th minute, only to have FC Dallas goalkeeper Raul Fernandez deny him with a quick reaction save.
FC Dallas broke through in the 32nd minute when Andres Escobar drew a penalty after being hauled down in the penalty area by Pappa. Michel converted the penalty to give FC Dallas control, if only temporarily.
Martins came close to an equalizer just before halftime, only to be denied by a strong Fernandez save yet again, with Matt Hedges clearing away the rebound before Clint Dempsey could convert it.
Pappa atoned for his penalty foul in the 54th minute when he floated a perfect free kick toward the front of goal, where an unmarked Alonso headed it past Fernandez.
FC Dallas nearly took the lead again in the 90th minute, but Frei kept the score at 1-1 when he made a stunning reaction save to deny a Fabian Castillo blast.
With the score 1-1 heading into Saturday's second leg in Seattle, the Sounders can advance with a victory or a 0-0 tie. FC Dallas needs a win or multi-goal draw, but can force extra time with a 1-1 draw.
Here are the match highlights:
[youtube http://www.youtube.com/watch?v=iXH_DKPSfis?list=UUSZbXT5TLLW_i-5W8FZpFsg]