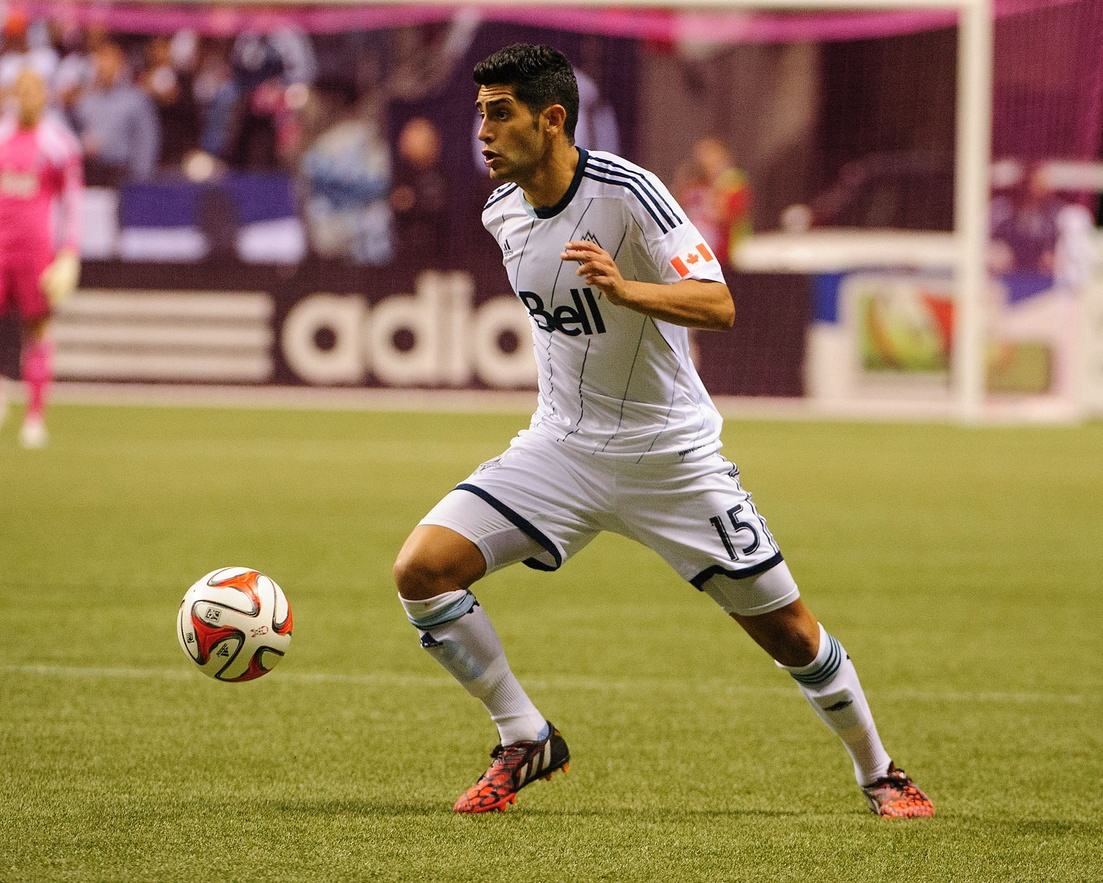 Photo by Anne-Marie Sorvin/USA TODAY Sports
By DAN KARELL
The Vancouver Whitecaps may have been one of the most inconsistent teams in MLS in terms of results, but there was one position on the field that was consistent from start to finish.
Matias Laba was a revelation in holding midfield for the Whitecaps in his first year for the club, and the team have a plan to ensure that he returns to British Columbia next season.
"There's a fee agreed [with Toronto FC] to take Matias Laba and we will be doing that because he's been fantastic for us and a big part of this club moving forward," Whitecaps coach Carl Robinson said in the team's end-of-season media availability. "It will be settled and Mati will be coming back next year."
The former Argentine Under-20 international signed with Toronto FC in 2013 as a Young Designated Player but was the odd man out this past winter after the club signed Gilberto, Jermain Defoe, and Michael Bradley all in quick succession on Designated Player deals.
With the Whitecaps this year, Laba started 31 of 32 games in the regular season, recording one assist.
Here are some more notes from around MLS:
GARBER INTERESTED IN ONE DAY JOINING COPA LIBERTADORES
South America's premier international club competition is looking to expand northward, and MLS could be a future participant.
MLS commissioner Don Garber reportedly told Sports Illustrated that "MLS is interested" in sending clubs to participate in the Copa Libertadores, citing it as a goal to help raise the level of MLS to one of the world's top leagues by 2022.
In recent months, new CONMEBOL president Juan Angel Napout has talked up the possibility of MLS clubs joining the competition, though Garber reportedly stated that there has been no official invite from CONMEBOL. Liga MX clubs already participate in the Copa Libertadores.
Garber stressed to SI.com though that MLS' current goal was to improve their club's fortunes in the CONCACAF Champions League and have the first MLS club participate in the Club World Cup.
CUBO "TORRES" TRAINS WITH CHIVAS, FUTURE IN LIMBO
Chivas USA sensation Erick "Cubo" Torres claims that he returned to Guadalajara this week to remain match fit, but his future in MLS has remained cloudy.
Torres joined Chivas training this week as he's part of a Mexico squad set to take place in the Central American Cup later this month, but in a press conference, Chivas Guadalajara president Nestor de la Torre said that Torres will be a Chivas player as long as MLS doesn't pick up their option on his Designated Player contract.
"He doesn't want to lose rhythm and asked if he could train," De la Torre said. "This is his home, and the doors are open for him. He'll be Chivas' (player) as long as MLS doesn't take up the option."
DUNIVANT LIKELY OUT FOR THE SEASON
One of the LA Galaxy's most steady defenders is unlikely to feature for the duration of the postseason.
Galaxy head coach Bruce Arena all but confirmed that left back Todd Dunivant would miss the remainder of the MLS Cup playoffs while he recovers from a left groin injury that forced Dunivant to miss the final six weeks of the season. Dunivant already missed four months this season with an abdominal tear.
"Injuries are part of the game and you have to deal with it accordingly," Arena told LA Galaxy Insider. "On the team side, it can't be an excuse and on the player side, you certainly feel for the player, but we have to move on and take care of business. We've had eight guys who have helped us in the back and they've all been needed."
Dunivant has taken part in some fitness work this week but he's yet to return to full training.
————–
What do you think of these reports? How important is Laba's signing to the Whitecaps? Would you like to see MLS in the Copa Libertadores? Do you see Torres coming back to MLS next year?
Share your thoughts below.