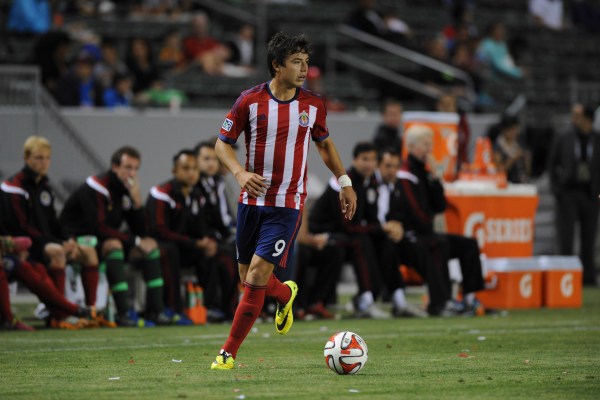 Photo by Andrew Fielding
/USA Today Sports  
By FRANCO PANIZO
The deadline came and went, but Major League Soccer is still working on bringing back Erick 'Cubo' Torres.
MLS issued a statement via MLSsoccer.com on Tuesday saying that it was continuing to attempt to finalize a deal to have Torres return to the league in 2015. There was a Dec. 15 deadline for the league to sign the 21-year-old Mexican international on a permanent basis after seeing him play on loan for the past season-and-a-half, but that date passed without an agreement in place.
Still, MLS is not giving up in its quest to extend the stay of one of the more promising attackers in CONCACAF.
"Over the past several weeks, MLS has been engaged in discussions with Erick Torres and Chivas de Guadalajara regarding the league's option to acquire his contract," read the statement. "Although no agreement has been concluded, these discussions are continuing."
Torres arrived at the now-defunct Chivas USA from Liga MX outfit CD Guadalajara in July 2013. He scored seven goals in 15 games that season, and continued to turn heads this year by finding the back of the net 15 times in 29 games for a struggling Goats team.
Torres' performances saw him earn his international debut with Mexico in September, and he scored his first goal at that level in a 1-0 victory over Panama the following month.
Currently, Torres is training with Chivas de Guadalajara in an effort to stay fit and sharp while his immediate future gets decided.
—–
How do you see this ending up? Expecting Torres to return to MLS or will he wind up at Chivas de Guadalajara? Which MLS club could use him the most?
Share your thoughts below.