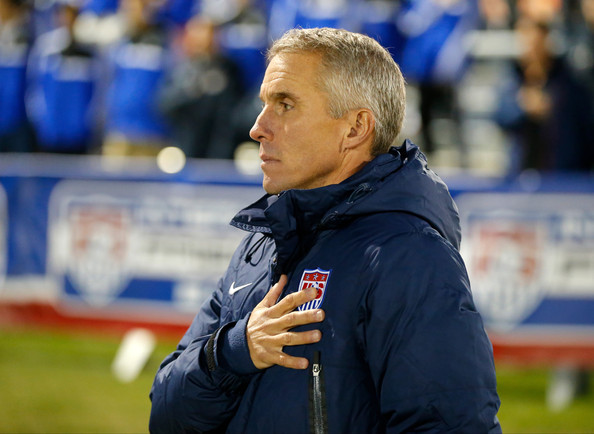 By DAN KARELL
The U.S. Under-17 Men's National Team avoided being grouped with Mexico in the CONCACAF U-17 Championship draw late last week, but U.S. U-17 head coach Richie Williams doesn't believe that makes his squad favorites to win their group.
"The toughest team will be Honduras, being the host country," Williams told SBI in a phone interview from Honduras.
Williams certainly won't have fond memories of Los Catrachos, after the Honduras U-17s knocked the U.S.  U-17s out of World Cup qualification in the quarterfinals of the 2013 CONCACAF U-17 tournament. It was an embarrassing moment for both Williams and U.S. Soccer, as it was the first time since the U-17 World Cup's conception in 1985 that the U.S. would not be a participant.
Luckily for the USA, this time around, it should be a bit easier to qualify thanks to a new format. Under the new format, the winners of the groups automatically earn two of the four places earmarked for the U-17 World Cup next fall in Chile, while the second and third-place finishers in each group are re-seeded and battle it out for the final two spots available.
Joining the USA and Honduras in Group A of the U-17 World Cup qualifying tournament will be Jamaica, Trinidad and Tobago, Cuba, and one of either El Salvador or Guatemala, who still have a playoff series to contend for the final group place.
"It's difficult to predict Group A or Group B, which one's stronger but we feel comfortable with the teams that we're going to be playing," Williams said. "I think we're happy with our draw."
Group B features Mexico, Costa Rica, Canada, Panama, Haiti, and Saint Lucia. The tournament takes place between Feb. 27 and Mar. 15.
Similarly to U.S. U-20 coach Tab Ramos' squad selection conundrum, Williams and his coaching staff have plenty to think about as they put together a 20-man squad for World Cup qualifying.
While the U.S. play regularly on the pristine pitches at the IMG Academy in Bradenton, they'll be playing on a pitch that will take an absolute beating during the CONCACAF U-17 Championship. Fifteen matches will be played in a 12-day span at the Estadio Francisco Morazán, including five involving the USA.
The possibility of a poor pitch and playing in a foreign country with a different soccer culture is looming large in Williams' mind.
"Our team has to learn that with different environments, things might not be as ideal as you like, in terms of the condition of the field, the stadiums you play in, and the fans at the games," Williams explained. "At times you do have to play a different way and maybe not always play the way you'd necessarily like to. But you have to understand how to get results and how to manage a game.
"That's definitely some things that we talk about on a regular basis with our team."
Williams pointed to a match against Panama in Panama City last October as one where the odds were stacked against the USA, and the side came through.
"I think it was a really good experience for us," Williams said of the 1-0 victory. "We were able to play Panama on a field-turf field with 5,000 Panamanian fans, the game was on national TV, and there was a Panamanian ref.
"It was a very difficult game for us and it wasn't a game that we wanted to play. Panama made it difficult, but we were still able to grind out a result and understand how to play in a certain way to get a result."
The U.S. are heading into the holiday period on a bit of a down note.
At the annual Nike International Friendlies in Lakewood Ranch, Fla., the U.S. looked to defend their title with matches against England U-17s, Australia U-17s, and Brazil U-17s.
The U.S. U-17s got off to a great start, routing England, 3-1, before posting a comeback 2-1 victory against Australia in the second match. Everything was pointing to another title for the U.S. until they wilted in the second half against Brazil, falling 4-1 in the final match.
While Williams said he liked what he saw from his side in the first two matches, he was disappointed that they didn't match Brazil's physicality and athleticism.
"It was the fifth time we've played them in over a year and a half and all the games have been super competitive," Williams said. "I was disappointed how we went down and I thought (we) needed to be able to compete more. (Brazil) is a very athletic team, a very physical team, and I don't think we matched that part of the game against Brazil, where we have in the past.
"Whether that was the case of our team, with all the success that we've had being a little complacent, taking things for granted, and maybe being a little overconfident, it was a little bit of a reality check. It's not always just about playing good soccer but the ability to be able to compete, manage games, and get results. Brazil did that better than us on the day."
Approaching two months and counting until World Cup qualification, Williams and the U.S. staff are putting together their final schedule for the next two months.
The U.S. U-17s will take part in the IMG Cup, taking place in their home at IMG Academy in Bradenton, Fla. from Dec. 17-22. The U.S. will play four games in five days, including games against the likes of Tottenham and Toluca. After a holiday break, the spring semester at U.S. Soccer's Residency program will begin on Jan. 5.
An international trip in January is being planned but has not yet been finalized, and then in February the team will jet off to Honduras to prepare for the CONCACAF Championship.
The U.S. are receiving a boost heading into 2015 as forward Joe Gallardo is fully healed after suffering a broken leg last August at the Copa Naciones de Mexico. Despite being out for so long, Williams will be giving Gallardo every change to regain his place in the squad.
"He's completely cleared now," Williams revealed. "He'll now be able to participate in full contact. It's very positive.
"We hope there's no setbacks after being out for so long and we hope that he gets back to the form that he was in before he broke his leg. He'll have two and a half months to get fit and be part of our squad for World Cup qualifying."