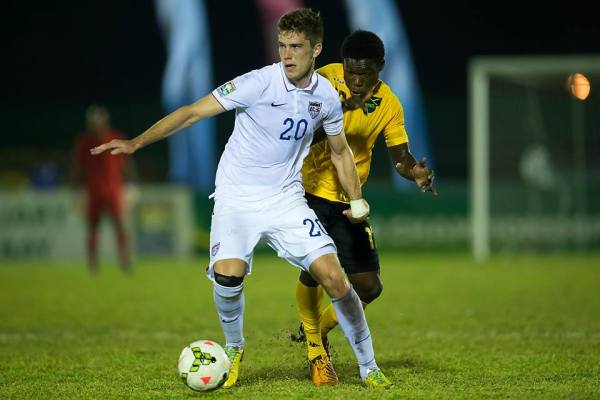 By FRANCO PANIZO
Romain Gall stayed hot, the defense stayed compact, and the U.S. Under-20 Men's National Team stayed in the picture to qualify for this summer's World Cup.
The U.S. continued to climb up the standings in Group A of the CONCACAF U-20 Championship on Sunday night, riding a pair of Gall penalty kicks on each side of halftime to post a 2-0 victory over hosts Jamaica.
The victory at Montego Bay Sports Complex leaves the Americans in third place and with their fate in their hands going into the group-stage finale vs. Trinidad and Tobago. It also eliminated Jamaica from the tournament.
Gall scored in the 34th and 69th minutes, giving the Columbus Crew youngster five goals in the last two games. Tommy Thompson drew the first spot kick after being clipped in the penalty area while on a breakaway, and Bradford Jamieson earned the second on a similar play.
Both fouls could've seen Jamaica go down a man for denial of clear scoring opportunities, but only yellow cards were issued to defender Allando Brown and goalkeeper Nicholas Nelson for the infractions. The Reggae Boyz still finished the game with 10 men, however, after substitute forward Daniel Roberts was shown a red card for a tough tackle Lynden Gooch.
U.S. head coach Tab Ramos returned to goalkeeper Zack Steffen and the back four that he used in the first two games of the competition after resting them in Wednesday's 8-0 triumph over Aruba, but the front six from that match remained in tact.
The Americans won more of the possession battle as the game wore on and were the better team, but they again lacked sharpness in the final third and were unable to score from the run of play. Aside from the drubbing to overmatched Aruba, the U.S. has only scored via dead-ball situations.
The U.S. defense continued to hold firm, though. It has surrendered only two goals through four games.
Ramos and his side will now head into Wednesday's Group A finale against Trinidad and Tobago looking for at least a draw to secure advancement to the next round of the tournament. The Americans cannot finish in first place of the group, so they will need to qualify for the World Cup via one of the two knock-out round games.
—–
What did you think of the U.S.'s 2-0 win over Jamaica? Which players impressed you? How concerning is it that the Americans have struggled to score from the run of play in this tournament?
Share your thoughts below.