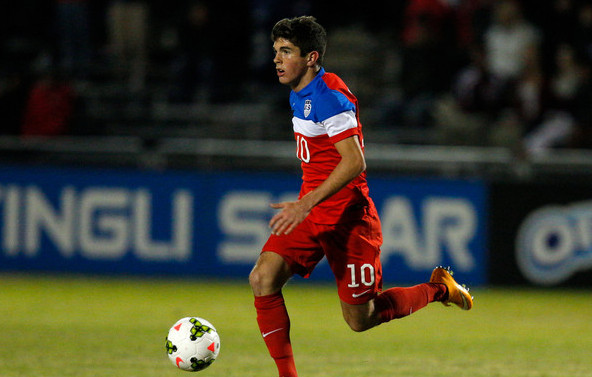 By DAN KARELL
Two years ago, with high hopes and expectations, the U.S. Under-17 Men's National Team were shocked by Honduras U-17s in a must-win match, eliminating the U.S. from the 2013 FIFA U-17 World Cup.
Now two years later, with another team loaded with talent from front to back, the U.S. are hoping to right those wrongs and earn a place in the 2015 FIFA U-17 World Cup in Chile later this year.
As luck would have it, the U.S. will have to face Honduras again at this year's version of the CONCACAF Under-17 Championship, which is being held in Honduras and begins on Friday. The tournament is playing under a new format though, like we saw at the CONCACAF U-20 Championship, meaning that the margin for error is slightly larger for the U.S. squad.
The U.S., featuring the likes of Joe Gallardo, Haji Wright, and Christian Pulisic, will kick off the tournament against Cuba on Friday before facing Trinidad and Tobago, Guatemala, Honduras, and Jamaica in group stage matches. If the U.S. wins their group, they'll qualify automatically for the World Cup. If they finish second or third, they'll be able to play in a "crossover" game, with the winner moving on to the World Cup.
Here's a closer look at the U.S. U-17s squad, schedule, and a preview of what to expect:
U.S. U-17 SQUAD FOR 2015 CONCACAF U-17 CHAMPIONSHIP
GOALKEEPERS (2): William Pulisic (Richmond United), Kevin Silva (Players Development Academy)
DEFENDERS (7): Tyler Adams (New York Red Bulls Academy), Hugo Arellano (LA Galaxy Academy), Daniel Barbir (West Bromwich Albion), Tanner Dieterich (Real Salt Lake AZ), John Nelson (Internationals), Matthew Olosunde (New York Red Bulls Academy), Alexis Velela (San Diego Surf)
MIDFIELDERS (5): Eric Calvillo (Real So Cal), Luca de la Torre (Fulham), Thomas McCabe (Players Development Academy), Christian Pulisic (Borussia Dortmund), Alejandro Zendejas (FC Dallas)
FORWARDS (6): Pierre da Silva (Orlando City Academy), McKinze Gaines (Lonestar SC), Joe Gallardo (Monterrey), Josh Perez (Unattached), Brandon Vazquez (Club Tijuana), Haji Wright (Unattached)
U.S. U-17s GROUP STAGE SCHEDULE
FRIDAY: USA vs. Cuba – 6 p.m. – FOX Sports 2/Univision Deportes
MONDAY: USA vs. Trinidad and Tobago – 6 p.m.
THURSDAY: USA vs. Guatemala – 6 p.m.
MARCH 8: USA vs. Honduras – 9 p.m.
MARCH 11: USA vs. Jamaica
U.S. U-17s PREVIEW
Unlike his U-20s counterpart Tab Ramos, U.S. Under-17 Men's National Team coach Richie Williams was able to select arguably the strongest team of U-17 players available to his squad.
The squad features a majority of players who have spent extended time over the last 18-24 months in U.S. Soccer residency, and its been boosted by the presence of foreign-based players such as defender Daniel Barbir (West Bromwich Albion), Luca de la Torre (Fulham), and Christian Pulisic (Borussia Dortmund). Winger Haji Wright, who remains unattached, has reportedly trialed with clubs in Europe over the past 12 months.
Wright was the U.S. U-17s leading scorer in 2014, scoring 18 goals in 22 international matches, while Pulisic scored 17 goals and set up seven goals. While the pair will be relied on to score and create chances in Honduras, Williams believes all 20 players in the squad need to chip in.
"It's always nice to have special players," Williams explained, "but we also have to make sure that we realize that we need everybody from the first to 20th player to be contributing and doing our job, and not just relying on certain individual players."
Another boost for the U.S. U-17s is that forward Joe Gallardo is fully fit after breaking his leg seven months ago during the Copa Mexico de Naciones. Even though he's in Monterrey's youth academy, he was able to stay with the U.S. U-17s during his recovery and eventual return to the field.
Knowing that the CONCACAF U-17 Championship began in late February, Williams was able to secure the releases of a number of the foreign-based players, who have been able to stay at the U.S. Soccer residency so they can train as a full group in the run up to the tournament.
Over the past month, the U.S. has faced off in a pair of matches against both Panama U-17s and Bermuda U-17s, winning three of the four games.
"We feel like we're prepared," Williams said. "Everybody's played a significant amount of international matches over the last year and a half to two years. They've gained valuable experiences over the matches we've played and training we've had, and we feel like they're prepared.
Williams later added: "We feel like the players are good, they're sharp, and now we just need to go down to Honduras and get the job done."
Traveling back to Honduras will certainly bring up some bad memories for Williams. The U.S. were stunningly eliminated from World Cup contention during the last CONCACAF U-17 Championship in Panama, falling in the quarterfinals, 3-1, to Honduras.
This time around, playing against Honduras in the group stage and in their country, Williams believes that Los Catrachos the team to beat in the group.
"We're not going to take anyone lightly, but you would have to pick Honduras in our group to be even more of a favorite than we would be because they're the host country," Williams said. "You'd think that would be the most difficult game for any of the teams in our group."
Williams and his coaching staff were likely very relieved to see the new CONCACAF youth tournament format, which sees all teams play five group stage games, with the top three teams in each group all playing a sixth game to determine the top six teams.
The new format allows for mistakes in the group stage to not be fatal. Even if the U.S. drop a game or two, they still have a chance to qualify for at least the top three places in their group.
This way, the only "one-off" game on the schedule would be if the U.S. finishes second or third in the group stage.
"I think the format is definitely more favorable for us," Williams said. "The last time we played two (group stage) games and then a one-off game, and on the day, Honduras beat us, and that can happen in soccer. So we are going to go take it one game at a time.
"Our goal is to win the group, and if some issues arise, which we're not expecting, we still know we can come in second or third in the group and have the crossover games. It didn't go the way we planned last time through but you learn from your losses and you learn from that experience."