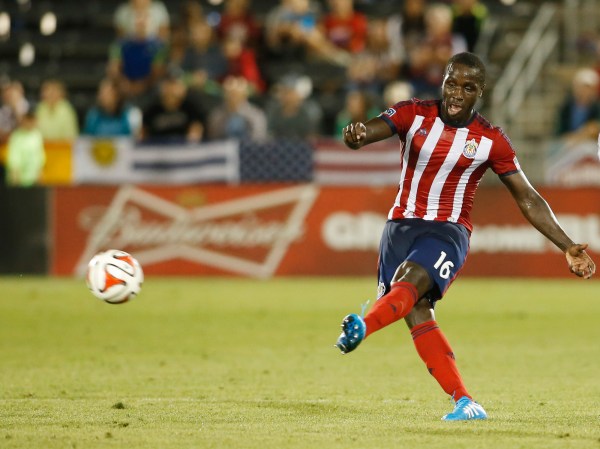 Photo by Chris Humphreys/ USA Today Sports
By RYAN TOLMICH
When all was said and done, Andrew Jean-Baptiste enjoyed his time as a member of the now-defunct Chivas USA, but the newly signed New York Red Bulls centerback is already enjoying his new home equally as much.
Jean-Baptiste, who was signed by the Red Bulls on Jan. 27, made 10 appearances for Chivas USA last season before the club was dissolved at the conclusion of 2014. Despite heading into an offseason, where the only thing certain was the team's demise, Jean-Baptiste looks back fondly on his time with Chivas USA and the relationships and lessons that were build through the team's destruction.
"As far as the team morale, it never went down," Jean-Baptiste told SBI. "With the games, for the most part, Dan Kennedy, Carlos Bocanegra, Bobby Burling, the veterans, they really helped keep the team together. A lot of the young guys positioned themselves and put in the work in practice.
"Toward the end of the season, we just made it as fun as possible. It made it a whole lot easier to deal with, and that's when we started to win some of our games as well. That's when we had the most fun. I kind of wish we had that approach from the beginning of the season because it could have went a whole lot differently. The captains and the veterans helped keep the team whole. I give them a lot of respect."
After spending a majority of the offseason with an uncertain future, Jean-Baptiste is pleased with the chance to work with another man that he gives a ton of respect: Red Bulls head coach Jesse Marsch.
Marsch, who was hired by the club on Jan. 7, has already developed a connection with the 22-year-old centerback, who already has a total of 41 MLS appearances to his age despite his youth.
In Marsch, Jean-Baptiste, who originally met the then-Montreal Impact at the 2012 MLS Combine, sees intelligence, both on and off the field. That intelligence is something that has drew the centerback to his new club.
"He's very smart. The first time I met him, we weren't exactly talking about soccer, not as far as the team or what he would want for the team," Jean-Baptiste said. "We talked a lot about other things and now that he's my head coach, I know what he's about and what he's capable of bringing to a team is very exciting.
"Knowing that I can be a part of that makes me want to be a part of the Red Bulls because what he wants to accomplish, I want to be a part of that to get more trophies to this club."
Jean-Baptiste was quick to label the rebirth of this current Red Bulls team as "exciting," as the team moves into a new era under Marsch. With a slew of new faces, new coaches and a different philosophy both on and off the field, the Red Bulls are taking a new approach in every aspect of the game.
Part of that approach is finding players who are both younger and hungrier, a description that fits Jean-Baptiste to a T. After enduring an injury-plagued campaign with Chivas USA, Jean-Baptiste admittedly had offers to go overseas in an offseason he described as "stressful."
Regardless of a potential European move, Jean-Baptiste says he remains determined to prove himself yet again in the U.S., as the centerback hopes to regain the form that led the Portland Timbers to choose him eighth overall in the 2012 MLS Draft.
"I went through a time when it was a little stressful with not knowing where and who need what and which teams are interested," Jean-Baptiste said. "I went through it, but I just tried to stay as positive as I could throughout.
"There were other opportunities in other countries, but I myself wanted to stay in the states. I felt like going overseas should not be an option yet after the season I previously had. I kind of wanted to leave off on a better note that what I had at Chivas if I ever decide to go to Europe."
That "better note" starts with consistency, Jean-Baptiste says. Having shown plenty of promise in flashes as a member of both the Timbers and Chivas USA, Jean-Baptiste's new goal is to turn that promise into substance long term.
"It's more just on the field, staying consistent, because no matter who you are or what team you play for, consistency is the main issue," Jean-Baptiste said. "That's definitely the thing that I want to point out and I want to be on top of this year. If I have one good game, I want to have a second and a third and a fourth and a fifth and so on, where at the end of the season, it can make a big difference.
"Always training hard every chance you get to get on the field, and if you get on the field, whether it's training or a game or a reserve game, you've got to take every chance you get because every day is a judgement day. That's something I've been learning a whole lot more."