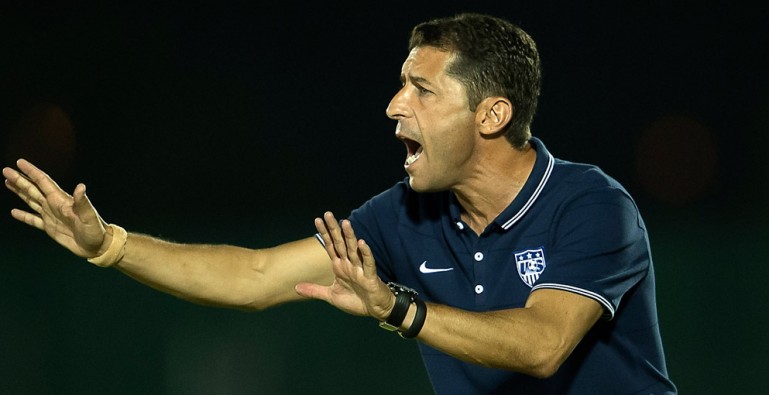 By DAN KARELL
Head coach Tab Ramos is feeling good about the U.S. Under-20 Men's National Team's fortunes even though he's trying to remain realistic about the fate that awaits his team in New Zealand.
Two years ago, the U.S. U-20s' reward for finishing second in qualifying was being drawn into a stacked group, including eventual champion France, in the 2013 FIFA Under-20 World Cup. Two years later, and in a new World Cup cycle, it looks as if the U.S. have been dealt a kinder hand.
The U.S. U-20s were drawn into Group A of the 2015 FIFA Under-20 World Cup with the host country New Zealand, Ukraine, and Myanmar. The upcoming tournament will only be New Zealand's fourth time competing, Ukraine's third time, and Myanmar's first time competing.
Despite those modest histories in the competition, Ramos won't be taking the other teams in Group A lightly.
"The only way I can look at this group is by looking at Panama and thinking what other teams in Panama's group are thinking about them," Ramos told SBI in a phone interview. "Maybe Austria is looking at Panama saying 'Oh great, we have Panama in our group, that's an easy game', and yet Panama is a very good team."
Ramos noted that in order to qualify, Ukraine had to beat England in UEFA U-19 qualification, proving its credentials, while facing a host country that trains together regularly presents another intriguing challenge.
And though he admitted that he didn't know much about Myanmar's U-20 squad in the moments after the draw was determined, Ramos remained wary of the Asian nation that beat the United Arab Emirates and Thailand to qualify for the World Cup.
"When you look at the fact that there are teams who should be at the World Cup and they're not here, there's got to be a reason for that," Ramos said.
"That's the funny part about coaching in the youth ranks, it's that you just don't know (how good a team is). Sometimes it takes just two or three very good players in any one generation to make one team better than another."
For the USA, many fans will look at this draw as a blessing from above. The U.S. U-20s have failed to make it out of the group stage since 2007, when a dazzling and entertaining side featuring Michael Bradley and Jozy Altidore made it to the quarterfinals. Since then, the U.S. left the competition after three games in both 2009 and 2013, and failed to qualify for the tournament all together in 2011.
Therefore, the goal still remains the same as it was before, to make it out of the group stage. Only this time, it's intensifying even more.
"My expectation really was to get out the last time too," Ramos said. "I really felt we could surprise Spain in the first game, get our points there, and pick up another point in the next two games and get through. We didn't do that but the goal here continues to be the same.
"At this point we want to get out of the group but we can only look at Myanmar right now and focus on them for the next couple of months, and try to get three points in that game."
Now that the draw has been determined, Ramos and his coaching staff can begin preparations for the World Cup.
A big piece of those preparations will come either late this week or early next week, when Ramos and U.S. Men's National Team head coach Jurgen Klinsmann meet and determine which players will be available for the U.S. U-20s this summer.
With the USMNT playing a multiude of friendlies this spring and summer leading up to the Gold Cup, it is anticipated that Jurgen Klinsmann will look at a wide variety of players, which could also mean looking at Under-20 players. Ramos hinted previously that players such as Gedion Zelalem, Rubio Rubin, Emerson Hyndman, and even possibly Zack Steffen could be unavailable for the U-20 World Cup.
The U.S. U-20s will be busy this spring as well. Sources confirmed to SBI that the U.S. U-20s is lining up a friendly match against England U-20 at an undetermined venue in England on March 29, which is during the FIFA dates, meaning Ramos can select a full squad.
In addition, the same sources confirmed that the U.S. U-20s are lining up an April training camp in Austria, which will include friendly matches against Under-20 teams from Greece and Qatar.
U.S. Soccer has not yet confirmed any of these dates or friendly matches.
Ramos is also expected soon to finalize dates for when the U.S. U-20s will convene for the World Cup. Ramos noted that in the past, the U.S. has taken a trip ahead of the World Cup to better get to know the host country and its facilities.
In this case though, due to the logistical nightmare traveling to New Zealand from the USA can be, Ramos hopes he can convene the players two weeks before the tournament kicks off and they can all travel to the tournament together.