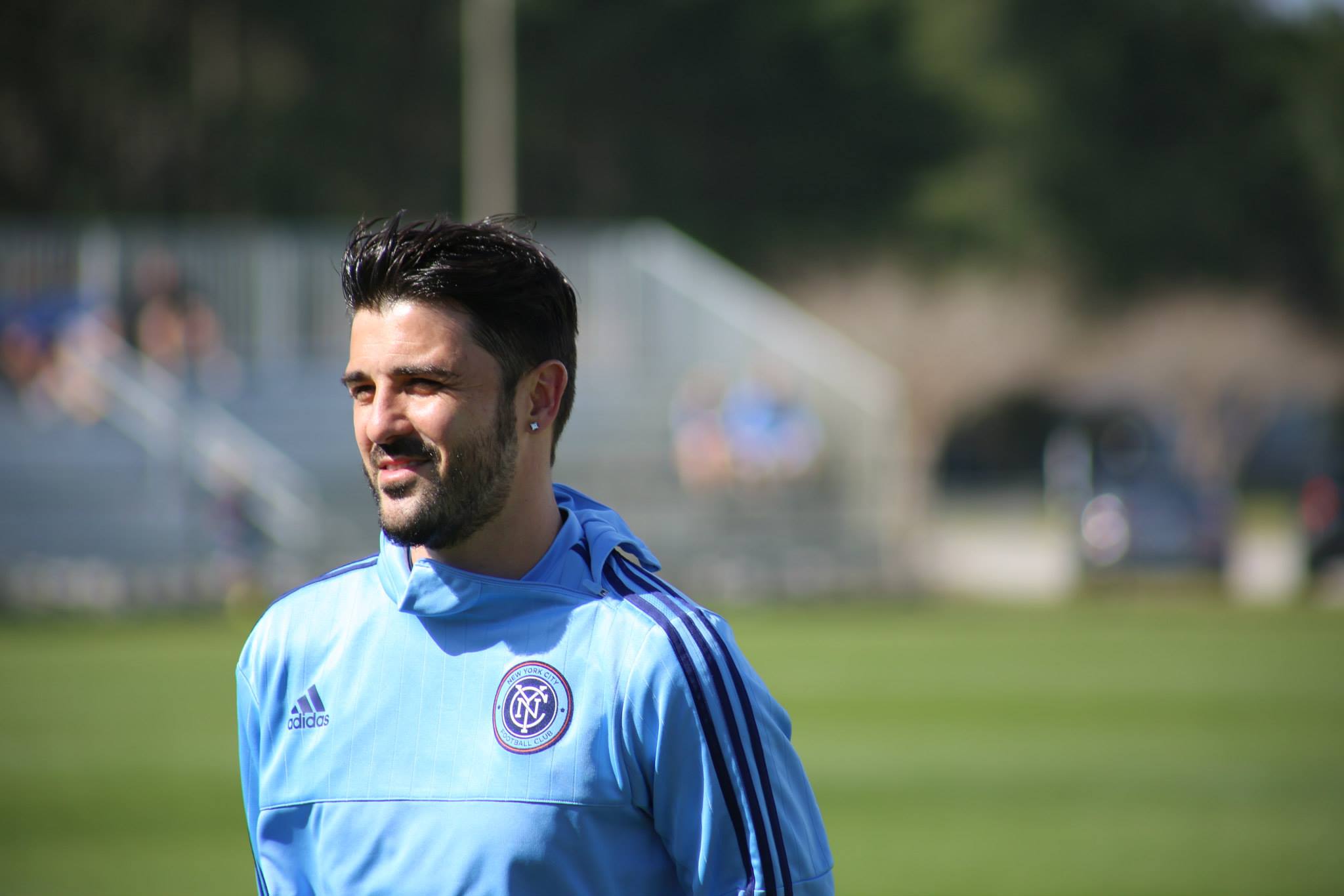 By RYAN TOLMICH
New York City FC have added an experienced international to aid David Villa in mentoring the club's young forward corps.
NYCFC announced Monday that the club has signed Slovakian international Adam Nemec, previously of 2. Bundesliga side Union Berlin. The 29-year-old forward has represented Slovakia 14 times and has scored twice, including one in November's Euro 2016 qualifiers.
"I know that being part of an ambitious club like New York City FC will give me the chance to show what I am capable of," Nemec said in a statement, "and maintain my place on the Slovakian National Team as we look to qualify for the Euro 2016 Finals."
Nemec will now join up with fellow forward Villa, who was named as the club's inaugural captain Sunday.
"I am honored to be your captain," Villa said, "and I am proud to wear this armband."
Here are some more of Monday's MLS news and notes:
MIAMI EXPANSION TEAM NEARING TEMPORARY AGREEMENT TO PLAY AT FIU
Miami expansion owner David Beckham announced late last week that the club was making moves toward securing a home, and those moves appear to be leading to a temporary solution.
The city's Economic Development & Port Miami Committee passed a vote, 4-0, to recommend the opening of negotiations for the Miami team to play at Florida International University on a temporary basis. The vote is set to be passed on to the Miami-Dade Board of County Commissioners, who are set to convene Monday.
FIU Stadium, formerly the home of Miami FC in the USL, has previously hosted parts of the 2009 and 2011 Gold Cup and seats roughly 18,000.
ORLANDO CITY NEARING MOVE FOR BRAZILIAN DEFENDER PAULO ANDRE
Orlando City's Brazilian contingent is reportedly close to adding a fourth member.
The club are reportedly in the process of finalizing a deal for Brazilian defender Paulo Andre, according the Orlando Sentinel, with a signing that is expected to be announced in the coming days.
"We do have Paulo André in the city," Orlando City general manager McDonough told the Orlando Sentinel. "He is undergoing a medical this morning in hopes of finalizing contract negotiations."
Andre, who last played for China's Shanghai Shenhua, spent a majority of his career in Brazil. The 31-year-old centerback spent 2009-14 with Corinthians, with whom he won the league as well as the Copa Libertadores.
The centerback would join fellow Brazilians Designated Player Kaka, midfielder Pedro Ribiero and fellow defender Gustavo on the club's roster.
THREE MLS PLAYERS CALLED UP BY HONDURAS
A trio of MLS players have made the first call up list for recently appointed Honduras manager Jorge Luis Pinto.
The Houston Dynamo's Oscar Boniek Garcia and Luis Garrido will be joined by Sporting KC's Jorge Claros for Honduras' upcoming pair of friendlies.
"I am always excited to play with Honduras," Claros said. "These are very important matches as we prepare for our Gold Cup qualification matches against French Guyana in March."
Honduras is set to host Venezuela on Feb. 4 before facing the same opponent on the road one week later. Have a look at Honduras' full roster below:
Goalkeepers (2): Noel Valladares (Olimpia), Donis Escober (Olimpia)
Defenders (8): Arnold Peralta (Olimpia), Wilmer Crisanto (Motagua), José David Velásquez (Nacional de Uruguay), Jhonny Leverón (Marathón), Juan Pablo Montes (Motagua), Henry Figueroa (Motagua), Carlos Palacios (Marathón), Carlos Sánchez (Real España)
Midfielders (8): Luis Garrido (Houston Dynamo), Jorge Claros (Sporting Kansas), Edder Delgado (Real España), Byron Méndez (Olimpia), Bryan Acosta (Real España), Mario Martínez (Real España), Jorge Cardona (Honduras Progreso), Carlos Discua (Motagua)
Forwards (5): Romell Quioto (Olimpia), Oscar Boniek García (Houston Dynamo), Anthony Lozano (Olimpia), Rubilio Castillo (Motagua), Angel Tejeda (Honduras Progreso)
ORLANDO CITY SURPASS 11,000 SEASON TICKET HOLDERS
One week after retired baseball superstar Ken Griffey Jr. signed on as the club's 10,000th season ticker holder, Orlando City announced that 1,000 more supporters have joined the cause.
The club announced Monday that the number of season ticker holders has surpassed 11,000 ahead of the club's inaugural MLS season.
"The rapid increase in sales shows the growing demand of our passionate fans as the home opener rapidly approaches," said Orlando City President Phil Rawlins. "To be only a few thousand tickets from our goal several weeks before the start of the season further validates why Orlando is the 'Soccer Capital of the South.'
"We look forward to celebrating our march toward March 8th with our fans and can't wait to hear the roar of the stadium when the first whistle blows and we make history for the
—
What do you think of NYCFC's latest signing? What do you think of MLS Miami's potential temporary stay at FIU? Impressed with Orlando City's support?
Share your thoughts below.