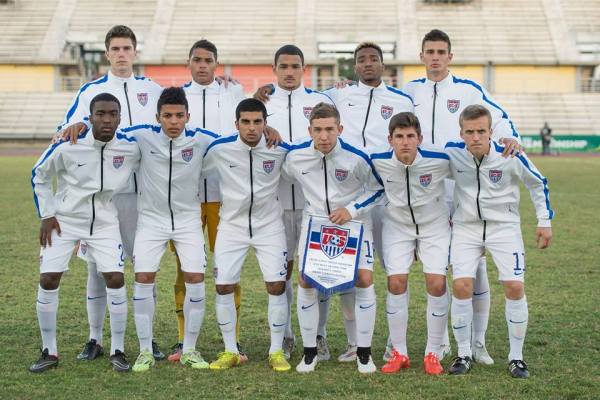 By FRANCO PANIZO
After some tough World Cup draws in recent years, the heavens have smiled on the U.S. Under-20 Men's National Team.
The U.S. learned during the early morning hours on Tuesday what group it will be in at this summer's Under-20 World Cup, and the Americans received a relatively favorable draw. The U.S. was lumped into Group A alongside hosts New Zealand, Myanmar, and Ukraine, and will be expected to reach the competition's Round of 16.
Tab Ramos' side begins its campaign on the first day of the tournament, facing debutant Myanmar on May 30 at Northland Events Centre in Whangarei. The Americans then take on New Zealand on June 2 at North Harbour Stadium in Auckland before closing out group play against Ukraine at that same venue on June 5.
The kind draw for the U.S. comes after seeing Lady Luck turn her back on the Americans during the last two years. The senior team fell into a challenging group at the 2014 World Cup that it advanced from, while the previous incarnation of the U-20s failed to move past the group stage after landing in a tough spot at the 2013 Under-20 World Cup.
The three other CONCACAF teams to reach this summer's tournament were drawn into more difficult groups. Panama drew Argentina, Austria and an undetermined African team in Group B; Mexico went into Group D with Uruguay, Serbia and another yet-to-be-decided African team; and Honduras was placed in Group F alongside Germany, Uzbekistan and Fiji.
Here is a full rundown of the 2015 U-20 World Cup groups:
GROUP A
New Zealand
Ukraine
United States
Myanmar
GROUP B
Argentina
Panama
CAF 3
Austria
GROUP C
Qatar
Colombia
Portugal
CAF 4
GROUP D
Mexico
CAF 2
Uruguay
Serbia
GROUP E
CAF Champion
Brazil
North Korea
Hungary
GROUP F
Germany
Fiji
Uzbekistan
Honduras
—–
What do you make of the group the U.S. U-20s fell into? Where do you see them finishing in Group A? Which of New Zealand, Myanmar and Ukraine will be the toughest/easiest opponent in your opinion? How will the other CONCACAF teams do?
Share your thoughts below.