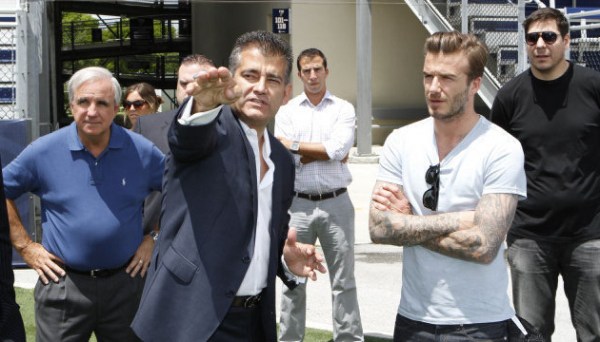 By FRANCO PANIZO
The ball is now in David Beckham's court.
After spending much of the last year looking for a suitable Miami location for a soccer-specific stadium for his MLS franchise, Beckham will soon have an offer on the table that he will need to consider. Several reports out of South Florida are indicating that the Miami-Dade County commission agreed this week to propose a stadium site west of Marlins Park to Beckham, a move that could bring an end to a year-long search that has brought its share of headaches for Beckham and his ownership group.
While the commission has identified that parcel, it is currently unclear as to whether Beckham will want to build a stadium there. There is no word as to how much contact the commission has had with Beckham and his group over the space of land, which is in an area that Beckham's group had seen as "spiritually tainted" because of the negative stigma attached to Marlins Park.
That stance came early in the searching process, however, and before a number of hurdles left Beckham and his partners reassessing their options.
Beckham announced plans to launch an expansion MLS franchise a little over a year ago. There are currently only two remaining slots available before MLS reaches the 24-club mark it said it wishes to have by 2020.
—
What do you make of this development? Should Beckham jump at the chance at taking this land or should he continue to look elsewhere? Still think MLS should skip Miami as an expansion market altogether?
Share your thoughts below.