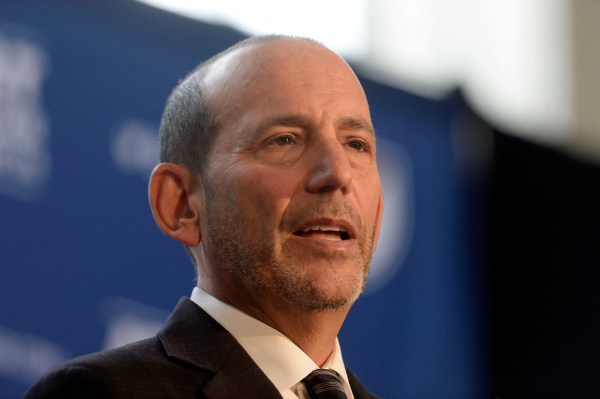 Photo by Ron Chenoy/USA Today Sports
By FRANCO PANIZO
ORLANDO, Fla. — While the two newest Major League Soccer expansion clubs were busy battling it out in a sold-out Citrus Bowl, MLS commissioner Don Garber shed some light on when the league would announce the next step in expansion.
Garber said Sunday that the league is set to make an expansion announcement within the next 45 days. MLS has had a stated goal of moving to 24 teams by the end of the decade, and will move to 22 in 2017 when clubs in Atlanta and Los Angeles begin playing.
Which cities out of Miami, Sacramento, Minnesota and San Antonio will join the league afterwards is currently unknown, but an answer as to who will fill at least one of the two highly-coveted spots will be provided soon.
"At the draft we said we'd have something done within six months and I think we're down to probably 45 days," said Garber during expansion clubs Orlando City and New York City FC's 1-1 draw. "…There are a lot of strong candidates. I think all of them are strong. Every city has put together a bid. The more they see what's happening here, the more excitement is building, the more value is created for fans and for municipalities. So we're confident that the next round will be announced soon."
Out of the four cities in the running, Miami is the one that has long been linked with earning a franchise. David Beckham chose to exercise his discounted expansion option on the South Florida metropolis in 2014, but has run into difficulties with securing suitable land for a soccer-specific stadium.
A recent vote by the Miami-Dade County commission has approved offering Beckham and his group of investors some land near Marlins Park, but it remains unclear if they will take the deal given their preference for a downtown location.
Garber, for his part, did not indicate one way or the other what will happen with Miami.
"He's working hard on getting his stadium plan in place," said Garber. "There's a lot of noise coming out of there lately. I'm going to reiterate: We love the city of Miami and we think there's a lot of cool things happening there that represent many of the core values of what our league is about.
"We'd like to see something happen, but if we don't make progress on the stadium I think he would agree it's hard to move forward, but they're feeling pretty confident. I just saw some news the other day."
Regardless of what happens with Miami, MLS might not stop at 24 teams. While some think that the league should not grow beyond that number, there seems to be the possibility of the league expanding past it after 2020.
"What happens after that, I don't know," said Garber. "I probably won't be the guy leading the charge here, but we're very focused on 24 teams by the end of the decade."