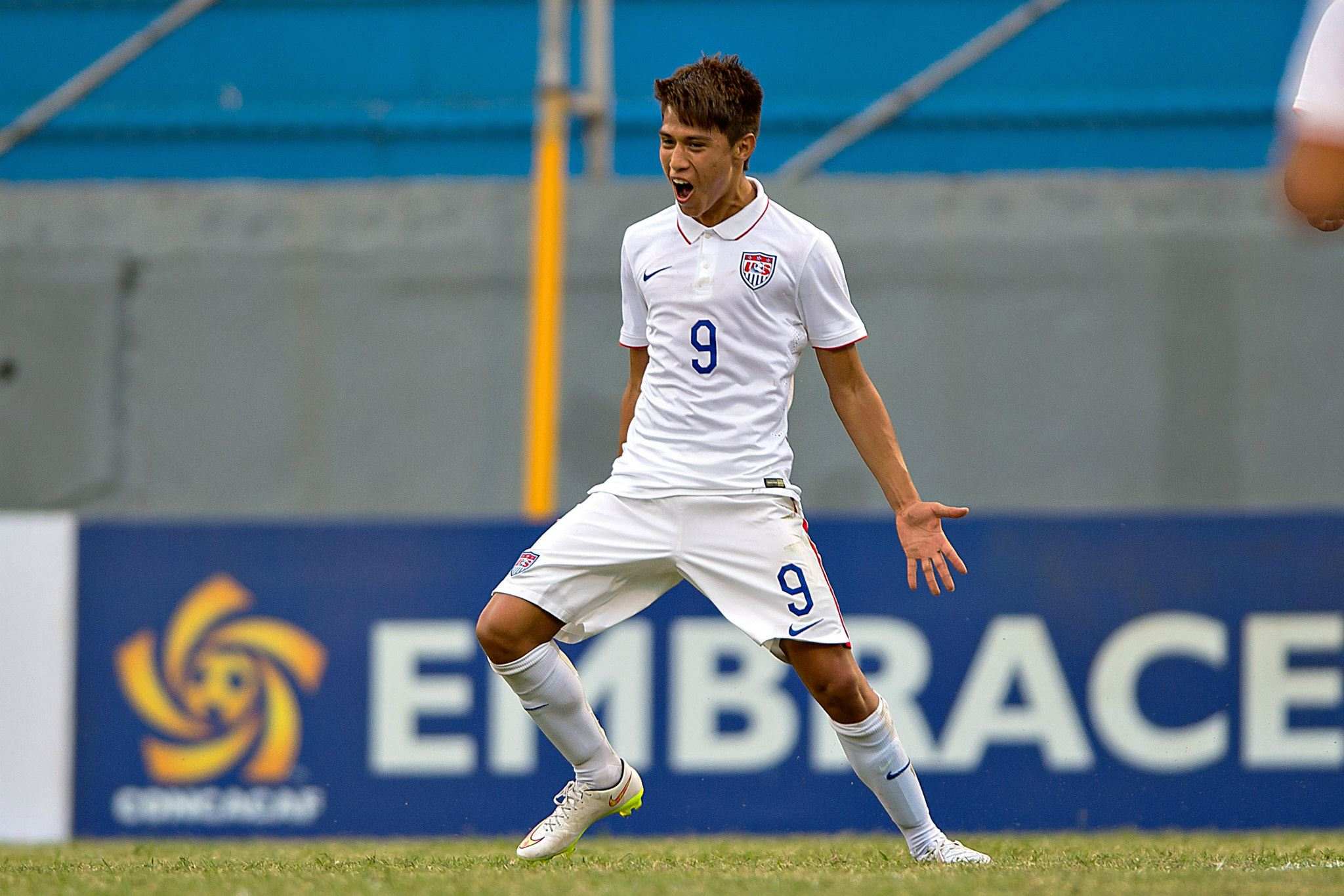 By DAN KARELL
The U.S. U-17 Men's National Team didn't dominate proceedings like it did three days earlier, but still managed to come away with another victory.
Forward Joe Gallardo scored his fourth goal of the 2015 CONCACAF U-17 Championship and Haji Wright scored his first as the U.S. U-17s took down Trinidad and Tobago U-17s, 2-0. The win puts the U.S. at the top of Group A with six points, following the opening day 5-0 victory against Cuba.
In an overall uninspiring performance, the U.S. was lifted by a couple of moments of brilliance.
Attacking midfielder Alejandro Zendejas drew a free kick at the edge of the area in the 30th minute. A minute later, Gallardo stepped up and placed a free kick low and hard towards the far post. Trinidad and Tobago goalkeeper Levi Fernandez was leaning to the right, but was unable to dive to the other way and fully keep the ball out.
In the 71st minute, Wright finally finished off one of the many chances he had created all evening. Wright used a burst of speed to break free of a pair of defenders, took a couple of touches, and fired a low strike just inside the post with his left foot to put the U.S. up 2-0, and effectively put Trinidad and Tobago away.
It made up for an early Wright chance that was headed towards goal but saved off the line by a Trinidadian defender.
In the 87th minute, U.S. goalkeeper Will Pulisic pulled off a tremendous double-save to keep the cleansheet from getting spoiled. The first strike, a long-range shot from outside of the box, was parried by Pulisic to his left.
T&T substitute Kishon Hacksaw was the quickest to react to the loose ball and fired a shot on goal. But Pulisic managed to get his body in the way and deflect it to safety.
Here's a look at the USA lineup:
USA: 1-Will Pulisic; 2-Matthew Olosunde, 14-Tanner Dieterich, 5-Hugo Arellano (capt.), 3-John Nelson; 16-Thomas McCabe, 8-Luca de la Torre (13-McKinze Gaines, 64), 10-Christian Pulisic (18-Tyler Adams, 83); 7-Haji Wright, 9-Joe Gallardo (19-Brandon Vazquez, 90+1), 20-Alejandro Zendejas
Subs Not Used: 4-Alexis Velela, 6-Eric Calvillo, 11-Josh Perez, 12-Kevin Silva, 15-Daniel Barbir, 17-Pierre da Silva
Head coach: Richie Williams
Here are the game highlights:
——–
What did you think of this result? Which players impressed you? Where does the U.S. need to make improvements?
Share your thoughts below.