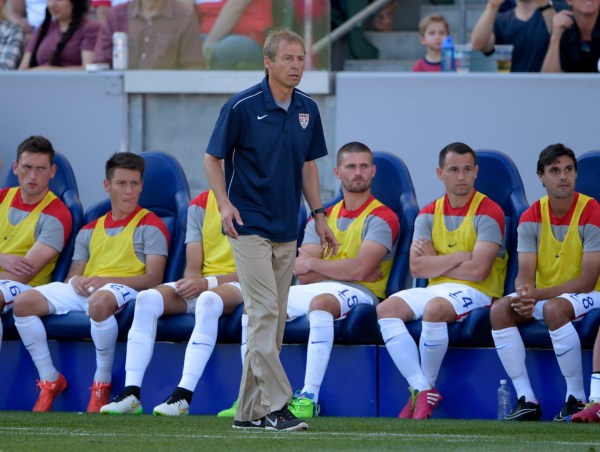 photo by Kirby Lee/USA Today Sports
By FRANCO PANIZO
For Jurgen Klinsmann, this month's FIFA fixture dates bring with them an interesting challenge.
The U.S. Men's National Team is set to play in a pair of friendlies in Europe at the end of the month, but will not be the only American side in action. Both the U.S. Under-23s and Under-20s are planning to hold European camps as well, making for a congested schedule that is forcing Klinsmann and the other U.S. head coaches to carefully consider which players go to which team ahead of this weekend's roster announcements.
Klinsmann has already stated that he intends to bring in a strong squad for the senior side's upcoming matches against Denmark and Switzerland on March 25 and 31, but how the youth team squads get filled for the upcoming camps has been more like fitting together jigsaw puzzle pieces for the German-born head coach, U-23 manager Andi Herzog and U-20 boss Tab Ramos.
"Is there a younger one maybe coming with me to Denmark and Switzerland, or is he going with Andi Herzog to be with the U-23s in Bosnia and Denmark, or do we keep an 18-year-old player with Tab because he is going to go to the World Cup this summer," said Klinsmann in a wide-ranging Q&A released by U.S. Soccer. "We will juggle these things and we will balance it out. At the end of the day, the priority is always the senior team in order to be the strongest team possible, but at the same time it's great for us coaches to see everybody competing for his spot and his future opportunities."
While Klinsmann's main focus right now is on preparing the senior team for this summer's CONCACAF Gold Cup title defense, the importance of developing the next wave of talent through the various youth teams is not lost on him. Especially when they have important tournaments of their own to play in later this year.
The U.S. U-20s are gearing up for their World Cup campaign in New Zealand this summer and the U-23s have Olympic qualifying on the agenda this fall, two competitions that will expose the up-and-coming players to a high level of the game. To help prepare for those tournaments, the U-20s will head to London this month to partake in a camp that will include a pair of yet-to-be-announced friendlies while the U-23s cross the pond to take on Bosnia Herzegovina and Denmark in exhibition matches.
It is all serving as a way to fine-tune the youth sides and enhance their chemistry, but also to Klinsmann identify the prospects that might soon be ready to contribute to the senior team.
"For me and the senior team perspective, I'm looking at all these youngsters and thinking who can come through these periods and develop the fastest possible in order to make himself a strong competitor for the senior group," said Klinsmann. "So this is a great time now, and we can't wait to get these games going at the end of the month."
As for Klinsmann's team, the time to ramp things up is fast approaching. Klinsmann has summoned a number of young and inexperienced players to all of his camps since the end of last year's World Cup in an effort to gauge potential contributors, but he'll be leaning heavily on the established players when the U.S. visits both Denmark and Switzerland on March 25 and 31, respectively.
Klinsmann has not had the luxury of having a full pool of in-form players to choose from since last fall, but he will this month and is eager to get them together as July's Gold Cup looms large.
"We are going to bring in a very strong roster into Denmark and Switzerland," said Klinsmann. "It's a bit tricky obviously because MLS has just started and it's early in the season, so those players don't have a rhythm yet. Meanwhile, the European-based players are in a full rhythm and the Mexican-based players are in a full rhythm, so we will bring what we believe will be the strongest roster into these two friendlies.
"It will be an interesting mix. We are there to learn, to play against very good opponents, but also to get results."