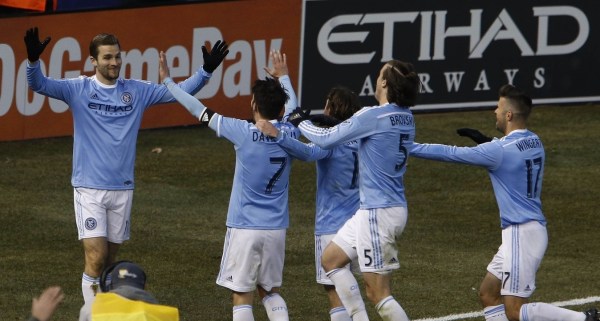 Photo by Noah K. Murray/USA Today Sports
NEW YORK — Just moments after coming onto the field against his former team, Patrick Mullins was staring down his new team's supporters, grabbing his sky-blue jersey and kissing his club's badge to celebrate his first goal for New York City FC.
Mullins scored in the 84th minute of NYCFC's historic home opener at Yankee Stadium against the New England Revolution, the team that he represented just four months ago in an MLS Cup final. For Mullins, who was left unprotected in December's Expansion Draft, Sunday's goal wasn't about revenge or bitterness; it was about focusing on his new team and the jubilation of its first victory.
"The only significance on the night for me was this club," Mullins said after NYCFC's 2-0 win over his former team. "Obviously I played for [the Revs] last year and I'm proud of my time with them, but I am so happy to be a part of this organization, and I want to have that special moment to celebrate with the fans and the team, because this is who I am and this is what I'm a part of, and that's NYCFC."
Mullins was originally selected by the Revs with the 11th overall pick in the 2014 MLS Draft and went on to make 21 appearances and tally four goals for a team that advanced to the MLS Cup final.
However, when the time came for the 18 MLS clubs to provide a list of players they didn't want the expansion clubs NYCFC and Orlando City SC to snatch away, Mullins' name was not on New England's list.
"You never really know for sure, but we thought there was a good chance Patrick might get selected," Revolution general manager Michael Burns first said after Mullins was selected by NYCFC with the fourth overall pick in the 2014 Expansion Draft.
"It was a difficult decision not to protect Patrick," Burns said. "Unfortunately, he's a guy that we didn't want to lose, but understand that's how it works."
Mullins no longer wants to look back at the past. All he is concerned about these days is how he can contribute his new club — even if means coming off the bench — while maintaining that same goal-scorer poise.
"In our profession, you always have to have ultra-confidence and I've never lost that confidence, I'm a confident guy," Mullins said. "I have the feeling that if I'm on the pitch, I can score at any moment.That being said, in the preseason, I think I was playing well but I wasn't getting the goals, which was a little frustrating, but I think all the work really came to fruition [Sunday]."
"We have very good players that didn't have the opportunity to start so far this year," added Ned Grabavoy, who had an assist in the contest. "The competitiveness of the team, that we're fighting for spots week in and week out, is very important because it keeps everybody sharp. I think everyone needs to fully understand that."
The 23-year-old scored the goal after making what his head coach Jason Kreis called a "committed and hard" run into the box to set himself up for a pass from David Villa, who had opened the scoring in the 19th minute, from the left side.
"I've seen it many times in practice exactly where [Villa] puts that ball, and it's my job to be on the other end of the back post and I wasn't going to let him down," Mullins said. "I knew he was going to get that there and I just wanted to make sure I did my job."
Mullins certainly knows what his new club asks of him, he just wants to make the most out of the new opportunities given to him.
"Here at NYCFC, we have a little more of a different mindset on how we want to play," Mullins said. "It's my job to put the ball into the back of the net and I just couldn't be more happy to be here."