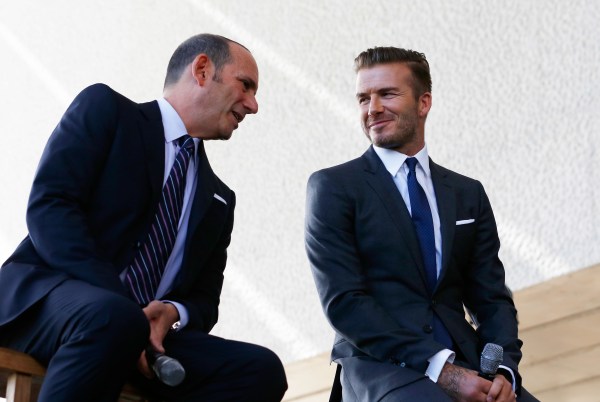 Photo by Robert Mayer/USA Today Sports
By FRANCO PANIZO
Do not take Miami out of the MLS expansion picture just yet.
MLS commissioner Don Garber said Sunday that he and other league officials will be heading to the South Florida metropolis in the coming weeks to try and finalize a plan for a soccer-specific stadium for David Beckham and his ownership group. Beckham's group has had trouble in its attempts reach a deal with the local government for the past year, but Garber intends to head to Miami to see if he can help hammer out an agreement.
"When you have the right stadium plan in the right environment, we have success, and we don't have that yet," Garber said at halftime of Fox broadcast of the San Jose Earthquakes-Chicago Fire game. "David and his partners are doing a great job trying to get it done. We'll be there in the next couple of weeks. Hope to be able to get something done."
Beckham is reportedly in Miami now for meetings about the expansion efforts, marking his first visit to the Florida city since before the 2014 World Cup. His presence in the area suggests the Miami expansion group is ramping up its efforts to secure a stadium deal.
With Minnesota now set to enter MLS as its 23rd team, Miami is in the midst of an interesting battle with Sacramento for the final spot of expansion. USL side Sacramento Republic has expressed serious interest in landing an MLS franchise – and Garber recently said that was a matter of when, not if – but Miami would beat the California club to the punch if it can work out a soccer-specific stadium solution.
If Miami was to get a franchise, the four expansion slots that MLS planned to distribute by the end of the decade would be filled. Sacramento could, however, still join the league decides to expand beyond 24 teams, which is something MLS intends to figure out within the next year or so.
"Very different from the past," said Garber when asked why the league would consider growing further. "It's a different soccer environment here in this country and in Canada, very different around the world. Our owners are different, the plan is different.
"We never thought we'd get when we were at 10 (teams) to 14 and then at 16 and we have a goal for 24. We're really evaluating going past that. We've got a couple more decisions we need to make. I imagine in sometime in the next year or so we're going to lay out the plan for how large this league can be."
—–
What do you make of Garber's comments? Starting to think Miami is going to happen? How big will MLS be when it is all said and done?
Share your thoughts below.