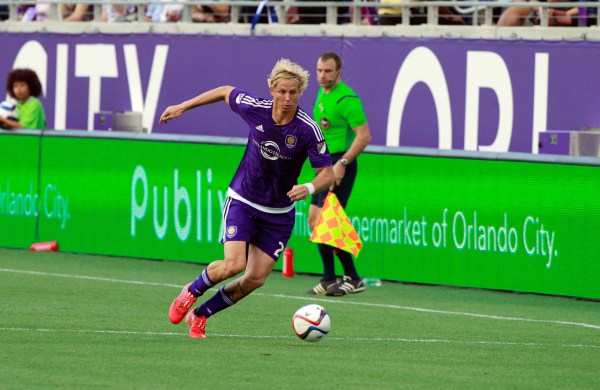 photo by Kim Klement/USA Today Sports
By FRANCO PANIZO
ORLANDO — The general consensus was that Brek Shea had a good week last week. He scored a wicked free kick goal for country, put in a solid shift at left back, and then returned to his club to deliver another impressive outing.
Shea did not see it that way, however. Far from it, in fact.
After suffering a gut-wrenching 1-0 defeat to D.C. United on Friday, Shea was left frustrated despite delivering his latest encouraging performance at left back. The veteran was tired of seeing his teams concede late, especially after it happened over and over and over again in the last three weeks.
First was in Orlando City's 1-0 loss to the Vancouver Whitecaps. Then, at the international level in the U.S. Men's National Team's 3-2 meltdown vs. Denmark. Again in a 1-1 draw with Switzerland, and finally in Friday's disappointment at the Citrus Bowl.
"I think the past 2-3 weeks have been very frustrating for me, for Orlando and I think for the national team," Shea told SBI. "Vancouver, we outplayed them, today (vs. D.C.) we dominated. I don't know if it looked like that from the sideline, but I feel like we destroyed them. They probably had two chances on the goal the entire game.
"Versus Switzerland, we dominated them, especially in the first half until we had a red card. We dominated them, we don't come away with a win. Denmark, leading 2-1 in the 80th minute and we lose, 3-2. The last few games I've been in has been very frustrating for me and for both teams."
Things may not have been going according to plan from a collective point of view, but Shea himself has made significant strides in his transition to left back. In the March 31 start vs. Switzerland, Shea was as solid defensively as he has been since sliding back from midfield into the defensive role and he scored a gorgeous free-kick goal to boot.
The 25-year-old Shea – who seems to be coming into his own as a professional on and off the field – followed that up with another strong showing at left back against D.C. United. Though Shea faded a bit in the second half, he was downright dominant in the opening stanza, terrorizing midfielder Nick DeLeon and fullback Sean Franklin before D.C. coach Ben Olsen replaced DeLeon at halftime.
Cross after cross came in off the left foot of Shea in those opening 45 minutes, and they were all good ones. It was marked improvement from a player who in the past would often dribble himself into trouble, and one who sounds as if he has embraced what his new position has to offer.
"I'm not a traditional left back, I don't think. I don't play by the rules, obviously," said Shea. "I kind of sneak way forward at times I probably shouldn't, but at the same time I don't feel like there's a threat down my area. Also, if I do feel like there's a threat, I'm not going to go forward, but I feel like if I have the right mid worried about me going forward the whole time, I don't have to worry about him going forward.
"As long as we have the ball, like we do most games, he's more worried about me than I am him."
Shea contributed quite a bit to Orlando City's attack in that MLS game, but his biggest play came on the defensive side. In the 68th minute after allowing Sean Franklin to race in behind him, Shea showed good awareness to place himself on the goal line in case a shot made its way past onrushing goalkeeper Donovan Ricketts.
One by Chris Pontius did get past a fallen Ricketts, but Shea was there to react and flick the ball away from danger.
"Honestly, I've been very happy with his work and we're moving forward," said Orlando centerback Aurelien Collin before talking about Shea's goal on the international level. "Everybody was very happy for him, everybody congratulated him. That was beautiful for the country of the United States."
So beautiful in fact that it caught many observers by surprise. Shea has not been known in his career for taking free kicks – especially ones as well-struck as the one in Switzerland – but it is something he has been working on as of late in an effort to further enhance his game and ability to use his potent left foot.
"I'd been working on them lately. It started in January camp, really focusing on them," said Shea. "I got a lot of tips from a lot of people, from Jozy Altidore to Andi Herzog to, obviously, Ricky Kaka. I've been just watching and asking for me to go out and attempt it. To score is obviously a good feeling."
Free kick goal aside, Shea is looking more and more like the player that was dominating MLS before making an unsuccessful move to Stoke City. He might not be the menacing left winger he once was, but he is now more polished and versatile, capable to play well both in the midfield and at left back.
"They're both familiar to me now," said Shea. "I think I'm pretty comfortable at left back, but playing both international and here it obviously helps because I get that experience playing at the top level and here, playing week in and week out."